A Beginner's Group Guide to Austin
So you've decided to explore Austin for the first time. First of all, good choice! As "the South's capital of cool," there's no shortage of stuff to pique your interest in Austin—from browsing hole-in-the-wall record stores to attending the biggest tech/music/culture conference in the country, SXSW.
But we get it. With so many festivals and live music gigs to see, BBQ and taco stands to try, and dozens of deep cuts that veteran visitors are likely recommending to you, nailing down the right itinerary for your first-time visit can be intimidating.
That's why Texas Charter Bus Company has put together this guide to all the Austin essentials for first-timers: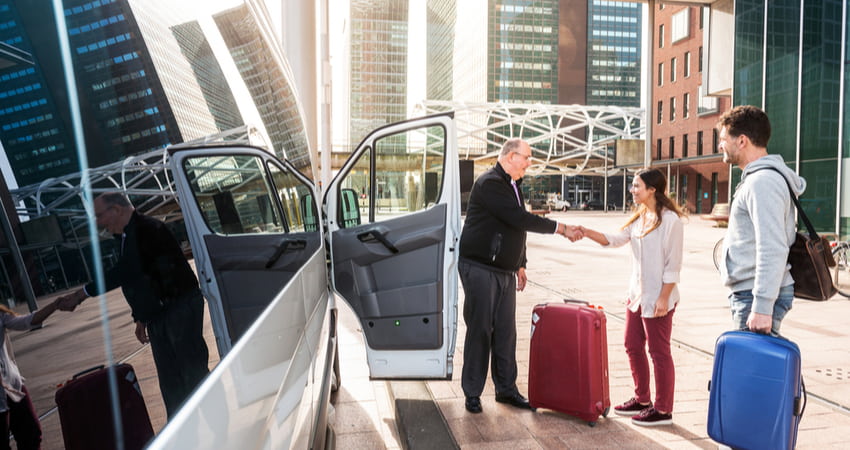 Getting Around Austin
While it's not as sprawling as other Texan cities like Dallas–Fort Worth or Houston, Austin is still relatively spread-out and disconnected. In other words, unless you're planning to spend all of your time in one neighborhood, you'll need a reliable transportation plan to get around.
Here are some options your group may consider:
Capital Metro Public Transit
Austin's public transit system is one of the top-rated in the state and includes a light rail and public buses. Fares start at $1.25 per ride, and routes cover most of Downtown and central neighborhoods.
The only cons? Service around the outskirts of the city (especially on the far west and east sides) is relatively sparse, making travel in and out of city limits a challenge by public bus. And like with any public transit system, grabbing a seat is not guaranteed, so larger groups may not fit into one vehicle. Plus, if this is your first time visiting the city, your group members may not want to spend time memorizing a new public transit map in an unfamiliar city.
Rideshares and Taxis
Fun fact: rideshare services like Uber and Lyft were once banned in Austin—though you wouldn't know it by their popularity here today. Now, solo travelers and groups of up to 6 can hail a ride through Uber, Lyft, and local nonprofit Ride Austin, as well as traditional taxi services like Yellow Cab.
That being said, these services can become scarce and expensive during big events and festivals. Also, needing to hail a ride to and from each location on your itinerary can be inconvenient, especially if you're traveling with a larger group and need to split into multiple vehicles just to get around.
Private Bus Rental
Listen, we may be biased. But when it comes to moving large groups throughout the city, renting a charter bus or minibus is likely the easiest transportation option for your passengers. With everyone in the same vehicle and a professional driver handling all the navigation and parking logistics for you, everyone can relax between destinations and enjoy the onboard amenities. When you book through Texas Charter Bus Company, we will help you build the perfect routes and schedules to suit your itinerary—so your Austin bus rental will arrive right when and where you need it. Give us a call at 512-215-4891, and our 24/7 reservation team will be happy to answer any questions you might have.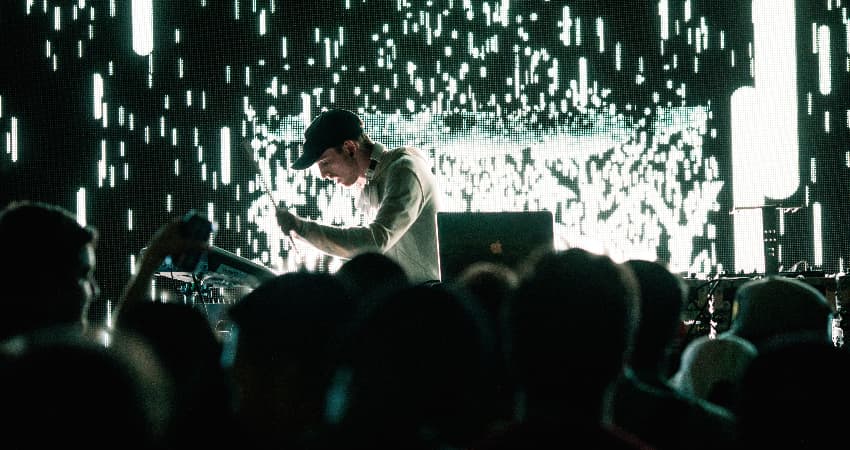 South by Southwest (SXSW)
More likely than not, if you're stopping by Austin for the first time, it will be for one of the best-known conventions in the country: South By Southwest! To an outsider, it can be hard to pinpoint exactly what SXSW is. Broadly speaking, it's a music, tech, gaming, media, and influencer convention that spans 9 or 10 days. And with such a wide variety of showcases here (from concerts to tech demos to actor meet-and-greets), you can imagine it draws in all kinds of people to catch a glimpse of the "next big thing."
SXSW brings in over 150,000 out-of-towners on average—which means if you're planning to attend with a large group of presenters, performers, product developers, or just media enthusiasts, you'll want to solidify your itinerary, lodging, and transportation well in advance to avoid the worst of the surge rates.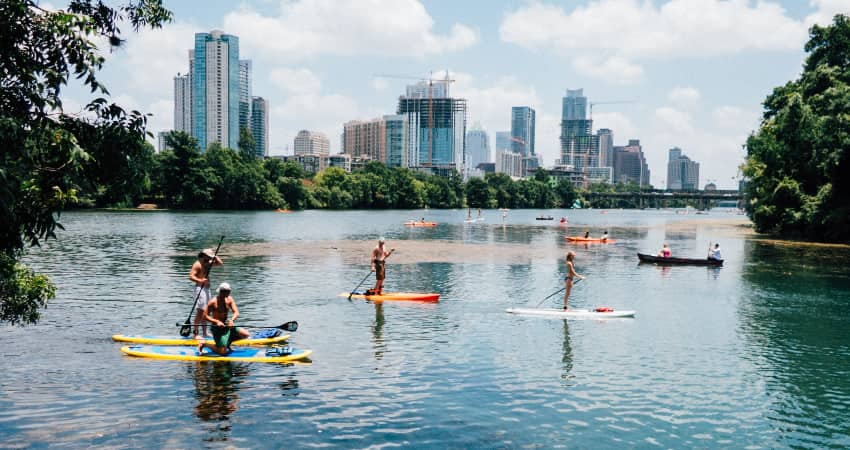 Spending Time Outside
Austin is home to many places where you can enjoy the great outdoors. Just keep in mind that the sweltering Texas heat is at its worst during peak summer tourism season. So plan to break up your time outdoors with activities that offer AC, like popping into an ice cream shop, checking out a museum or two, or hopping aboard your charter bus rental and resting your feet.
Zilker Park
Address: 2207 Lou Neff Rd, Austin, TX 78746
As the most popular metro park in Austin, this green space is the place to be if you're interested in sunbathing, working out, or getting out on the water. The natural pools of Barton Springs offer a chilly relief on hot days, as does paddleboarding and kayaking on the Colorado River.
You also won't want to miss strolling around the Zilker Botanical Garden, located just next door to the park. Wander through the serene Japanese gardens, rose gardens, and or even the prehistoric garden that imitates the habitats of Cretaceous-era dinosaurs! Guided group tours can be scheduled for a fee of $75 per group of 15 people, and there is a designated bus loading/unloading zone near the entrance and nearby public parking lots in Zilker Park for your motorcoach.
Congress Avenue Bridge Bat Colony
Address: 305 S Congress Ave, Austin, TX 78704
Okay, so when you think of Austin, the words "bat colony" may not be the first that comes to mind. But for any first-time visitor who's in town between April and September, stopping by the Congress Avenue Bridge at sundown is an absolute must.
The bridge is home to 1.5 million Mexican free-tailed bats: the largest urban bat colony in North America. Every evening in the summer the bats can be seen swarming and flying off into the night to hunt insects—a cool and educational sight that you'll need to see to believe. The bats fly out 30 to 60 minutes before the sun sets (anywhere between 7:30 and 9 p.m., depending on the time of year) but you'll want to secure a good viewing spot at least an hour and a half before sunset.
Eat, Drink, Be Merry
Austin is known for its seriously good eateries—many of which are group-friendly! While you're visiting, be sure to save room for popular Austin cuisine such as:
Barbecue
One of the most popular places in town to grab a brisket plate is Franklin BBQ, a downtown institution that often sells out before 2 p.m. (so line up early!). If the line out the door is too daunting, check out Stiles Switch BBQ's daily specials of smoked prime rib and crispy chicken or the sandwiches and tacos of Interstellar BBQ.
Tacos
Speaking of tacos, they're huge in Austin! Pastor lovers should check out the fresh-off-the-pit roasts of Rosita's Al Pastor in Riverside. Craving homemade tortillas? Taqueria Morales can give you the hook-up—as well as barbacoa, tortas, and quesadillas. And for an authentically "Austin" experience, sample the spicy shrimp or the bacon-wrapped fried chicken and mango tacos at Trippy Tacos.
Craft Beer
Austin's brewery scene is as diverse as it is unique. So if you're traveling with folks who drink, hitting up some of the town's best breweries should be on your schedule. As an added bonus, many of the more popular brewpubs are serviced by food trucks—another Austin foodie staple with tons of options to please a large group of drinking buds.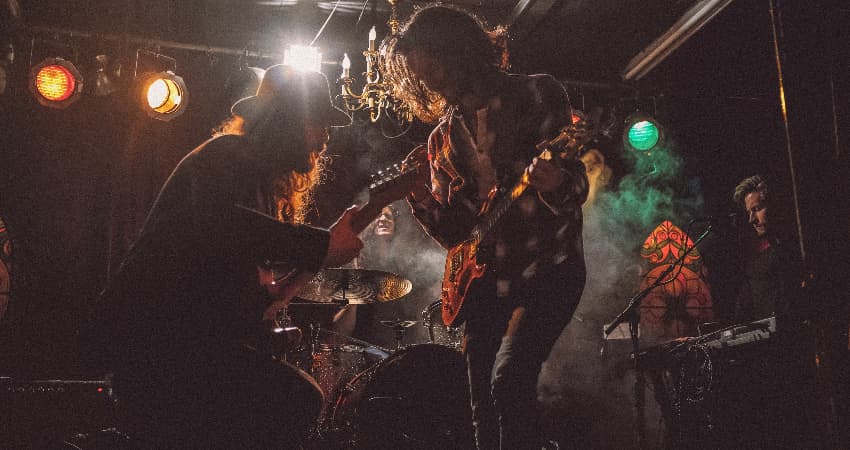 Exploring the Nightlife
Austin is called the "Live Music Capital of the World" for a reason. So if you're visiting the city for the first time and have a free evening, your group won't want to miss the Austin nightlife and seeing a live show in one of the many popular music halls.
Rainey Street is a major hub for nightlife and live shows during SXSW—just keep in mind that it does get a bit crowded and full of tourists during major events. Sixth Street (lovingly referred to as the "Dirty Sixth" by locals and veteran visitors) is home to plenty of dive bars and hole-in-the-wall lounges that often feature local acts and cheap drink specials. Most of the city's top clubs and concert venues are relatively close together, so setting up a bar-hopping minibus shuttle with a pro driver as your DD should be a breeze!
Plan Your First-Time Austin Visit Today
Now that you have an idea of how to tackle your group's first-time visit to Austin, it's time to get planning! You can trust the Texas Charter Bus Company team to ease your group transportation in and around Austin, so everyone can focus on making the most of their trip. Give us a call at  512-215-4891 whenever you have a headcount and a loose itinerary ready, and one of our 24/7 reservation specialists will be happy to connect you with the ideal charter bus rental for your needs. We'll even offer you a free and personalized price quote for your Austin bus rental, with no obligation to book!
Do you need to rent a charter bus?