A Beginner's Guide to Visiting Dallas
Looking to take a trip to Dallas for the first time? The beautiful city offers plenty of venues for special occasions such as weddings, corporate events, and school outings. Those who just want to visit Dallas with a group of close friends will also find plenty to do, such as some of the best dining in the country, museums and other cultural centers, and history centers for history buffs.
While exploring a new city is exciting, it can also be a little stressful. You may worry about seeing everything there is to see, where to park, what special events are in town, etc. Texas Charter Bus Company is here to help with all of those common questions and worries. With a variety of charter buses that accommodate groups from 18 to 56 passengers, groups of all sizes will cruise through Dallas with ease. Call 281-383-9491 today to get a free, no obligation quote and more info on how Texas Charter Bus Company can make exploring Dallas special for you and your group.
How to get around Dallas
A charter bus is an affordable and versatile option for getting around Dallas. Many of the top attractions offer charter bus pick-up and drop-off areas, and it beats trying to coordinate a group in Ubers or different cars. You can also save on parking, which can be costly in a major city like Dallas.
Outside of charter buses, you can ride DART, the Dallas Rapid Transit Authority. DART serves the Dallas-Fort Worth area through a series of buses, light rail, commuter rail, and high occupancy vehicle lanes. Day passes for DART start at $6, and you can download DART's app for maps, train arrival times, and other information you need to know. 
Now, here are a few of the highlights for when you and your group decide to visit Dallas.
Outdoor activities in Dallas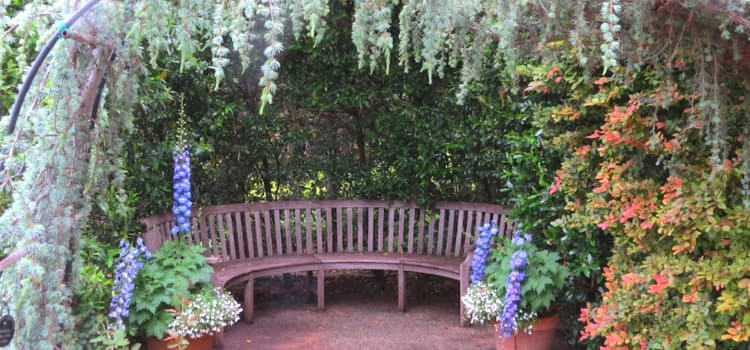 Dallas Arboretum and Botanical Garden
Address: 8525 Garland Rd, Dallas, TX 75218
The Dallas Arboretum and Botanical Garden features more than 60 acres of stunning sculptures, flowers, and gardens, and consistently ranks as one of the best in the country. Go on certain days during the year for a special low admission cost of only $5, which is great for larger groups. You can also find several dining options where you can dine among the flowers with a beautiful view.
Klyde Warren Park
Address: 2012 Woodall Rodgers Fwy, Dallas, TX 75201
Located at the edge of the Dallas Arts District, Klyde Warren Park stretches about three blocks and offers a children's park with a play fountain, a dog park, and numerous benches and tables to relax and soak up in the sun. You can also occasionally see food trucks and other special events and attractions at the park.
Dallas Farmers Market
Address: 920 S Harwood St, Dallas, TX 75201
Unlike other farmer's markets that are only open on weekends, you can enjoy the farmer's markets in Dallas seven days a week. The market features goods from produce dealers, wholesale dealers, and local farmers for the freshest produce around. While you are there, enjoy The Market Shops, a giant food hall featuring four different restaurants and lots of seating. Also, explore two different retail shops: Harvest Lofts Retail and Taylor Lofts Retail.
Learn about history in Dallas
Check out our history buff's guide to Dallas if you want to dive even deeper into the city's history!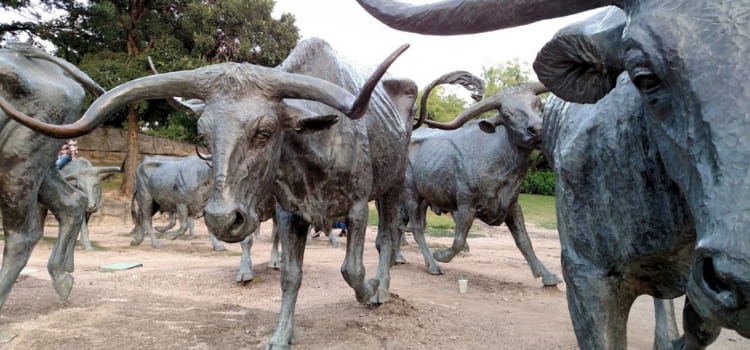 Pioneer Plaza
Address: 1428 Young St, Dallas, TX 75202
Pioneer Plaza is located on a former railroad and warehouse property, and it features large sculptures of cattle that commemorates the cattle drives of the 19th century that brought settlers to Dallas. The plaza also features a waterfall, man-made cliffs, plan life, and history plaques of the sculptures.
The Sixth Floor Museum at Dealey Plaza
Address: 411 Elm St, Dallas, TX 75202
The sixth floor of this building has been transformed into a museum that chronicles the life, times, death, and legacy of President John F. Kennedy. The museum itself is located at the exact spot where the former President was shot by Lee Harvey Oswald in 1963.
Frontiers of Flight Museum
Address: 6911 Lemmon Ave, Dallas, TX 75209
People fascinated by aviation history will find themselves at home with the Frontiers of Flight Museum. It features an extensive collection of aviation artifacts and vehicles, and it details the history of aviation and space exploration.
Places for kids and families in Dallas
The Dallas World Aquarium
Address: 1801 N Griffin St, Dallas, TX 75202
The Dallas World Aquarium houses many endangered or threatened species from around the world, making it a great opportunity for children to learn more about different species and conservation efforts being made to help them. The upper level of the zoo even features reproduction of the Orinoco rainforest for an immersive experience.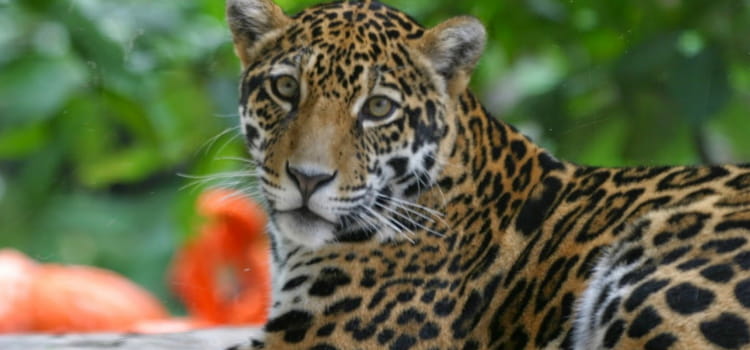 Dallas Zoo
Address: 650 S R L Thornton Fwy, Dallas, TX 75203
The Dallas Zoo is home to more than 2,000 animals from 406 different species, and is the oldest zoo in Texas. Children can enjoy attractions like the carousel and mini train, and you can upgrade to a special animal encounter like giraffe feedings.
Perot Museum of Nature and Science
Address: 2201 N Field St, Dallas, TX 75201
This natural history and science museum is a fun place for kids to learn about gems and minerals, the human body, engineering and innovation in history, and more. There are 11 permanent exhibits in the museum, and also offers special exhibitions for a limited time.
Arts and culture in Dallas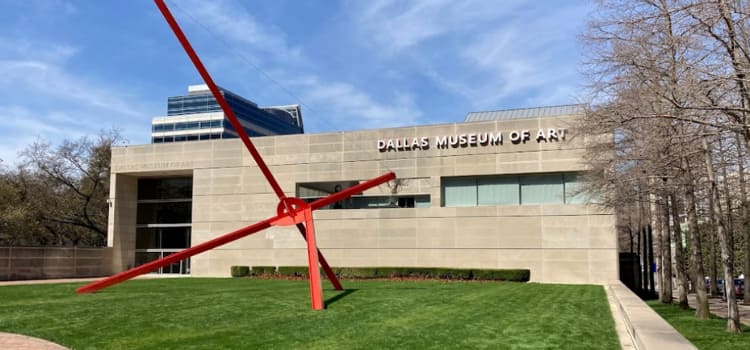 Dallas Museum of Art
Address: 1717 N Harwood St, Dallas, TX 75201
Located in the Dallas Arts District, the Dallas Art Museum is one of the largest art museums in America. Its collection of exhibits showcases art from as far back as the third millennium BC all the way to present day. It includes more than 24,000 pieces of art from past and current cultures all over the world.
African American Museum of Dallas
Address: 3536 Grand Ave, Dallas, TX 75210
The African American Museum of Dallas is the only museum in the Southwestern United States devoted to preserving and showcasing African American art, culture, and history. The museum houses a permanent exhibit featuring the art of highly regarded African American artists such as Romare Bearden and Clementine Hunter. If you and your group visit, you can also enjoy many educational programs at the "educational plaza," which features a theater and classrooms.
Crow Museum of Asian Art
Address: 2010 Flora St, Dallas, TX 75201
Located at the University of Texas in Dallas, the Crow Museum of Asian art pays homage to ancient and contemporary art from China, Japan, India, Korea, Nepal, Vietnam, Cambodia, Thailand, Indonesia, Myanmar, and the Philippines. In addition to permanent exhibits, it also offers special temporary exhibits; past exhibits include works like contemporary Japanese ceramics.
Places to eat in Dallas
Foodies, check out our guide to the best outdoor dining in Dallas for even more options for good eats.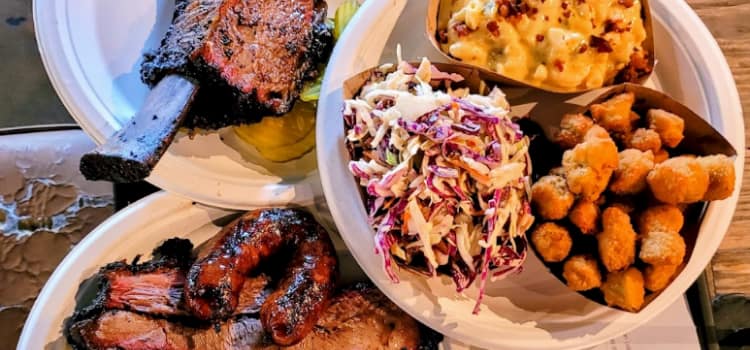 Pecan Lodge
Address: 2702 Main St, Dallas, TX 75226
Those looking for some of the best BBQ in Texas need look no further than Pecan Lodge. Enjoy smoked brisket, beef, pork, and other BBQ favorites. For your side option, try the collard greens, which have great reviews on Google.
Rodeo Goat
Address: 1926 Market Center Blvd, Dallas, TX 75207
Rodeo Goat offers the best burgers in Dallas, in addition to an extensive cocktail, wine, and beer menu. In addition to their specialty beef, chicken, and turkey burgers, Rodeo Goat also offers vegan and vegetarian burger patties.
Y.O. Ranch Steakhouse
Address: 702 Ross Ave, Dallas, TX 75202
Enjoy an authentic Texas dining experience at Y.O. Ranch Steakhouse. The steakhouse offers affordable yet upscale elk, bison, and more in a Western ambiance. Don't skip dessert—their banana pudding and pecan pie has rave reviews.
Uchi
Address: 2817 Maple Ave, Dallas, TX 75201
Uchi offers a sleek dining experience with modern Japanese cuisine. They have a special vegetarian menu, and an extensive alcohol list featuring sake, beer, wine, and cocktails. The walu walu comes highly recommended by diners.
Ocean Prime
Address: 2101 Cedar Springs Rd #150, Dallas, TX 75201
Ocean Prime is a great spot in Dallas to find upscale steak and seafood. The surf and turn and redfish dishes are a must-try. Those looking for a more classic dish will also enjoy their filet mignon. The carrot cake is also great for those with a sweet tooth.
Enjoy Dallas with Texas Charter Bus Company
Now that you've had a taste of what Dallas has to offer, don't wait another second! We will work with you and your group's individual needs and take care of all the transportation logistics for your trip. The buses we charter offer modern interiors and amenities, both basic and premium, to help you ride around town with style and comfort. Call Texas Charter Bus Company today at 281-383-9491 for a free quote on your Dallas bus rental.
Do you need to rent a charter bus?