Arts & Culture Guide to Austin for Groups
From a music scene as legendary as the music itself to cultural festivals that attract crowds from all over the globe, Austin is the Lone Star State's epicenter for arts and culture. You'll find so many opportunities to have your eyes opened and mind blown in Austin, whether it's learning something new at a world-renowned museum or exploring hundreds of works of commissioned public art scattered around the city.
If you want to explore the best of Austin's arts and culture with your favorite group of folks, why not book a charter bus? With a private charter bus rental, you'll avoid a lot of the traffic, tricky parking, and stressful transportation logistics of visiting most of Austin's arts and culture venues or events. Give Texas Charter Bus Company a call at 512-215-4891!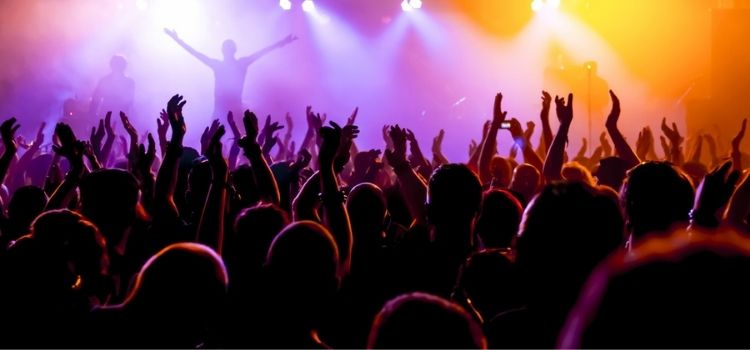 Attend an event at a live music venue
The nightlife in the "Live Music Capital of the World" is legendary, and you can't visit Austin, Texas without experiencing a nightclub, music lounge or concert venue.
If you're taking a rowdy group out on the town for a birthday party or bachelor/bachelorette party, plan to head to the area around 6th Street. This part of downtown Austin is where you'll find iconic, high-energy entertainment venues like Parish, Antone's Nightclub, Stubb's Bar-B-Q, and Elephant Room.
Beyond the rambunctious borders of "Dirty 6th" are venues for all types of music lovers and nightlife aficionados. For some two-stepping and toe tapping, take your group to a honky-tonk or dancehall like the Broken Spoke, The Little Longhorn Saloon, or Donn's Depot. Looking for a big concert experience? Plan to attend a show or festival at a large venue like Moody Center, home of Austin City Limits (ACL Live), or the open-air Germania Insurance Amphitheater in the Circuit of the America's complex.
Parish
Address: 214 E 6th St, Austin, TX 78701
Move to live rock, funk, hip-hop, Latin, reggae, and more at one of the best live music venues in Austin. Host a private event in their live music space or keep an eye on their performance calendar for a concert that matches your groove.
Donn's Depot
Address: 1600 W 5th St, Austin, TX 78703
Phone: 512-478-0336
This piano bar and dancehall is uniquely set in a former train depot and features two dance floors and plenty of live music. The venue is bookable and has been a spot for weddings, movie wrap parties, corporate events, and more.
ACL Live
Address: 310 W Willie Nelson Blvd, Austin, TX 78701
Phone: 512-225-7999
Known as an official SXSW venue in downtown Austin, ACL Live is a popular destination for epic live performances. Bring a group here for a show and book a private viewing area or experiential tour of the music venue.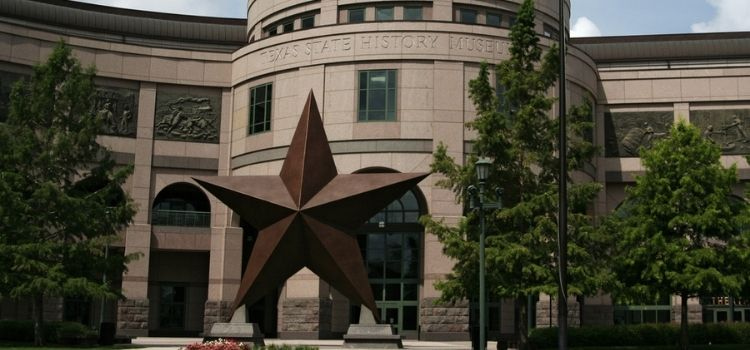 Visit an Austin museum
Museum visits are the typical tourist experience in most major cities, but in Austin, nothing is ever typical.
Bring art lovers to Austin to visit the Blanton Museum of Art, Umlauf Sculpture Garden & museum, or Mexic-Arte Museum, while history buffs will want to explore the Bullock Texas State History Museum. Looking for some family-friendly destinations or elementary field trip spots? Head to the Thinkery, or the Texas Toy Museum, where visitors can play old arcade games with the price of admission. If you're a frequent visitor to Austin and more interested in some of Austin's hidden gems and institutions off the beaten path, add the Museum of the Weird and Austin Rock and Roll Car Museum to the list.
Blanton Museum of Art
Address: 200 E Martin Luther King Jr Blvd, Austin, TX 78712
Phone: 512-471-5482
This museum holds the primary art collection for the city of Austin. It features 19,000 works showcasing European paintings, modern and contemporary American and Latin American art, ancient Greek pottery and sculpture, and more.
Bullock Texas State History Museum
Address: 1800 Congress Ave, Austin, TX 78701
Phone: 512-936-8746
Opened in 2001, the official history museum of the State of Texas shows artifacts, exhibitions, films, symposiums and more to tell the story of Texas and its culture. Plan your visit around a signature event like the Texas Artist Series, World Refugee Day, or American Indian Heritage Day.
Thinkery
Address: 1830 Simond Ave, Austin, TX 78723
Phone: 512-469-6200
More than just a children's museum, the Thinkery is a place for kids and families to explore, interact, and get hands-on with educational science, technology, engineering, art, and math (STEAM) exhibits.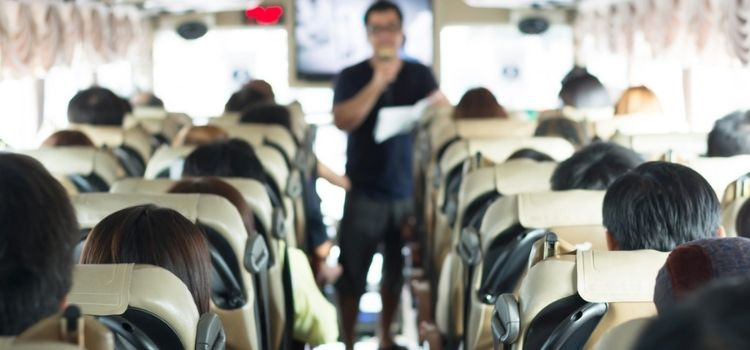 Personalize a public art bus tour
Nearly 200 works of art add sparks of joy and wonder throughout the city, courtesy of Austin's Art in Public Places (AIPP) program. You'll find space-making art works almost everywhere you turn in Austin, so planning a personalized bus tour will be a simpler task than it seems.
When planning a private tour of Austin's public art with your charter bus rental, design a route that includes some of the city's most popular hand-made landmarks. The multi-story Tau Ceti mural at the corner of Brazos and 2nd Streets is a great spot for selfies, while Kempelen's Owls statues are a quirky and interactive stop for your group to enjoy. For a unique public art visit during your tour, host a group picnic at Open Room, a public gathering space at Sand Beach Park. End your tour with a group photo op at a city-centric mural like the "Greetings from Austin" mural or the Historic 6th Street mural.
Kempelen's Owls
Address: 600 W 2nd St, Austin, TX 78701
This interactive sculpture of two, 10-foot-tall Texan great horned owls can be found near downtown Austin's Butterfly Bridge on Shoal Creek Blvd. The interactive features of the work are hidden and can be activated by visitors to trigger movement in the owls.
"Greetings From Austin" Mural
Address: 1720 S 1st St, Austin, TX 78704
Inspired by a 1940s postcard, this vibrant and iconic mural near South Congress Avenue is the perfect backdrop for an Instaworthy snapshot. The mural depicts Austin landmarks like the Congress Avenue Bridge, Barton Springs, and The University of Texas Tower.
Open Room Austin
Address: 200 Sandra Muraida Way, Austin, TX 78701
This "social sculpture" is a large, metal picnic-style table—complete with communal seating and chandelier-like lamp posts—and was designed to be used for group gatherings like dinners and family reunions.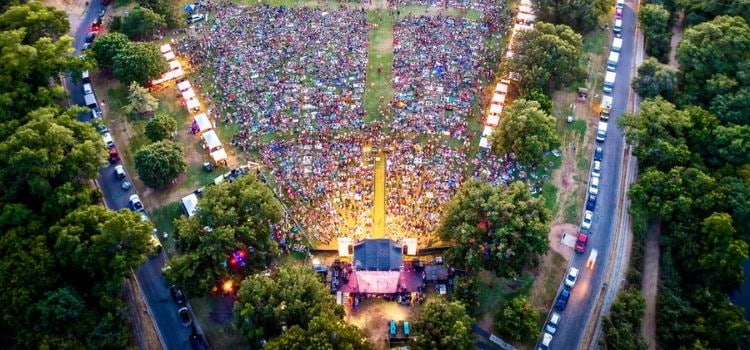 Go to an annual art, culture or film festival
At any given time in the year, you can plan a group trip to a festival in Austin. From oysters to poetry, hot sauce to vintage cars, and kites to horror movies, you'll find anything and everything is a reason to gather and celebrate in this city.
It's well worth planning a multi-day trip to Austin to experience a vibrant, cultural celebration. Some of the best include Carnaval Brasileiro, OUTsider Festival, and Viva La Vida Festival & Parade in November. For a seasonal group outing, attend a holiday-focused festival like the Fourth of July Fireworks and Symphony, Martin Luther King Jr. March and Festival, or St. Patrick's Day Festival.
If you're with a group of music and film lovers, plan to travel to an Austin festival like Austin City Limits Music Festival in October or Fusebox Festival. And it can almost go without saying the most famous festival in Austin is by far the South by Southwest (SXSW) Music, Film and Interactive Conference and Festival, which takes place annually in March. Book your charter bus rental early to avoid heavy traffic and parking hassles.
Viva La Vida Festival & Parade
Presented by the Mexic-Arte Museum and the Austin Convention Center, this festival celebrates Día de Los Muertos/Day of the Dead, an important Latin American tradition that takes place November 1 and 2. Traditionally, the celebration includes a parade, music and dancing, and family-friendly arts and crafts.
Austin City Limits Music Festival
ACL Festival features a diverse lineup of acts over 8 stages and 2 weekends in October. In past festivals, this festival's stages have been graced by headliners like Miley Cyrus, Guns N' Roses, Cardi B, Tame Impala, and more.
South by Southwest (SXSW®)
Founded in 1987, SXSW® is best known for celebrating and bringing together tech, film, music, education, and culture. Tickets include access to conference sessions, film festival screenings, and world-class trade show exhibitions from companies in gaming, tech, wellness, and more.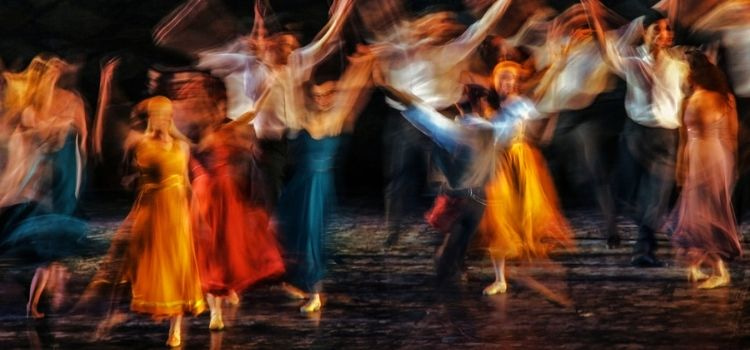 Enjoy a theater or dance performance
It's no secret that Austin is known for its creativity and showmanship, so why not see it played out on the main stage?
For an unforgettable performance, catch a show at some of Austin's best-known theatres like ZACH Theatre, Esther's Follies, and The Vortex. If you're interested in attending a large production, see a performance at a state-of-the-art venue like Paramount Theater or Long Center for the Performing Arts, home of the Austin Symphony Orchestra, Austin Lyric Opera, and Ballet Austin.
ZACH Theatre
Address: 202 S Lamar Blvd, Austin, TX 78704
Phone: 512-476-0541
ZACH Theatre was founded in 1932 and is the longest-running theatre company in Texas. And with numerous event spaces including the Serra Skyline Lounge, it's a great Austin spot to host an event like a company outing or wedding.
Paramount Theater
Address: 713 Congress Ave, Austin, TX 78701
Phone: 512-472-5470
This legendary theater is no stranger to hosting a plethora of major events like film festivals, comedy shows, dance performances, and dramatic plays. You can also go here to take part in their arts education program or rent the auditorium for a private event.
Long Center for the Performing Arts
Address: 701 W Riverside Dr, Austin, TX 78704
Phone: 512-474-5664
A stunning, sprawling complex with unbeatable views of the city, this performing arts center is a hub for music, theater, dance, spoken word, and more. Its calendar has featured shows such as a Bollywood take on William Shakespeare's Twelfth Night, and The Nutcracker presented by the Austin Ballet.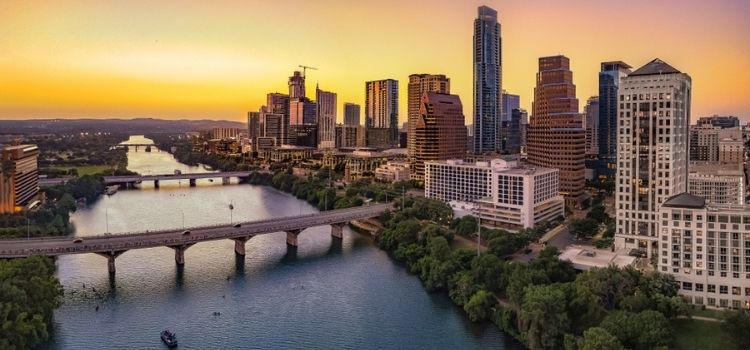 Explore Austin arts and culture with Texas Charter Bus Company
Whether you need reliable transportation to and from South by Southwest Festival or you're hitting the road to enjoy a night of live music in downtown Austin, Texas Charter Bus Company has got you covered. Give us a call anytime, 24/7, at 512-215-4891 to tell us all about your arts and culture adventure and book your charter bus rental.
Do you need to rent a charter bus?