A Group Guide to Visiting Austin's Best Breweries
Austin may be considered Texas' weirdest city, but it's also undeniably the Lone Star State's coolest metro area. Texas' capital is home to numerous restaurants with decadent food, art galleries showcasing local pieces, music venues that host all types of concerts, and of course dozens of craft breweries.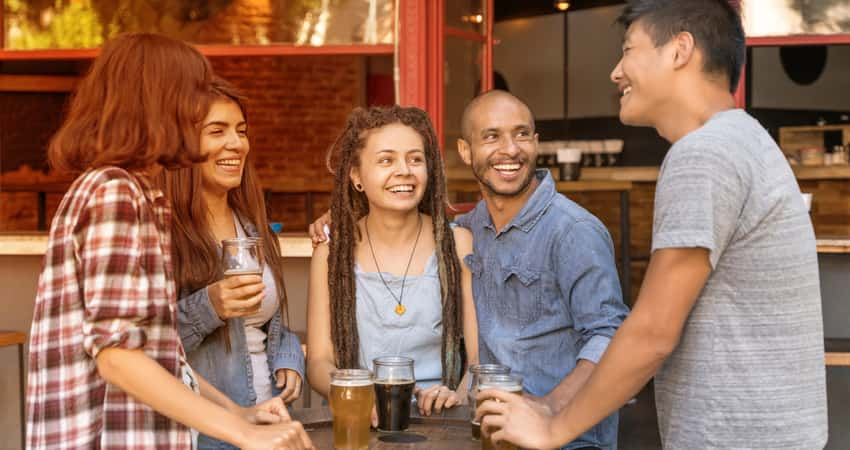 Whether you're a local business team planning a happy hour or you're tourists adding breweries onto your group tour of Austin, you'll have plenty to see and drink. If you don't want to worry about transportation for your brewery hop, consider renting a bus around Austin. You won't have to worry about appointing a DD or hailing rideshares from every location. With a private bus rental, everyone in your group can enjoy brews as much as they'd like. Leave the roads up to a professional driver and relax aboard a comfortable bus rental.
Call the Texas Charter Bus Company team at 512-215-4891 to book a bus rental for your brewery tour around Austin!
Safety and Pandemic Precautions
First things first, it's highly recommended that groups planning to visit breweries take proper precautions. This includes social distancing where needed and limiting contact with people outside of an established group.  Groups planning to visit Austin breweries should review each brewery's COVID-19 guidelines beforehand. Some locations are highly recommending full vaccinations for all guests and face coverings when not seated. Other establishments are only offering outdoor dining options or exclusively doing takeout and delivery.
St. Elmo Brewing Company
South Congress
Address: 440 E St Elmo Rd G-2, Austin, TX 78745
Phone: (737) 300-1965
St. Elmo serves up a variety of craft beer alongside creative Asian fare at Soursop, the brewery's in-house food truck. This laidback brewery is located in a converted warehouse space called The Yard and has a big taproom with community-style tables. The brewery also has a spacious outdoor patio area with picnic tables that are perfect for groups. The Carl Kolsch and Slater IPA are among St. Elmo's most popular brews. Grab a flight of beer, order some sweet and sour fried chicken, and soak up some ATX sunshine in the St. Elmo Beer Yard.
Charter bus travel tip: St. Elmo has a large private parking lot and additional space can be found at other lots in The Yard.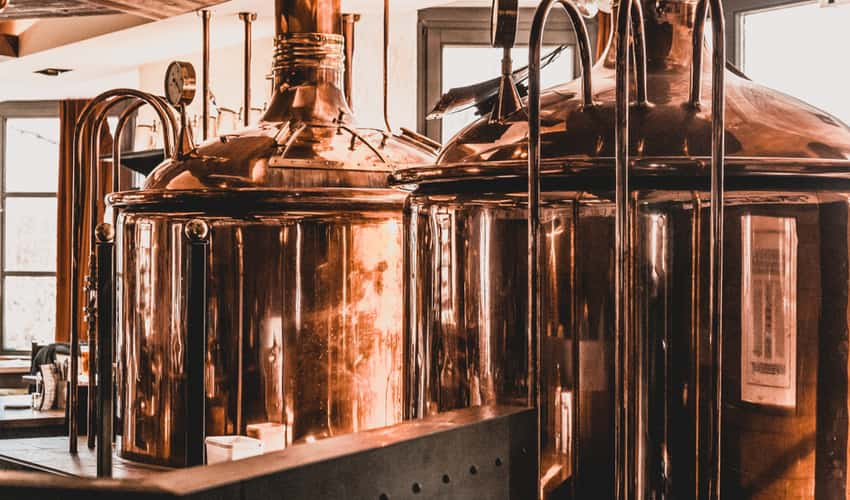 Blue Owl Brewing
Holly
Address: 2400 E Cesar Chavez St #300, Austin, TX 78702
Phone: (512) 593-1262
Fans of sour beer have to make Blue Owl Brewing a must-see stop. This compact brewery is famous for its tart brews like the Spirit Animal sour pale ale and Little Boss sour session wheat. The patio is currently open with limited seating, and most of their brews are available in to-go cans. Blue Owl Brewing also offers brewery tours during normal circumstances. Consider reserving a group tour to get a peek behind their sour-mashing operations, once the pandemic eases.
Charter bus travel tip: Blue Owl does not have its own private lot, so you'll have to have your driver drop you off before they go to find parking. Metered street parking is available on Pedernales St. If you happen to travel by personal vehicle instead, a shared lot can be found next to Switched On right off of E Cesar Chavez St.
Jester King Ranch
Dripping Springs
Address: 13187 Fitzhugh Rd, Austin, TX 78736
Phone:  (512) 661-8736
Jester King is a bit of a hike from the center of Austin, but it's well worth the drive for the wonderful beer, food, and atmosphere. When you're traveling by charter bus, you won't need to worry about driving anyway!
Jester King is a 200-acre ranch that includes a brewery, vineyard, kitchen, event venue hall, farm, and a lodging inn. During the pandemic, Jester King is primarily offering outdoor dining and drinking experiences. There are 7 areas for groups to drink and dine, with the most spacious location being the Beer Garden that accommodates up to 10 guests per table. Reservations are highly encouraged for all visitors. If you're unsure what to drink, the Black Metal stout and a variety of wild ales are among the most-ordered brews. Once the ranch is fully functional again, your group should sign up to take a brewery tour and farm tour.
Charter bus parking tip: Jester King currently has limitations on large groups traveling by oversized vehicles. During normal business operations, ample parking is available on the grounds although it can fill up by early afternoon on busy weekends.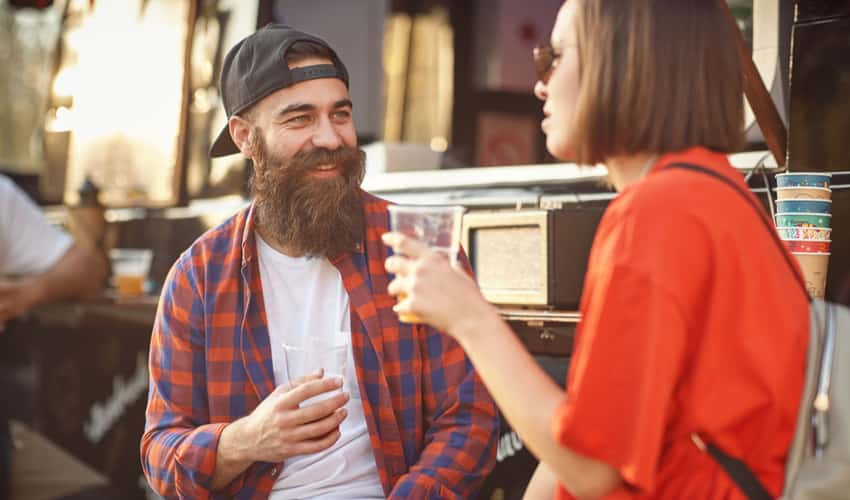 Austin Beerworks
North Austin
Address: 3001 Industrial Terrace, Austin, TX 78758
Phone: (512) 821-2494
With vibrant color schemes and a bright logo, Austin Beerworks cans are hard to miss. The brewery's taproom is just as bold as their cans, accented by bright and bold decor. Although the taproom is closed for indoor service due to the ongoing health crisis, the Austin Beerworks outdoor patio is open for business. Grab a table at the semi-covered outdoor patio and enjoy local favorites like the Fire Eagle IPA, Pearl-Snap pilsner, and Peacemaker ale. Getting hungry? Can-tina, the in-house food truck, offers American and Tex-Mex-inspired fare like classic burgers, beer brats, tacos, and nachos. 
Charter bus parking tip: Austin Beerworks has its own lot but parking can get tight on busy days. Parking in the grass along United Drive or Industrial Terrace may be necessary for oversized vehicles.
Lazarus Brewing Co.
East Austin
Address: 1902 E 6th St, Austin, TX 78702
Phone: (512) 394-7620
Lazarus Brewing Co has coffee, beer, and tasty street tacos. What more could you ask for? This cozy brewery roasts coffee beans and brews beer in-house for delicious drinks no matter the time of day. Indoor seating is currently unavailable but the brewery's patio area is open for dine-in service. Enjoy the Austin weather out on the patio with a table full of tacos, tortas, queso, and brews. Some popular beer options on Lazarus' 10 taps include the 40 Days & 40 Nights IPA, Achilles Heel nitro stout, and Amandus ale.
Charter bus travel tip: Parking in this part of East Austin can be notoriously difficult. If you're planning a brewery tour in the East Austin area, consider walking between locations and organizing parking for your bus elsewhere in the city.
Zilker Brewing Co.
East Cesar Chavez
Address: 1701 E 6th St, Austin, TX 78702
Phone:  (512) 712-5590
Zilker Brewing Co is actually right down the street from Lazarus Brewing Co. Hop on over next door to try a variety of bold IPAs. Zilker has other types of beer like coffee milk stouts and seasonal wild ales but they're mainly known for their hoppy varieties like the Marco and Heavenly Daze IPAs. The brewery is open for to-go service, as well as dine-in service on the patio. Zilker Brewing Co. doesn't have a kitchen, but the Spicy Boys food truck is usually parked right outside. Outside food is allowed if you'd rather order takeout from nearby Tamale House East or Ramen Tatsu-Ya.
Charter bus travel tip: Similar to many other businesses in the East Austin area, Zilker doesn't have a private lot and parking can be a hassle. Metered street parking is available along 6th St and Chalmers Ave.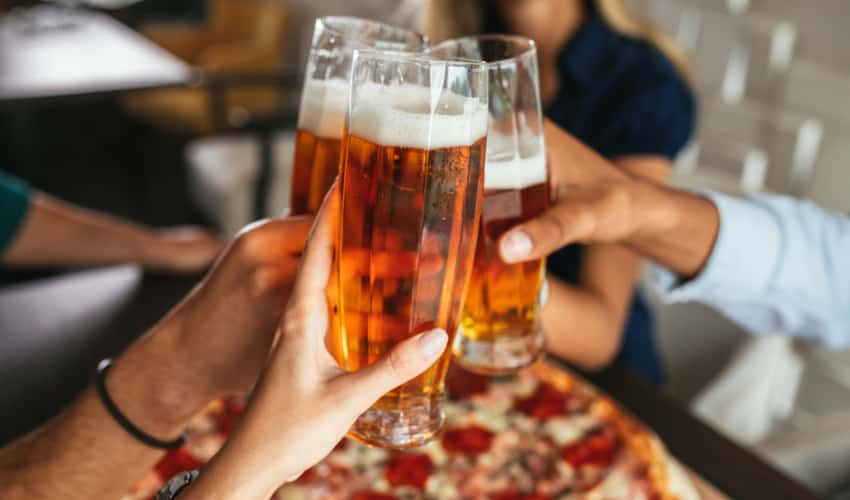 Pinthouse Pizza
South Lamar
Address: 4729 Burnet Rd, Austin, TX 78756
Phone: (512) 436-9605
Not only does Pinthouse have amazing pizza, but they also have a top-notch selection of handcrafted beer. Pinthouse focuses on hop-forward varieties of beer like the exceptionally popular Electric Jellyfish and Man O' War IPAs. Order a few house special pizzas like the Ooh La La or Shroomin' Goat for your table and try one of their 20 beers on tap. Pinthouse is currently open for dine-in services with limited capacity with indoor and outdoor seating. If the South Lamar brewpub is busy, you can try grabbing a table at their north Austin location in Brentwood.
Charter bus parking: Pinthouse is located in a shopping center with a spacious parking lot. Your driver can park at the far end of the lot to make sure your bus isn't blocking other patrons' parking options.
Plan an Austin Brewery Tour Today
Ready to start organizing your Austin beer tour? Texas Charter Bus Company will get you from brewery to brewery with ease in your very own private ride. Call the bus rental team at 512-215-4891 to reserve a minibus or charter bus for your brewery hop.
Do you need to rent a charter bus?