A Beginner's Guide to San Antonio
San Antonio is a sparkling gem of a city in the Lone Star State, offering plenty of food, entertainment, shopping, and history. There's something for everyone in San Antonio, whether you're planning a girls' trip, a wedding, a corporate outing, or a field trip to some of the city's biggest attractions. It's a great group-friendly destination with a lot to offer. 
Texas Charter Bus Company is ready to be your one-stop shop when it comes to group transportation services in San Antonio and beyond. We have access to a vast network of San Antonio buses of all sizes, from 18-passenger minibuses to 56-passenger charter buses. Each bus will come outfitted with all the amenities you and your group will need for the road, and we have access to ADA-compliant buses for any special needs your passengers may have. Just give us a call at 210-686-1207 if you have questions or want to book; we can provide you with a free, no-obligation quote on your San Antonio bus rental in minutes.
Feeling overwhelmed, and like you don't know where to visit during your San Antonio trip? That's where we come in. We've put together this blog to give you some of the top highlights that San Antonio has to offer. 
How to Get Around San Antonio with a Group
San Antonio offers the VIA Metropolitan Transit, along with a system of public buses, with relatively affordable fares of $1.30 per ride or $2.75 for an unlimited one-day pass. Public transit goes to many of the city's top attractions, but it has its limits. If you want to visit Brackenridge Park, SeaWorld, or a few other big attractions, you will need your own transportation. Plus, the trains and buses can get crowded, especially during peak hours, and you may have to split up your group into different buses in order to get where you need to go.
With a private bus rental in San Antonio, you have transportation that runs on your schedule, not against it. An experienced bus driver can take your group everywhere on your itinerary, even hidden gem locations that are off the beaten path. Avoid the hassle of driving in rush hour traffic or finding parking and leave it in the capable hands of a professional while you enjoy the ride. Charter buses are a green way to travel, creating less carbon emissions than several cars would, and often ends up being more cost-effective in the long run.
Things to Do in San Antonio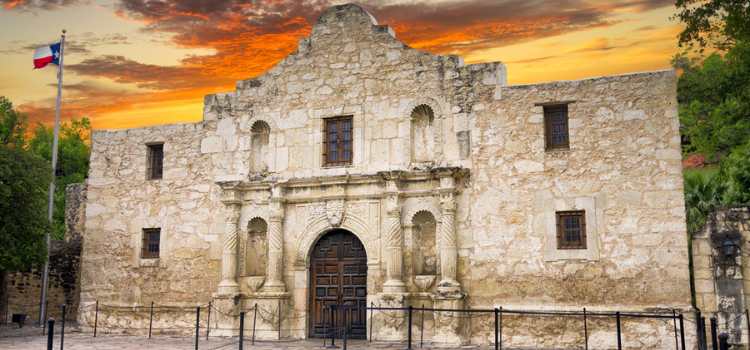 Historical Places in San Antonio
The Alamo
The famed Alamo is a historical Spanish mission and fortress compound dating back to the 18th century. The Alamo served as the site of the Battle of the Alamo in 1836, where James Bowie and David Crockett fought and perished. Visiting the Alamo is free and is a group-friendly activity, but reservations need to be made in advance.
Address: 300 Alamo Plaza, San Antonio, TX 78205
Phone: (210) 225-1391
San Antonio Missions National Historical Park
The San Antonio Missions is a site that preserves four of the five original Spanish frontier missions. The missions date as far back as the early 1700s and were established by Catholic missionaries to spread Christianity to the local natives. The site offers self-guided tours and daily ranger-led programs to learn more about the history of the missions.
Address: 6701 San Jose Dr, San Antonio, TX 78214
Phone: (210) 534-8875
San Fernando Cathedral 
The San Fernando Cathedral is one of the oldest cathedrals in the United States, breaking ground in 1738, and has a spot on the National Register of Historic Places. Today, the cathedral remains a heart of Catholic life in San Antonio, drawing around 5,000 people a week to mass and involving itself in annual San Antonio traditions such as Fiesta Week.
Address: 115 Main Plaza, San Antonio, TX 78205
Phone: (210) 227-1297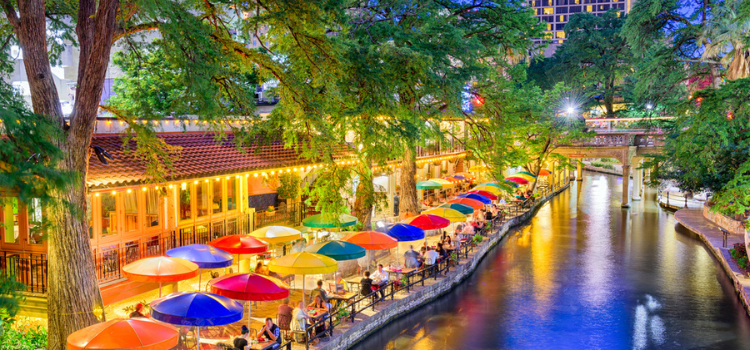 Shopping & Dining in San Antonio
San Antonio Riverwalk 
As the biggest attraction in the state of Texas, the San Antonio Riverwalk is 15 miles of sightseeing, shopping, food, and entertainment. The Riverwalk is home to some of the city's biggest landmarks and attractions, such as the Alamo. Elevate your group's visit with guided tours of historic San Antonio, a riverboat cruise, or even a scavenger hunt adventure.

Address: 849 E Commerce St, San Antonio, TX 78205
Phone: (210) 227-4262
Historic Market Square
Historic Market Square is the largest Mexican market in the United States, stretching across three blocks in downtown San Antonio with more than 100 shops. Eat traditional Mexican food in the Farmer's Market Plaza, and shop for local artisanal goods in the "El Mercado" section. Plus, enjoy live entertainment and other events nearly every single day.
Address: 514 W Commerce St, San Antonio, TX 78207
Phone: (210) 207-8600
Battalion
Enjoy classic Italian dishes and a myriad of cocktails when you eat at Battalion, an upscale Italian restaurant housed in a former firehouse. Reservations are recommended, and if you have a party larger than eight people, the restaurant asks that you call them directly to set up a reservation.
Address: 604 S Alamo St, San Antonio, TX 78205
Phone: (210) 816-0088
Bliss
Bliss offers new American fare, charcuterie, wine, and beer in a stylish environment. Their private dining room can accommodate up to 24 guests, and comes with power outlets, a speaker system, and a high definition flat screen television, making it a great option for corporate dinners or other private events.
Address: 926 S Presa St, San Antonio, TX 78210
Phone: (210) 225-2547
La Fonda on Main
Founded in 1932, La Fonda on Main is San Antonio's oldest Mexican restaurant. Transport yourself back in time with a meal in their hacienda-style dining room, or enjoy traditional Mexican food with a dash of Tex-Mex in their stunning outdoor patio. While the restaurant is one of many group-friendly restaurants in San Antonio, a reservation is highly suggested.
Address: 2415 N Main Ave, San Antonio, TX 78212
Phone: (210) 733-0621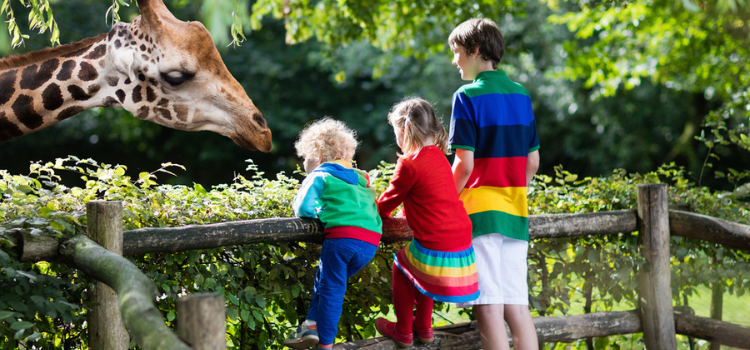 San Antonio Activities for Kids
San Antonio Zoo
If you happen to be visiting Brackenridge Park, be sure to visit the San Antonio Zoo. The 50- acre zoo has more than 750 species, some of which are extinct in the wild, and is accredited by the Association of Zoos and Aquariums. It's a popular location for field trips, as it offers numerous opportunities for learning activities and conservation education.
Address: 3903 N St Mary's St, San Antonio, TX 78212
Phone: (210) 734-7184
Six Flags Fiesta Texas
Six Flags Fiesta in San Antonio has rides, shopping, family-friendly entertainment, and live performances. Go during certain times of the year for events like Holiday in the Park or Oktoberfest. It's best to visit during either weekdays in the summer or any day during April, May, September, and October, as those are the times when attendance is lightest.
Address: 17000 W I-10, San Antonio, TX 78257
Phone: (210) 697-5050
The DoSeum
The DoSeum is a children's museum that strives to provide a hands-on learning experience for children and adults alike. The two-story building has 68,000 square feet of interactive exhibits, such as the Innovation Station, Big Outdoors, Little Town, and Imagine It! The DoSeum is also able to accommodate birthday parties or other private events and offers day camps and other programs.
Address: 2800 Broadway, San Antonio, TX 78209
Phone: (210) 212-4453
LEGOLAND Discovery Center
Visit the LEGOLAND Discovery Center in San Antonio for all things LEGO. Kids and their parents can explore a mini town built from over 1.5 million LEGO bricks, a 4D cinema, Merlin's Apprentice ride, a play zone, and more. Its location is also prime for some shopping, dining, and more sightseeing; LEGOLAND is located along the San Antonio Riverwalk and right by The Alamo. 
Address: 849 E Commerce St Suite 910, San Antonio, TX 78205
Phone: (210) 610-1150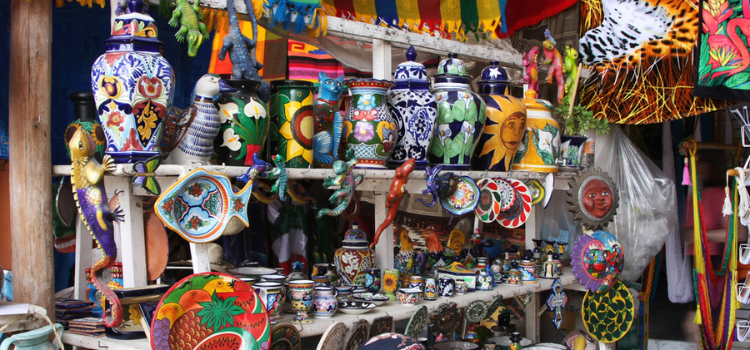 Arts & Culture in San Antonio
La Villita Historic Village
Stroll on over to La Villita Historic Village for a block of art galleries and shops. It's listed on the United States Government's National Register of Historic Places and is known as the oldest village in San Antonio, dating back to the early 1800s. Shop for art and jewelry and explore artwork by local artisans and soak in some arts and culture when you visit. 
Address: 418 Villita St, San Antonio, TX 78205
Phone: (210) 207-8614
San Antonio Museum of Art (SAMA)
The San Antonio Museum of Art has artwork that spans 5,000 years of history and culture, taking you on a journey unlike any other. The museum has both permanent and traveling exhibitions, the details of which are on their website, as well as events and classes for all age groups. The museum is group-friendly and allows you to arrange for tours beforehand.
Address: 200 W Jones Ave, San Antonio, TX 78215
Phone: (210) 978-8100
Briscoe Western Art Museum
The Briscoe Museum chronicles the history of the American West through different exhibits and artifacts. The museum is free for active military and those under 12 years old, making it a budget-friendly activity, and hosts permanent and traveling exhibits. During the holiday season, the museum hosts Cowboy Christmas, where families can do arts and crafts and meet cowboy Santa. 
Address: 210 W Market St, San Antonio, TX 78205
Phone: (210) 299-4499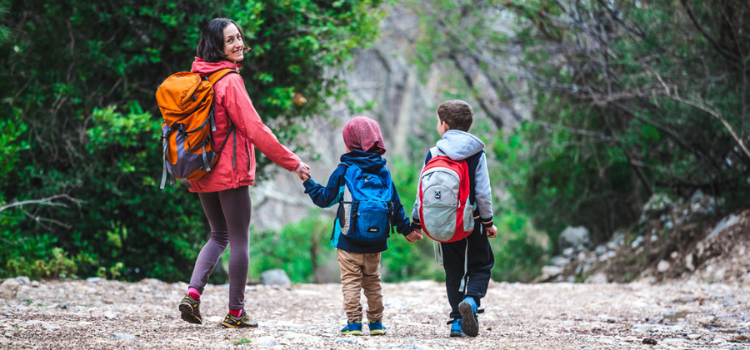 San Antonio Outdoor Spaces
Natural Bridge Caverns
While technically indoors, as it's underground, Natural Bridge Caverns is a great option for a more outdoorsy group wanting to explore San Antonio. They are the largest commercial caverns in the state of Texas and contain a 60-foot natural limestone slab bridge. You can explore two different cave systems, as well as do a ropes course, a zip line, and dig for fossils.
Address: 26495 Natural Bridge Caverns Rd, San Antonio, TX 78266
Phone: (210) 651-6101
Japanese Tea Garden
Seek some peace and serenity in the Japanese Tea Garden in San Antonio. The area has a lush garden, shaded walkways, stunning stone bridges and Japanese architecture, ponds filled with colorful koi, and even a 60-foot-tall waterfall. The garden is completely free to visit and is currently open daily.
Address: 3853 N St Mary's St, San Antonio, TX 78212
Phone: (210) 212-8423
Hemisfair
Hemisfair is an iconic San Antonio park that houses the Tower of the Americas, the Institute of Texan Cultures, The Magik Theatre, shopping and dining, fountains, and a playground. The urban green space is a great place to explore if you want to go outside and get some fresh air but also be within the confines of the city. 
Address: 434 S Alamo St, San Antonio, TX 78205
Phone: (210) 709-4750
Brackenridge Park
Brackenridge Park has more than 300 acres of land, offering walking trails, bird watching, playgrounds, fishing, and more opportunities for outdoor recreation. The park also houses several major attractions, like the San Antonio Zoo, the Japanese Tea Garden, and the Witte Museum. The Sunken Garden Theatre and Tuesday Musical Club in the park perform live music and other entertainment at select times during the week.
Address: 531 Brackenridge Way, San Antonio, TX 78212
Phone: (210) 826-1412
See San Antonio with Texas Charter Bus Company
Whether you're landing in San Antonio for the first time or are a seasoned veteran of this Lone Star State city, Texas Charter Bus Company is ready to serve as your transportation solution. The buses in our network can accommodate all group sizes and occasions. You can call 210-686-1207 at any time to ask any questions and secure your San Antonio bus rental in minutes.
Do you need to rent a charter bus?