The Beginner's Guide to Group Travel in Houston
As Texas's largest city, groups traveling around Houston will have a long list of things to see and do. If you're visiting Houston for the first time with a group, you'll need to do some itinerary planning! Don't worry, Texas Charter Bus Company has your group transportation covered—and we've also compiled some of the best places to explore in H-Town.
Keep on reading to learn more about where to go in Houston and how Texas Charter Bus Company can help you get there!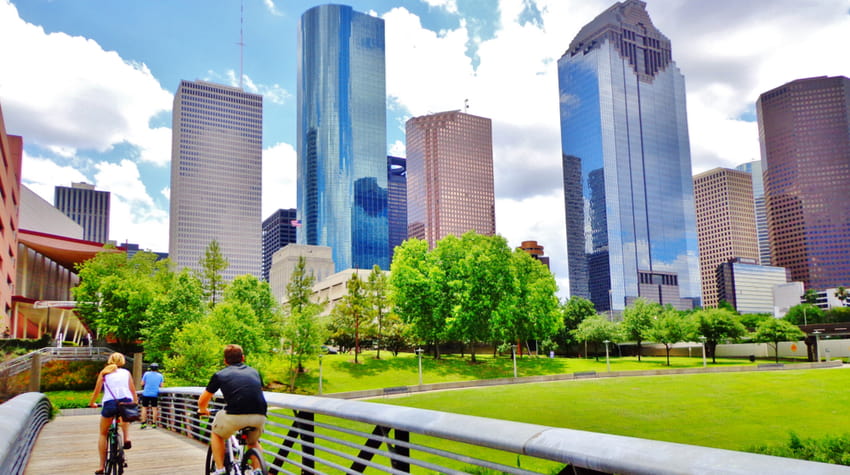 How to Travel in Houston
Planning a group trip can be stressful, especially if you're out-of-towners and generally unfamiliar with the city. Renting a charter bus in Houston is one of the best ways to take some travel-related stress off your shoulders. Oftentimes, booking multiple rental cars can get tedious, and organizing rideshares throughout a trip can get expensive. Texas Charter Bus Company has a group transportation service solution for you.
Choose from a wide selection of minibus and charter bus rentals to accommodate your group trip to Houston. You'll have a private ride and professional driver dedicated to your schedule and group size. In addition to having a dedicated ride, you'll also have comfortable transportation too. Request a bus with amenities like WiFi to stream music, TVs to pass travel time with a movie, and reclining seats to relax after long flights into Houston airports.
If you have questions about available Houston charter bus rentals and the cost of reserving a bus, call 281-383-9491. An experienced Texas Charter Bus Company representative will generate a quick and accurate quote.
Where to Stay in Houston
Houston has a variety of vibrant neighborhoods that offer a selection of hotels at different price points for groups of travelers. Choosing what Houston neighborhood to stay in depends on your itinerary and where you'll be spending most of your time.
Is your group planning to museum hop around Houston? You'll want to lodge in Downtown Houston or the Museum District. Are you planning a friend's weekend with multiple nights out on the town? Consider staying in the lively Midtown Houston. Groups looking for a quiet hotel, away from the hustle and bustle of central Houston may want to set sight for lodging in the Galleria and Uptown neighborhoods.
Top Things to Do in Houston
To make planning your first-time group trip in Houston a little easier, we've broken down some of the city's top attractions by interest. Mix and match attractions as you build your customized itinerary. Wherever you decide to go, your professional charter bus driver will have the road covered for your entire trip.
Actually Fun Science
You don't have to have a group of kids to enjoy Houston's top science-related attractions. Groups of adults or those traveling with children interested in science will enjoy these Houston attractions:
Space Center Houston
Address: 1601 E NASA Pkwy, Houston, TX 77058
Phone: (281) 244-2100
Space Center Houston is one of the city's most-visited attractions and arguably the most famous NASA visitor center. Marvel at the retired shuttles like one of the Saturn V rockets in Rocket Park, take a tram tour through the historic Apollo Mission Control Center, and learn about the impressive history of space exploration. Discounted group tickets are available for 20 or more visitors with advance reservations.
Charter bus travel tip: Bus parking is free and charter bus drivers get free admission when they present their ID at the Guest Services Desk.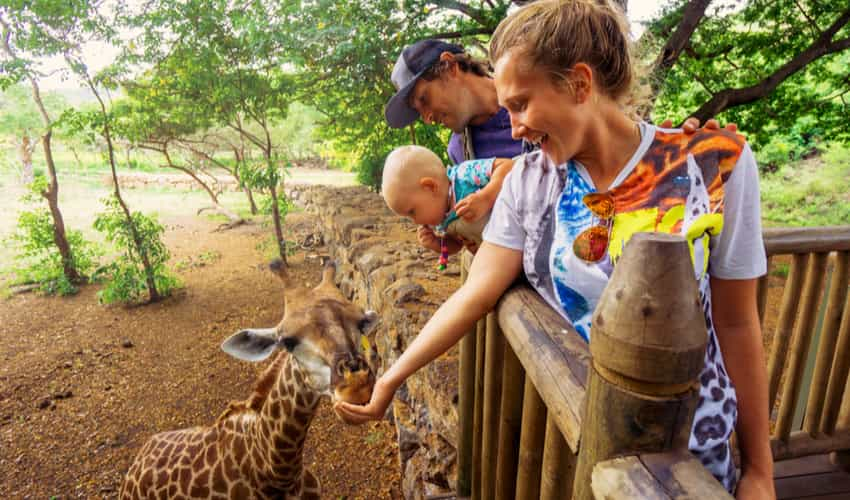 Houston Zoo
Address: 6200 Hermann Park Dr, Houston, TX 77030
Phone: (713) 533-6500
The Houston Zoo is the second most visited zoo in the country and is a fun educational destination for groups with children or only adults. The animal exhibits include more than 900 species from around the world like Asian elephants, Masai giraffes, jaguars, cheetahs, and cassowaries. The Houston Zoo is also home to the University of Houston's cougar mascot, Shasta. Group tickets can be purchased at a discounted rate for 20 or more visitors.
Charter bus travel tip: Bus parking can typically be found between ​​Gates 4 and 7 at the zoo but you'll want to verify parking options when you book tickets.
George Observatory
Address: 21901 FM 762 Rd, Damon, TX 77430
Phone: (281) 242-3055
The George Observatory is operated by the Houston Museum Of Natural Science and is a wonderful hidden gem for groups interested in astronomy. This historic observatory is located south of Houston in Brazos Bend State Park. Your group can hop on your charter bus and shuttle the 45 miles with ease! Spend a Saturday evening stargazing at the George Observatory and exploring astronomy and nature exhibits around Brazos Bend. Timed entry tickets must be purchased in advance to visit the observatory.
Charter bus travel tip: You'll find a spacious parking lot located next to the observatory. If parking is full and your charter bus is too large, additional parking can be found in Brazos Bend.
Explore Museums Galore
With over 150 museums in the Houston area, your group will find world-class arts and culture institutions that cover a wide range of topics. Explore the Houston Museum District's 4 walkable zones or shuttle around to other museums on your charter bus!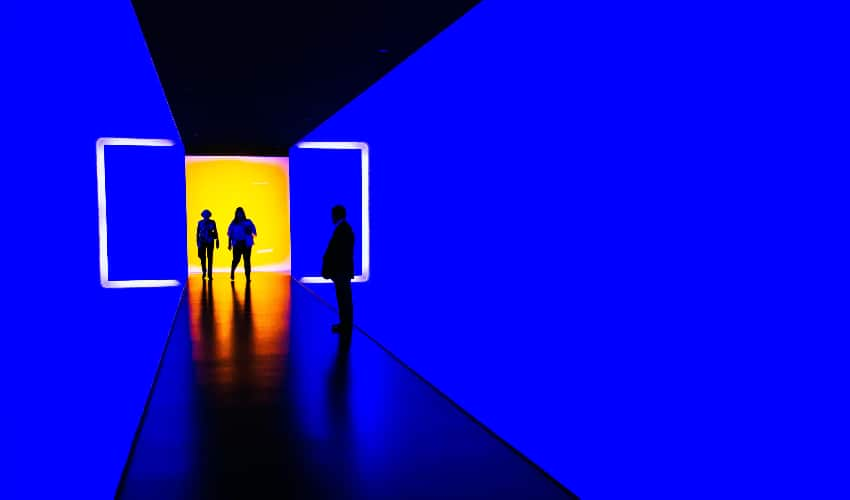 Museum of Fine Arts Houston
Address: 1001 Bissonnet St, Houston, TX 77005
Phone:  (713) 639-7300
If you're a group of art lovers, stopping by the Museum of Fine Arts Houston is a must. The MFAH is one of the largest museums by gallery space in the country and has more than 70,000 pieces in its collection. The museum's collection includes an impressive selection of works from the impressionist movement like Vincent van Gogh, Claude Monet, and Henri Matisse. Additional highlights include the Cullen Sculpture Garden, a collection of work from European Old Masters, and American painting & sculpture in the Audrey Jones Beck Building. Group visits and tours can be organized for 10 or more visitors.
Charter bus travel tip: Oversized vehicles like buses must park off of Main Street in Hermann Park.
The Menil Collection
Address: 1533 Sul Ross St, Houston, TX 77006
Phone: (713) 525-9400
Groups interested in modern art will find The Menil Collection a must-stop location. Once the private collection of John and Dominique de Menil, more than 17,000 pieces were donated to open a nonprofit museum in 1987. You'll find works from modern and contemporary artists like Mark Rothko, ​​René Magritte, Jackon Pollock, and Andy Warhol. Visiting the museum is free with timed entry tickets. Groups must reserve their visit ahead of time by calling 713-525- 9400.
Charter bus travel tip: Groups can be dropped off at the museum's main entrance and buses can park along Mulberry Street.
National Museum of Funeral History
Address: 415 Barren Springs Dr, Houston, TX 77090
Phone: (281) 876-3063
The National Museum of Funeral History is one of Houston's most unique museums. It houses one of the largest collections of funeral and death care artifacts in the country. As macabre as it may seem, the eccentric museum offers a wealth of educational resources about the history of funeral services across different cultures. Groups will find exhibits about the intricacies of Japanese funerals, the history of Dia de Los Muertos, U.S. Presidential funerals, and the process of making fantasy coffins for burials in Ghana. Discounted group ticket rates can be booked for 25 or more visitors.
Charter bus travel tip: Free parking can be found on-site at the museum.
Outdoor Activities
Groups of outdoorsy travelers will be happy to know that Houston has beautiful natural greenspaces and its proximity to the bay offers aquatic activities too. Here are a few places to enjoy a day out in Houston's natural beauty: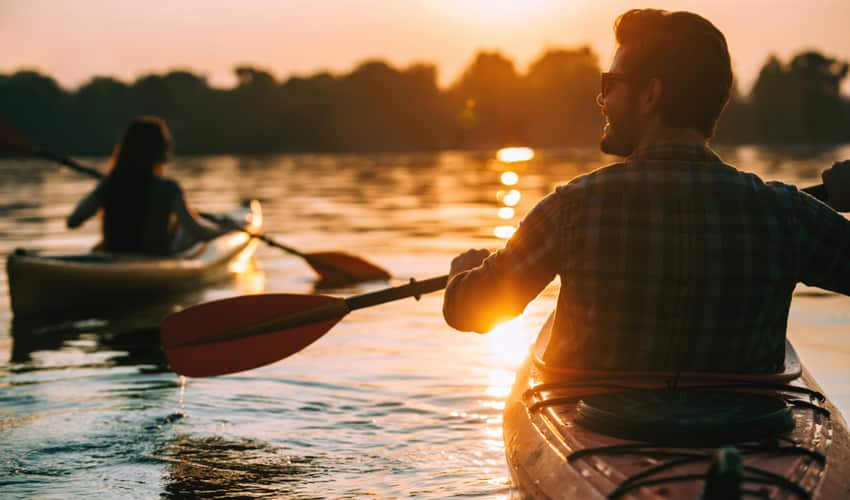 Buffalo Bayou
Buffalo Bayou Partnership Address: 1019 Commerce Street, Suite 200, Houston, TX 77002
Phone: (713) 752-0314
Buffalo Bayou flows through the center of Houston and offers a variety of things to do along its 53-miles of banks. Take a stroll through Buffalo Bayou Park and snap photos of the Houston city skyline, have a picnic at Eleanor Tinsley Park, or take a tour of the historic underground Buffalo Bayou Park Cistern. Are aquatic activities more your speed? Rent a kayak or canoe from Bayou City Adventures under Sabine Street Bridge.
Charter bus travel tip: Since Buffalo Bayou sprawls across a few dozen miles, there are multiple areas for parking. Most parking lots surrounding the bayou may not have enough space for a charter bus. Your driver may need to opt for street parking on nearby roads.
Hermann Park
Address: 6001 Fannin St, Houston, TX 77030
Phone: (713) 526-2183
As one of the city's largest green spaces, Hermann Park is the perfect location to spend an afternoon with friends or family. The park houses the Houston Zoo and the Houston Museum of Natural Science. Visiting these attractions does cost admission but entering the park itself is completely free. Plan a picnic in front of McGovern Lake, stroll around the sculpture promenade a the McGovern Centennial Gardens, enjoy a serene moment under gorgeous maples at the Japanese Garden, or catch a free concert at the ​​Miller Outdoor Theatre. Guided group tours around the grounds can be organized for 15 or more guests through the Hermann Park Conservancy.
Charter bus travel tip: Groups can be dropped off on Hermann Drive and parking is available in multiple lots across the park, except for Lot C closest to the Centennial Gardens.
Galveston
Alright, Galveston isn't in Houston, but it's so close that you should consider adding this beachfront town to your H-Town itinerary. When you're traveling from Houston to Galveston with Texas Charter Bus Company, you also won't need to worry about the hour drive there! It's a popular summer destination for families and for adults visiting during Galveston's famous Mardi Gras celebration. Soak up some sun on East Beach or Stewart Beach, play retro fair games at Galveston Island Historic Pleasure Pier, take an architecture tour of the East End Historic District, or have a fun educational day at Moody Gardens.
Charter bus travel tip: Keep in mind that Galveston may have limited parking areas for oversized vehicles around its historic districts.
For the Sports Fanatics
Texas is big on sports and Houston has world-class venues for enthusiasts to tour or catch a game! Check out Houston's sports season before planning your visit to see what's on the calendar at these venues: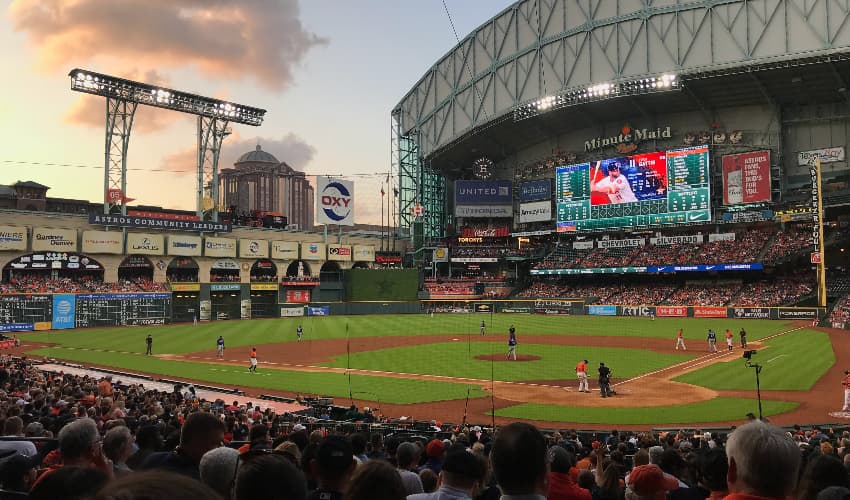 Minute Maid Park
Address: 501 Crawford St, Houston, TX 77002
Phone: ​​(713) 259-8000
Home to the Houston Astros, Minute Maid Park is the city's premier baseball venue and the first domed sports stadium ever built. Daily group tours are available in the ballpark, including some gameday options. Book a one-hour group tour that covers the Minute Maid Park highlights or upgrade to the All-Star Tour or Ultimate Fan Tour that includes additional stops like the ​​Diamond Club, batting cages, and Astros Dugout.
Charter bus travel tip: Groups can be dropped off in the designated lane on Texas Avenue and parking for charter buses can be found along Bastrop Street.
NRG Park
Address: NRG Pkwy, Houston, TX 77054
Phone: ​​ (832) 667-1400
Not only is NRG Stadium home to the Houston Texans but it also houses the annual Houston Livestock Show and Rodeo. Depending on when you're traveling around Houston, you'll surely want to grab tickets to a Texans game or the famous rodeo in spring. The Houston Livestock Show and Rodeo is one of the city's largest annual events and includes plenty of community activities in addition to professional rodeo events.
Charter bus travel tip: Oversized parking at NRG varies depending on the event. When you book tickets for your event, be sure to inquire about which lots are charter bus accessible.
Travel in Houston with a Group
Now that you have a few ideas of what to add to your first-timers group trip to Houston, you have to organize how you'll get there. A Texas Charter Bus Company representative will be available around the clock to book the right Houston bus rental for your group. Call 281-383-9491 to discuss your transportation needs and get a free, personalized quote!
Do you need to rent a charter bus?