The Best Austin Restaurants for Groups
When you think of dining in Austin, what do you think of? Probably Tex-Mex and trendy eats. But there's more to the city than breakfast tacos. Austin is a culturally diverse town, and that fact is definitely reflected in the patchwork of restaurants, cafes, beer gardens, and lounges that cover the city.
So where should you reserve your group's next meal or event? It depends on your guests' tastes! We've rounded up some of the most group-friendly restaurants in the city, with plenty of private dining options to make your shindig a hit.
Read on to see our top picks, and be sure to call 512-215-4891 when you're ready to figure out how everyone will get to the food.
For the brunch bunch…

Perla's Seafood and Oyster Bar
Cuisine: fancy seafood
Normally, this upscale South Congress restaurant would top most visitors' "Must-Eats in Austin" list with its everyday Cape Cod-style seafood selections. But the brunch here is truly something to behold.
Dine on the likes of NOLA-style BBQ shrimp and grits, lobster rolls, and ceviche with avocado and fried tostaditos. Throw in a mimosa service for the table, and you've got a brunch experience comparable to what you'll find in the Hamptons. Call (512) 791-5745 with your private event inquiries, and the onsite event coordinator can help you coordinate a rehearsal dinner, bachelorette party, or thank-you supper for your organization.
Worried about your guests having one too many mimosas? Don't worry, we've all been there. Luckily, a Texas Charter Bus Company rental includes a professional driver to handle the transportation to and from your group brunch. No need to elect a DD or wait around outside for an Uber or Lyft while you're tipsy. Just hop on the shuttle bus and let a certified professional take everyone home, safe and sound.
Address: 1400 S Congress Ave, Austin, TX 78704

Wu Chow
Cuisine: modern Chinese
Tired of pancakes, eggs Benedict, and avocado toast? Liven up your brunch rotation and save a seat at Wu Chow!
Any other day of the week, this farm-to-table downtown haunt showcases eight styles of Chinese entrees with a contemporary twist, from squid fries to BBQ flank steak. But the popular dim sum service is only available once a week: Sunday for brunch, between 11 a.m. and 3 p.m.
One of the best things about dim sum is that it's meant to be shared—so the more, the merrier! Order a bunch of small plates so your group can sample specialties like scallion pancakes, baked pineapple bao, Shanghai soup dumplings, and so much more. Just be sure to call (512) 476-2469 and reserve a spot early, as the Sunday dim sum service is extremely popular and tables fill fast.
Address: 500 W. 5th St, Austin, TX 78701
For lovers of beers and brats…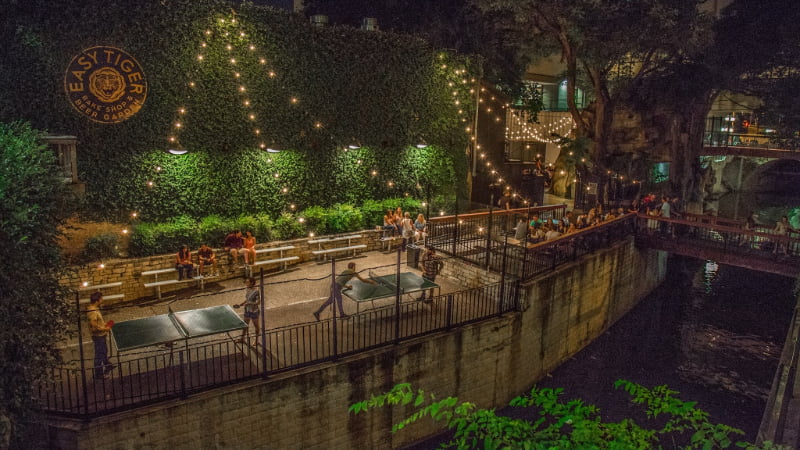 Easy Tiger
Cuisine: German-American bar food
Artisanal bread, charcuterie, and boutique beer. Need I say more?
Easy Tiger has been a resident-favorite for years, serving up laidback vibes, handmade pastries and smoked meats, and locally sourced coffee and beers since 2012. You can currently find this hip bake-shop-slash-beer-garden chain at two locations: Sixth Street and The Linc.
The Sixth Street establishment is home to the original bake shop and is great for schooling your coworkers in ping-pong or enjoying the breeze off Waller Creek. Its iconic ivy-walled patio spaces and close vicinity to the Austin Convention Center make it a prime get-together spot during SXSW, so you'll want to snatch up a reservation ASAP if you want to dine here in March. Private parties and events can reserve any of the following:
Beer Garden Main Patio – includes picnic-style tables that can seat 8 to 10 people each. You can reserve up to 6 tables at a time.
Lower Waller Creek Patio – features two ping-pong tables and a few sets of bleachers and can accommodate up to 60 standing people
Upper Waller Creek Patio – allows guests to dine with a fantastic view of the creek, and can accommodate up to 40 seated guests—4 picnic tables that can seat up to 10 people each
Despite Easy Tiger's shop at The Linc being the new kid on the block, its open floor plans and covered patios can make outdoor events easier to arrange and more comfortable for your guests. It's just a hop, skip, and a jump away from Austin Community College and has plenty of room for live music and a dance floor. If you want to reserve a space here, here are your options:
Main Patio – best suited for large dinners, birthdays, or bachelor(ette) gatherings. Guests can reserve up to 4 of the large patio tables that can fit 10 to 12 people each
North Patio – partially covered, so your guests can choose between sun and shade. Includes 5 covered patio tables (each seat 10 to 12), open-concept uncovered spaces, private restroom access, two ping-pong tables, and an outdoor bar (upon request). Can accommodate up to 125 standing, 75 seated
The Breezeway – essentially, a buy-out of all the available outdoor spaces, including the entirety of the covered pavilion and its 9 patio tables, an uncovered standing area, 3 ping pong tables, private restrooms, and access to the outdoor bar. At max capacity, this space can fit up to 160 standing guests and 108 seated
The Mezzanine – a semi-private event space that overlooks the main dining room and comes with an HDMI- and USB-friendly plasma screen TV and your choice to sit 45 guests or let 65 guests stand and mingle
Address: 709 E 6th St, Austin, TX 78701 (Sixth Street location)
Address: 6406 N Interstate 35 Frontage Rd Suite 1100, Austin, TX 78752 (The Linc location)
For your next cocktail hour…

Jefferys of Austin
Cuisine: French-American fine dining
Out of all the private dining spaces and buy-out options, this posh steakhouse is perhaps the most exclusive. Expect nothing less than white-tablecloth service, mouth-watering steaks, and an extensive wine selection if your group chooses to dine here.
As for private dining options for groups, here's what Jeffery's offers:
Napoleon Room – tucked away in the wine cellar, this intimate venue features rich, vintage woodwork and a personal waitstaff. Can accommodate up to 12 seated guests
The Apartment – upstairs from the main restaurant floor, you'll find this quaint private space furnished with a full bar and a record player. Can seat 20 or accommodate 30 standing guests
Dining Room – versatile and roomy, this dining space is available for dinner services, breakfasts, lunches, or buffet-style meals. Can seat up to 36 guests.
Restaurant Buy-Out – for company-wide get-togethers, rehearsal dinners, or any large-scale cocktail party, there's the option to buy out the above spaces to accommodate 80 seated guests and 120 standing guests
Setting up a happy hour for your company's employees or conference attendees? We recommend setting up a shuttle service between the office or hotel and the party space. That way, your driver can pick up everyone in one fell swoop, there are no stranglers or crashers during your night out, and everyone has a reliable ride back at the end of the night.
Address: 1204 W Lynn St, Austin, TX 78703
For those who can't make up their minds…

Fareground
Cuisine: yes
If all else fails and no one can agree on what cuisine is best, there's always Fareground—Austin's first food hall. For those unfamiliar with this popular eatery trend, a food hall is like a food court you'd see at your local shopping mall. But instead of fast-food options, patrons have their choice of stalls run by local chefs and fan-favorite restaurants from across town.
The variety of choices here means it's good for a crowd since everyone can pick and choose what they eat—even if that means mixing and matching plates from different vendors!
The list of vendors has rotated fairly frequently in the nearly four years the food hall's been open, but as of 2021, here is the lineup and some of their specialties:
Little Wu – authentic Chinese dishes that represent eight styles of the country's cooking techniques, from hearty ramen bowls to potstickers and dumplings
Henbit – farm-to-table comfort food, including locally sourced breakfast bowls, artisan burgers, and harissa-marinated chicken. Be sure to save room for the chunky mass of chocolate, nuts, and sugar aptly called the Monster Cookie
TLV – Israeli street food with food truck origins. Munch on bagels with labneh for breakfast, shakshuka for brunch, and from-scratch hummus plates and pita sandwiches for lunch and dinner
Ellis – the bar upstairs that serves smaller dishes from every food vendor, as well as signature cocktails, beer, and wine
Host your next cocktail hour, company social, or fundraising event here by contacting the event team at events@faregroundaustin.com.
Keep in mind that parking for this food hall is located about a block away—the garage on Brazos Street—with a typical rate of $7 for every 30 minutes. Want to spare your guests the parking expense? They'll surely appreciate a private shuttle service to transport them between the office, hotel, or park-and-ride lot and the doorstep of this unique venue.
Address: 111 Congress Ave, Austin, TX 78701
Get to the Grub with Texas Charter Bus Company
Whether you're planning a company party your coworkers won't soon forget or sightseeing with out-of-towners before introducing them to the magic of Austin's foodie scene, let a Texas Charter Bus Company rental get them where they need to be. We only work with certified professionals who strive to arrive at least 15 minutes early to every destination—so your group will never have to worry about missing a single dinner reservation once your driver takes the wheel. We can even hook your foodies up with premium amenities so they can drop a review of the restaurant over onboard WiFi, watch Hell's Kitchen on flatscreen TVs, or sleep off the carbs in a plush, reclining seat. Call 512-215-4891 today to let us know what will make your bus service better, and we'll make it happen!
Do you need to rent a charter bus?