As the largest metropolitan area in Texas, Houston is home to a variety of events and attractions. When you're looking for a reliable and efficient way to transport groups around the Houston metro area, you can rely on Houston Charter Bus Company. Our expertise in bus rentals and extensive network of professional drivers and buses means we'll be able to match you with the perfect bus for whatever your needs are.
We can provide groups with the perfect bus rental to fit their needs, from minibuses for smaller groups to full-sized coaches for larger groups. Your bus rental can come equipped with amenities to enhance your ride, like reclining seats, flat-screen TVs, DVD players, WiFi, on-board restrooms, and more. From weddings and corporate events to school trips and sporting events, we've got the transportation you need. There are many reasons to rent a charter bus in Houston, so give our 24/7 team a call today at 346-200-7677 today!
Services we offer in Houston
TOP 10
Things to see & do in Houston
They say that everything is bigger in Texas. If you have never visited the Lone Star State, now would be a great time to rent a tour bus for an awesome Western vacation. The city of Houston is located in the southwestern part of the state and is the fourth most populated metropolis in America. Houston has everything that you would want in a great American city. The weather is awesome and the locals are experts in Southern hospitality. Here are some top sights to check out on your bus tour:
Space Center Houston and the NASA Johnson Space Center
Space Center Houston is the official visitor center of NASA's Johnson Space Center, a leading institution in space discovery. Learn about the amazing history and advances of American space exploration at this branch of NASA responsible for the famous Apollo missions. Take one of the center's tram tours, which include touring the famous Mission Control Center. You'll be amazed at the sheer size of various rockets and other high-tech space gear on display at the center's many exhibits. Marvel at the Saturn V rocket at the center's Rocket Park and explore the center's extensive collection of historic space artifacts like spacesuits and lunar rovers. Space Center Houston is the perfect place to take children and adults who are interested in all things out of this world. Image credit.
Address:
1601 E NASA Pkwy, Houston, TX 77058
The Houston Museum of Natural Science
This natural history museum is so large, it would probably take a full day to enjoy all of the exhibits; however, it's well worth the time. The museum has an extensive dinosaur exhibit in the Morian Hall of Paleontology that is a must-see for those who are interested in prehistoric life. The paleontology hall has a diverse collection of fossilized prehistoric beasts, including well-known dinosaurs like Triceratops and the king of dinosaurs, the T-Rex. You can go on nature walks and see the popular six-story Cockrell Butterfly Center exhibit. Just imagine the splendor of seeing thousands of butterflies in a jungle habitat! Along with dinosaurs and beautiful butterflies, the museum also boasts a popular exhibition on ancient Egypt and an impressive gemstone and rock gallery, a planetarium, and a full IMAX theatre. Image credit.
Address:
5555 Hermann Park Dr, Houston, TX 77030
Located in Downtown Houston, Minute Maid Park is home to the Houston Astros and is a quintessential ballpark to enjoy a Major League Baseball game. The beloved ballpark should be a must-stop location for any baseball fans traveling in Houston. Don't worry about getting too toasty in the Texas heat! Minute Maid Park has a retractable roof to shield guests from the elements on rainy or particularly warm days. Buy tickets to an Astros game, watch batting practice before a game, or even take a ballpark tour. Image credit.
Address:
501 Crawford St, Houston, TX 77002
Take a walk on Houston's wild side and spend a day at the nationally-renowned Houston Zoo. The zoo is among one of the most-visited in the country, with over 6,000 furry, scaly, and feathery residents representing more than 600 species. You can find some of your favorite exotic animals like elephants, gorillas, and giraffes in simulations of their natural habitat. The zoo's knowledgeable staff is available to answer any questions and provide insightful information during scheduled shows and talks. The zoo also has regularly scheduled special animal encounters where guests can get up close and personal with sloths, cheetahs, rhinos, and various other species.
Address:
6200 Hermann Park Dr, Houston, TX 77030
Phone: (713) 533-6500
The Museum of Fine Arts, Houston
Art lovers have plenty to see at The Museum of Fine Arts in Houston. At 130,000 square feet with over 70,000 works of art, the museum is the largest of its kind in the region. The museum sits in the heart of Houston's Museum District and welcomes more than 1 million visitors every year. Artists in the museum's permanent collection include European art masters like Vincent van Gogh, Francisco de Goya, and Théodore Rousseau. Other sections within the museum's collection includes works from across Asia, Africa, and North America. Depending on when you travel to Houston, be sure to check out the museum's roster of ever-changing traveling exhibitions.
Address:
1001 Bissonnet St, Houston, TX 77005
The Galleria isn't just a shopping mall in Texas, it's the shopping mall in Texas. At almost 2 million square feet of shopping space, be sure to charter a bus that has plenty of cargo storage, because you can shop until you drop. The Galleria is the biggest shopping center in the state and also ranks among the largest in the country. You'll find everything from classic anchor department stores like Nordstrom and Neiman Marcus to luxury boutiques like Alexander McQueen and Versace. When you are finished shopping, you can visit the mall's basement level to do a few laps in its indoor ice skating rink! Later, relax and eat in some of the nice mall restaurants in the food court.
Address:
5085 Westheimer Rd, Houston, TX 77056
Watching basketball games on television doesn't compare to getting up close and personal to the real thing. Basketball fans in Houston should definitely check out the Toyota Center, home to the Houston Rockets professional NBA basketball team. Attend a Rockets game during the season and sit among their biggest fans cheering them on throughout the massive arena. When professional games aren't being hosted, the Toyota Center also hosts concerts and other special events like book tours and comedy shows. Be sure to check out their website to see what is happening when you are in the Houston area. Image credit.
Address:
1510 Polk St, Houston, TX 77002
Gerald D. Hines Waterwall Park
Are you looking for a unique place to picnic and relax while you are in Houston? Take a visit to Gerald D. Hines Waterwall Park in Downtown Houston. Also referred to as the "Water Wall" this public park offers a beautiful green space with a man-made waterfall in the heart of Houston's metropolitan area. The towering 65-foot horseshoe shaped structure draws in visitors from across the city to sit and cool off among the sprays of the waterfall. You can picnic under one of the many giant oak trees that surround the falls or even just go to snap a few pictures of the unique structure. The Water Wall is one of the most photographed sites in Houston and once you visit, you'll definitely understand why. Image credit.
Address:
2800 Post Oak Blvd, Houston, TX 77056
Modern art lovers, rejoice! The Menil Collection is a free museum located in the Montrose neighborhood of Houston. It houses the large private art collection of philanthropists John and Dominique de Menil. The collection is free and open to the public Wednesday through Sunday, so you've really got nothing to lose when visiting! Though, we do promise The Menil Collection has plenty to offer art lovers. With over 17,000 objects in its collection ranging from paintings to rare books and ancient artifacts, The Menil Collection has something for everyone. The Rothko Chapel is also a part of the museum's campus, housed next door to the permanent collection's main building. The non-denominational chapel is a beautiful example of modernist architecture and is a popular place for guests to enjoy serene introspection. Image credit.
Address:
1533 Sul Ross St, Houston, TX 77006
Bayou Bend Collection and Gardens
While in Texas, you'll probably want to visit a classic Southern mansion. The Bayou Bend Collection and Gardens is the former home of philanthropist and "First Lady of Texas" Ima Hogg. The estate is currently a part of the Museum of Fine Arts, Houston and displays around 4,000 objects that represent art and culture between the 1600 and 1800s. The magnificent collection of American art includes furniture, fine china, silverware, and paintings. Bayou Bend's well-manicured gardens are also popular for special events like weddings. Book a group tour to explore the breathtaking estate and gardens during your next Houston trip. Image credit.
Address:
6003 Memorial Dr, Houston, TX 77265
EXPLORE
Houston's Top Neighborhoods
As the most populous city in the Lone Star State, Houston has a wide variety of neighborhoods and a melting pot of residents. There isn't a definitive number of neighborhoods across the sprawling Houston Metroplex, but it's safe to say there's well over 80 distinct areas. From trendy hipster neighborhoods to posh, upscale areas, Houston really does have it all. Check out some of these popular neighborhoods on your upcoming group visit to Houston:
MUSEUM DISTRICT
Bordered by the prestigious Rice University and the Texas Medical Center, the Museum District is one of the busiest neighborhoods in Houston. As the name suggests, the Museum District is home to 20 world-class museums, including the Museum of Fine Arts Houston and the Houston Museum of Natural Science. The Museum District also houses beautiful greenspaces like Hermann Park and the Houston Zoo, the second-most visited zoological park in the country. This neighborhood will give groups of all ages plenty to explore, as well as popular local restaurants like Lucille's and Barnaby's Cafe.
DOWNTOWN
Downtown Houston sees most of the hustle and bustle during normal 9-to-5 business hours. This neighborhood also encompasses the Houston Theater District and the Central Business District. As a vital business district, Downtown Houston has a variety of lodging options for visiting groups of all sizes. Sports aficionados will have easy access to venues like the Toyota Center and Minute Maid Park, while business travelers will be close to the George R. Brown Convention Center. Downtown Houston is also home to popular performing arts centers and parks like Discovery Green and Market Square Park that are often used as outdoor venues.
MIDTOWN
Looking for a location just steps away from Downtown but with a trendier atmosphere? Midtown Houston is the place to be. Midtown offers plenty of nightlife and posh dining for groups traveling for private events like birthday bashes and bachelor/bachelorette parties. Shuttle between popular lounges, brewpubs, and bars like Little Woodrow's and Axelrad Beergarden, then grab some late-night chicken and waffles at The Breakfast Klub. If nightlife isn't your thing, visiting or lodging in Midtown also gives quick access to beautiful outdoor locations like Eleanor Tinsley Park and Buffalo Bayou Park.
MONTROSE
Every major city has its eclectic and artsy areas. Montrose has been an epicenter for hipster culture since the Bohemian waves of the 1970s. Filled with diverse eateries and a vibrant nightlife scene, Montrose is the neighborhood to be if your group prefers second-hand stores to upscale shopping and local coffee houses to Starbucks. Some of Houston's best dining spots like Uchi and Niko Niko's are located in the heart of Montrose. Groups of art lovers should make The Menil Collection a must-see stop while checking out Montrose. The museum is free to the public and has over 17,000 works spanning from the Paleolithic era to contemporary pop art.
UPTOWN/GALLERIA
Everything is bigger in Texas, including the shopping centers. The Uptown neighborhood is best known for its plethora of shopping options, the most notable being The Galleria. With over 350 stores, The Galleria is one of the largest shopping malls in the country. This area is perfect for groups who want to shop until they drop. Uptown is also home to Gerald D. Hines Waterwall Park, one of the most unique greenspaces in the city. Do some shopping at your favorite stores, grab a bite to eat, and then cool off under the sprays of the Waterwall fountain.
Book Your Houston Charter Bus Today
Points of Interest in Houston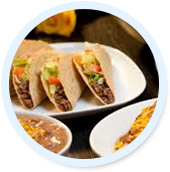 Restaurants in Houston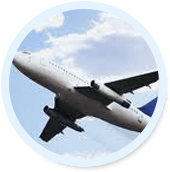 Nearby Airports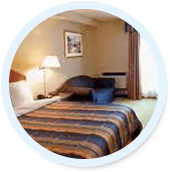 Lodging in Houston