A Group Guide to San Antonio Arts and Culture
As one of the most historical and culturally rich cities in Texas, San Antonio has plenty to see for groups that enjoy art, culture, and history. Whether you're planning a school field trip or private group tour, Alamo City has museums, historic districts, and cultural centers to teach and entertain visitors of all ages.
No matter where your arts and culture tour takes your group, Texas Charter Bus Company can help you see the city with ease. Keeping your arts and culture tour running according to schedule can be tough if you don't have suitable transportation. Reserving a private San Antonio charter bus rental will ensure your entire group is traveling comfortably and right according to schedule! Book a group museum tour or attend events at local art spaces and leave the transportation up to a professional charter bus driver. Call 210-686-1207 to book a charter bus rental in San Antonio for your next group tour of arts and culture hotspots.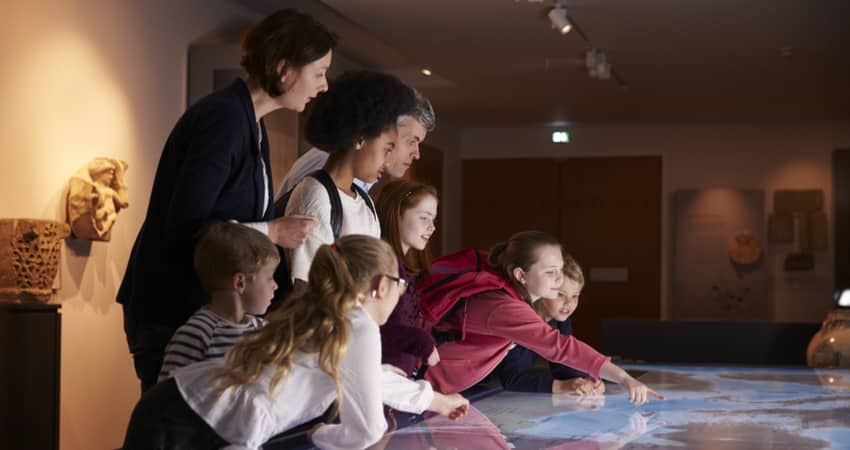 San Antonio Art and Culture Museums
San Antonio is home to multiple art museums where groups can spend hours upon hours exploring centuries of history. Plan a few days exploring these art museums in San Antonio:
San Antonio Museum of Art
Address: 200 W Jones Ave, San Antonio, TX 78215
Phone: (210) 978-8100
With a collection that spans more than 5,000 years of global history, the San Antonio Museum of Art is the city's premier art learning center. The museum is housed in the historic Lone Star Brewery on the San Antonio River and is filled with more than 30,000 objects from the Ancient Mediterranean World, Asia, Latin America, Europe, and contemporary America.
In-person guided tours are available for adult groups, K-12 schools, universities, community organizations, and early childhood programs for children ages 3 to 6. Group ticket discounts may be available for groups of 10 or more with a requested guided or self-guided tour. School tours are always free. If you're traveling on a budget, admission is free from 4 to 7 p.m. on Tuesdays and 10 a.m. to 12 p.m on Sundays for Bexar County residents.
Charter bus rental parking: Free parking is available for groups traveling by charter bus.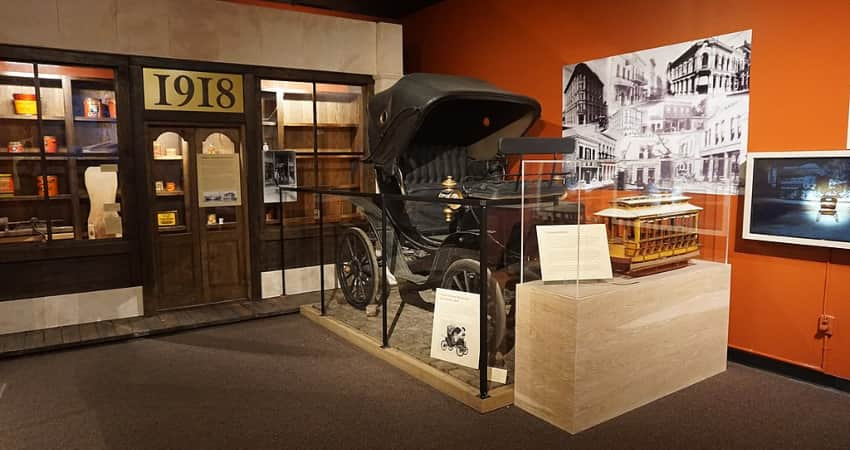 Witte Museum
Address: 3801 Broadway, San Antonio, TX 78209
Phone:  (210) 357-1900
With its variety of exhibits spanning natural history, art, Texas history, and culture, the Witte Museum is a popular destination for school field trips. The museum has a variety of permanent and rotating exhibits covering topics like the ancient native people of the Lower Pecos Canyonlands, Black cowboys, Western art, native wildlife, and paleontological marvels found throughout Texas.
Group rates are available for adult groups of 10 more, and 15 or more visitors for student groups. Rates will vary depending on the age of your group and some school groups may qualify for free admission. Self-guided group tours must be requested at least 8 days in advance and guided tours or educational programs must be requested at least 2 weeks in advance.
Charter bus rental parking: Bus drivers can pick up and drop off groups on Gunn Drive off Broadway Street. Buses can be parked in the lot at 3755 N St Mary's Street.
Briscoe Western Art Museum
Address: 210 W Market St, San Antonio, TX 78205
Phone: (210) 299-4499
Groups interested in art from the American West will love the Briscoe Museum. You'll see art and artifacts from the American West like stagecoaches, chuckwagons, firearms, and saddles. The museum also has exhibits that focus on a less-talked-about part of the region's history: the importance of Native people and how their culture shaped the landscape of the West.
Docent-led tours can be reserved for adults and school groups of 10 or more visitors by emailing Tours@BriscoeMuseum.org or calling (210) 299-4499. Tours must be scheduled at least 3 weeks in advance. Tours for adult groups will qualify for discounted admission and all school tours are free.
Charter bus rental parking: Bus parking can be found along Alamo Street and E Nueva Street. These street parking areas usually have a 2-hour parking limit so be sure to inquire about additional parking areas with the museum.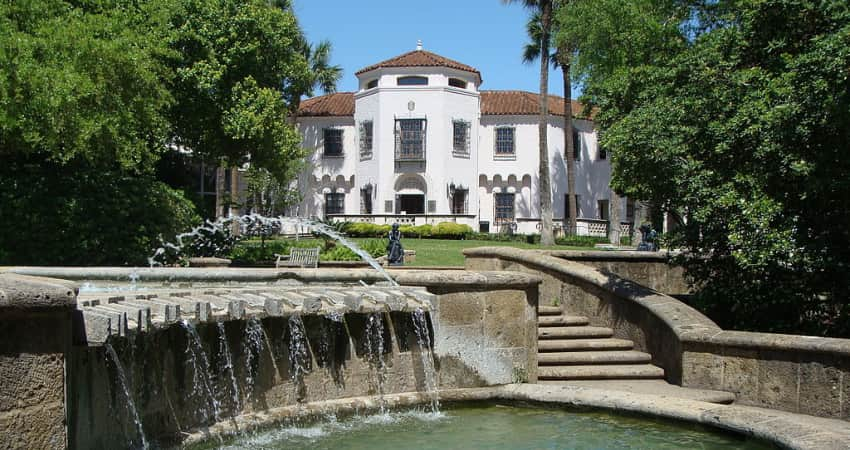 McNay Art Museum
Address: 6000 N New Braunfels Ave, San Antonio, TX 78209
Phone: (210) 824-5368
The McNay Art Museum is housed in a 1929 Spanish Colonial Revival-style mansion in San Antonio's Terrell Heights neighborhood. Along with the preserved mansion and pristine gardens, a modern extension was added to the museum in 2008. McNay's impressive collection includes more than 20,000 objects from 19th and 20th century European and American artists. Permanent pieces in the collection include works from famed artists like  Pablo Picasso, Mary Cassatt, Diego Rivera, Claude Monet, Vincent van Gogh, Georgia O'Keeffe, and El Greco.
Guided museum tours are available for student groups and adult groups with more than 10 visitors. Student tours are always free and guided adult group tours range in price, depending on the type of option you book. Tours can be reserved by email or phone at 210-805-1767 and must be booked at least two weeks in advance.
Charter bus rental parking: The museum has free parking and a spacious lot for oversize vehicles like buses.
Historic Districts and Buildings
San Antonio has multiple historic districts and iconic landmarks that are must-visit locations for groups interested in architecture, history, and culture.
The Alamo and Alamo Plaza Historic District
Address: 300 Alamo Plaza, San Antonio, TX 78205
Phone: (210) 225-1391
It's hard to talk about arts and culture in San Antonio without discussing the iconic Alamo Mission and surrounding Alamo Plaza Historic District. The Alamo Mission is considered one of the most famous landmarks in Texas and is a top post to learn about the state's history. Art and culture lovers will also likely appreciate the mission's Spanish-Colonial architecture and the historic beauty inside the Alamo Church. The surrounding historic district houses multiple landmark buildings like the Menger Hotel, Medical Arts Building (now the Emily Morgan Hotel), and the Hipolito F. Garcia Federal Building.
Several guided tour options are available at The Alamo for youth and adult groups. Book your group tickets to tour The Alamo and spend the rest of your afternoon strolling through the  Alamo Plaza Historic District.
Charter bus rental parking: Buses can drop off passengers at the mission's Houston Street gate. The Alamo Plaza Historic District is exceptionally busy, so your driver may need to park relatively far away, depending on oversized parking availability. The closest bus parking areas to The Alamo are around La Villita and the Alamodome.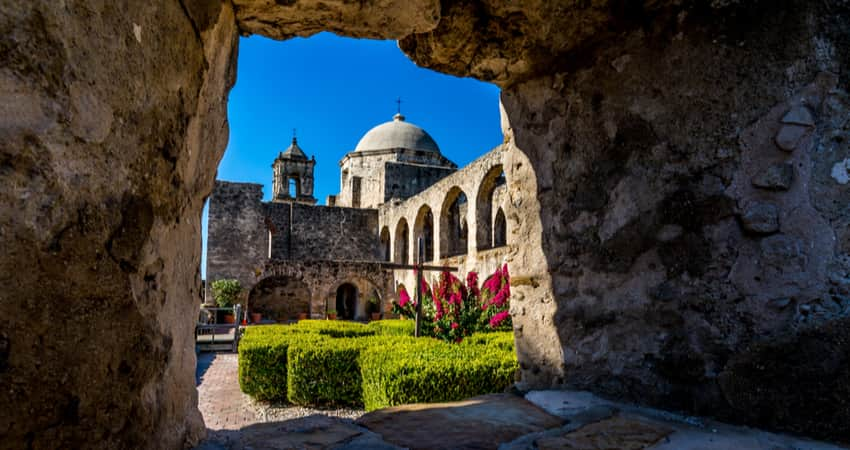 San Antonio Missions National Historical Park
Address: 6701 San Jose Dr, San Antonio, TX 78214
Phone:  (210) 534-8875
Looking for more prime examples of Spanish-Colonial architecture? The San Antonio Missions National Historical Park is home to four of the five historic Spanish frontier missions (The Alamo is the fifth mission.) Mission Espada, Mission Concepción, Mission San José, and Mission San Juan Capistrano are all well-preserved and must-see structures for architecture lovers. Although this is a National Park, the missions are all functioning churches that are home to local congregations and host important events like weddings and funerals.
Ranger-led programs of the grounds can be organized for groups. Just keep in mind that guided programs may not take tour groups inside each mission. School trips can also be requested online for curriculum-driven programs about the missions.
Charter bus rental parking: San Antonio Missions National Historical Park has a spacious private parking lot. Consider contacting the park ahead of time to inquire about where your charter bus should be parked in the lot.
La Villita Historic Arts Village
Address: 418 Villita St, San Antonio, TX 78205
Phone:  (210) 207-8614
La Villita is considered one of San Diego's earliest neighborhoods and is a cultural and artistic cornerstone in the city. This historic district is only one square block but is packed with local art galleries, artisan shops, and restaurants. It's the perfect place to shop for souvenirs, enjoy a tasty authentic Mexican meal, and learn about the local artisans who continue to make La Villiuta so special. If you're in San Antonio around Halloween, La Villita is also a wonderful location to visit during the celebration of Dia de Los Muertos.
You won't be able to book a formal tour of the arts village. Strolling around the cobblestone streets at your leisure is all you'll need anyway.
Charter bus rental parking: Parking can be found around La Villita on Alamo Street and E Nueva Street.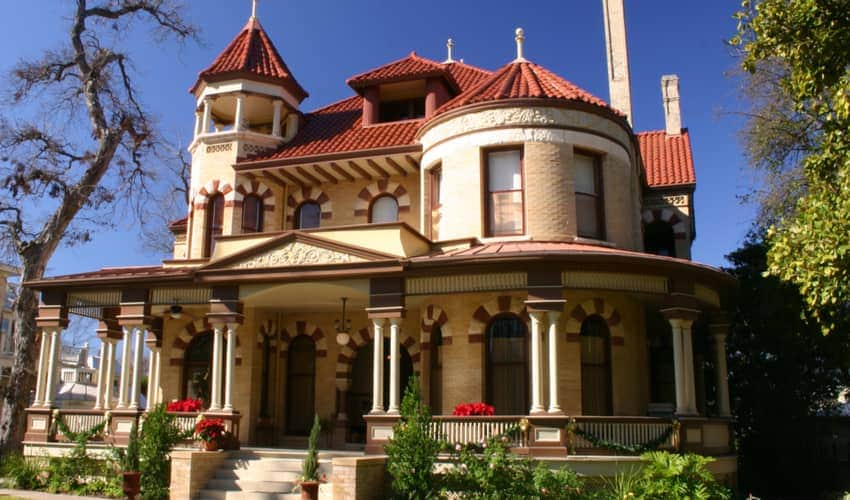 King William Historic District
Address: 302 King William St, San Antonio, TX 78204
King William Historic District is known for its streets lined with beautiful 19th-century mansions. A handful of these mansions like The Guenther House and Steves Homestead House have been converted into museums that groups can tour. Along with impressive architecture on residential streets, King William is also home to artsy spots like Blue Star Contemporary and the Blue Star Arts Complex, a popular space for local art exhibits and performances. This historic neighbor is also a great place to grab a meal or drink at eclectic restaurants, cozy coffee houses, and trendy bars.
Stroll along King William Street and take a self-guided tour of the neighborhood. The King William Association has a thorough and helpful self-guided walking tour guide located on its website.
Charter bus rental parking: Since a large part of the King William neighborhood is residential, please be mindful of where you ask your charter bus driver to park.
Tour the San Antonio Arts and Culture Scene
Ready to see San Antonio's many art museums, historic buildings, and creative spaces? Give the Texas Charter Bus Company team a call at 210-686-1207 to book a minibus or charter bus rental today. A rental expert will get you a free, personalized charter bus rental price quote in no time.
Do you need to rent a charter bus?