Guide to Visiting the Dallas Arboretum and Botanical Garden
Spanning 66 acres just off White Rock Lake, the Dallas Arboretum and Botanical Garden was chosen as one of the South's best botanical gardens by Southern Living and a top botanical garden by USA Today's 10Best program. Home to more than 1.4 million plants, the Botanical Gardens have reopened from their temporary closure (as of November 2020) and have begun welcoming guests again.
The Dallas Arboretum also offers many advantages for people visiting in groups. If you want to bring your class or your corporate team to the gardens, you'll receive discounted admission as well as group meals, optional guided tours, and free charter bus parking. And if it's free to park a charter bus, you might as well book one and keep your entire group together, right?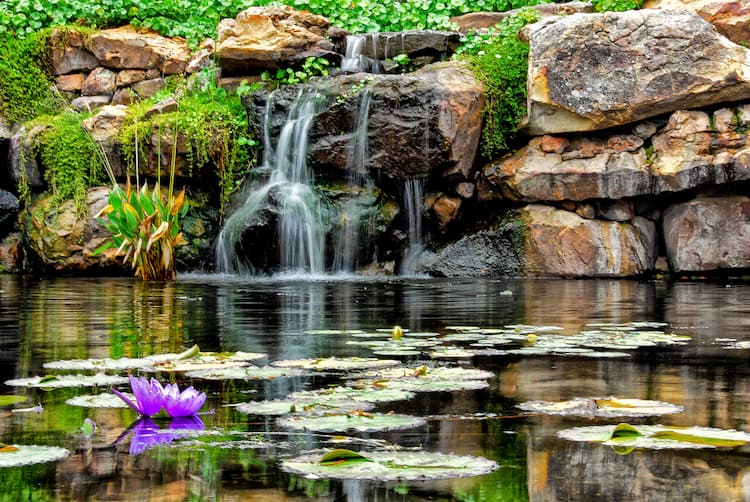 Texas Charter Bus Company has a wide range of coaches and minibuses for groups of almost any size. Just give us a call at 214-396-2444 to book a bus rental, and keep reading to learn more about how to make the most of your visit to the Dallas Arboretum and Botanical Garden.
Admission
The Dallas Arboretum is open from 9 a.m. to 5 p.m. daily. You'll need to book reservations online, and you have to arrive during the time slot you've booked. If you're paying individually, prices are as follows:
Adult:               $17
Senior (65+):   $14
Child (2-12):    $12
The Children's Adventure Garden has separate admission and costs $3 per person. If you're traveling by car, parking costs $10 when reserved online or $15 when purchased upon arrival.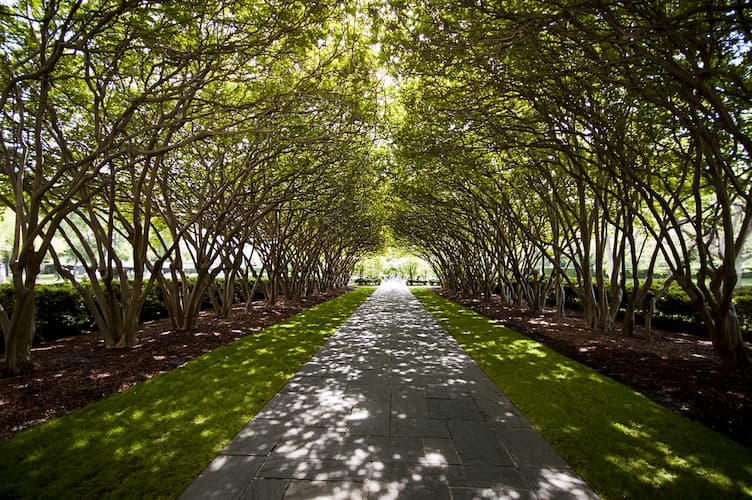 Group Admission
If you're in a group of 10 or more people, you can save money on admission and parking. When you book group tickets online in advance, you'll pay $9-$14 per person (depending on season), receive a 10% discount at the gift shop, and get free parking for your tour bus. Just make a note that you have a charter bus with you when you book online.
You can also add a guided tour or a meal to your group reservation. You'll need to email groupsales@dallasarboretum.org 2 weeks before your trip to book a guided tour and 3 days before your trip to book meals. Guided tours can last anywhere from 45 minutes to 2 hours, and for meals, you can choose between a seated lunch or a box lunch. The prices for group tours or meals per person are:
Guided tours:  $7
Box lunch:       $15
Seated lunch:  $33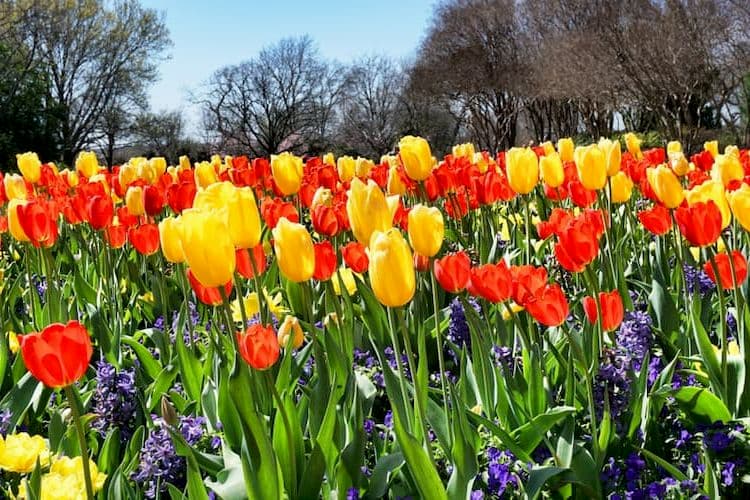 Group tickets do come with a few conditions, though. They're nonrefundable, so you'll need to know exactly when you can go. Discounts are only valid through the Dallas Arboretum website, and your reservation isn't confirmed unless you receive an email. You also need to make sure you show up on time if you want a guided tour, because if your group is more than 30 minutes late your tour may be canceled.
General Dos and Don'ts
The Dallas Arboretum has a large number of regulations to protect its plants and the people visiting. It'll probably help to check out some basic dos and don'ts before you arrive with your group:
Do:
Wear a face mask if you're 5 years old or older.
Wear a hat and bring bottled water and sunscreen if the weather is warm.
Call 214-515-6562 or email lostandfound@dallasarboretum.org if you lose an item inside the gardens.
Make sure there's an adult with any children under the age of 16.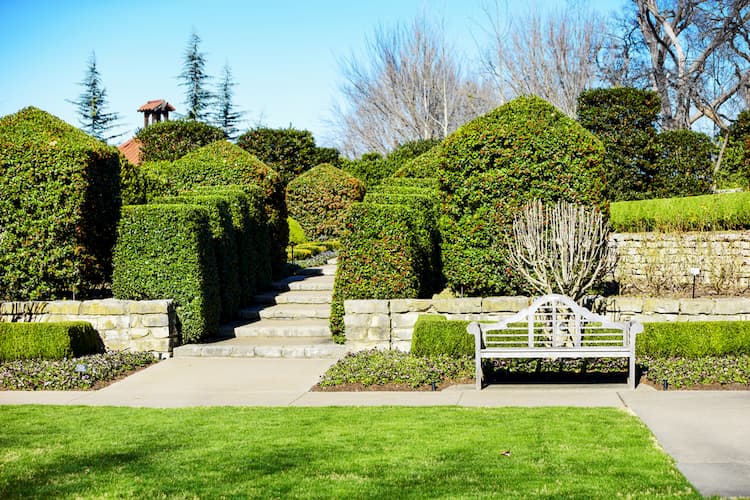 Don't:
Bring kites, Frisbees, roller skates, balloons, or balls.
Grill or set up open flames.
Play amplified music.
Walk in the garden beds or climb on the trees or shrubs.
Pick the flowers.
Interact with or feed the wildlife.
Play in the water features.
Accessibility
Most of the gardens are wheelchair-accessible, and you can rent a wheelchair at the front entrance if you need one temporarily. You're also welcome to bring service animals. Normally the garden offers Hearing Assist Trams that provide audio tours for hard-of-hearing guests, but that service is suspended as of fall 2020 due to social distancing protocols. In the future, it may return.
If you need accessible transportation, you can request an ADA-compliant bus from Texas Charter Bus Company. We offer buses with wider aisles, railings along stairways, wheelchair lifts, and wheelchair seating. Just let us know which features you need when you call to book, and we'll find a bus that works for you.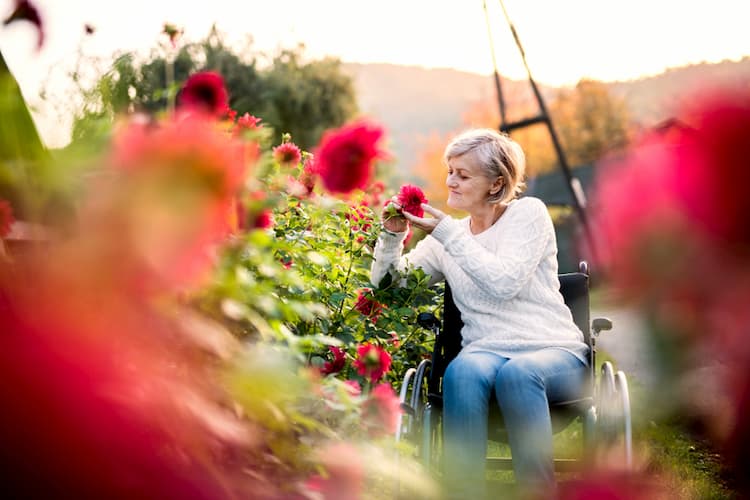 The Gardens
The Dallas Arboretum has almost 20 separate gardens for you to explore. Check out some of the most popular ones to decide which gardens you want to prioritize when your group visits:
Trammell Crow Visitor Education Pavilion
The entry point to the gardens, this pavilion has beautiful seasonal flowers as well as a wheelchair rental and information about the arboretum.
A Tasteful Place
A Tasteful Place consists of a vegetable and herb garden and a kitchen where you can experience tastings and cooking demos for sustainable, locally grown food.
Rory Meyers Children's Adventure Garden
The 8-acre Children's Adventure Garden stretches over White Rock Lake and is one of the most popular gardens, even though it requires an additional admission fee of $3. Here, your kids can engage in 17 interactive activities or experience life and earth science lessons led by an instructor from the arboretum.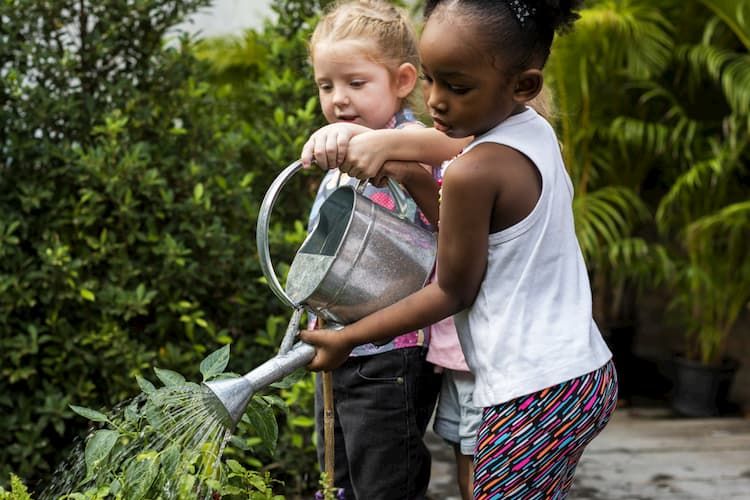 A Woman's Garden
One of the most unique gardens in the arboretum, A Woman's Garden features a sculpture of a woman standing over an infinity pool. The pool is surrounded by fountains filled with floating flowers.
The Lyda Bunker Hunt Paseo de Flores
Often nicknamed "the Paseo," the Paseo de Flores is the main walkway that leads guests through the arboretum. The winding path is surrounded by flowers on all sides.
Margaret Elizabeth Jonsson Color Garden
The Color Garden gets its name from the vibrant hues of its flowers and plants, which regularly change depending on the season.
Nancy Rutchik Red Maple Rill
The Red Maple Rill showcases more than 80 Japanese maples with bright-red leaves.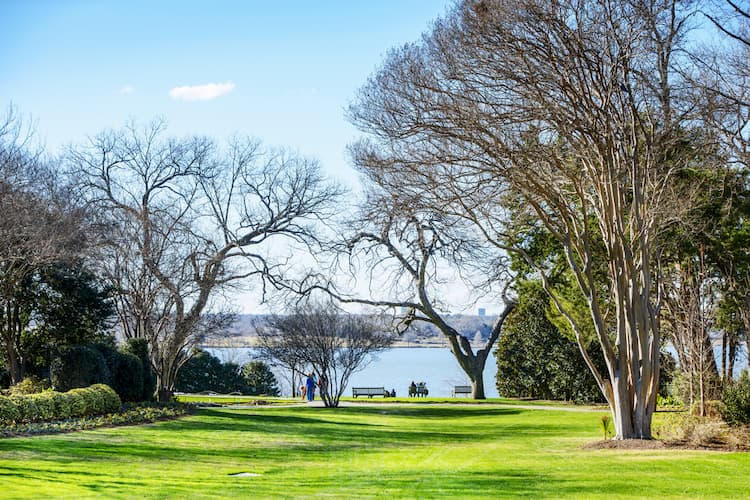 Boswell Family Garden and Eugenia Leftwich Palmer Fern Dell
If you need a quiet place to relax, try this garden tucked away behind a stone wall. The dell contains rose bushes and a pergola overlooking White Rock Lake.
McCasland Sunken Garden
The Sunken Garden lies at the bottom of a staircase, so it may not be accessible for visitors with mobility concerns. But if your group can safely reach it, you'll find the Chico y Chica de la Playa fountain and a small lawn that's a popular site for weddings.
Nancy Clements Seay Magnolia Glade and Nancy's Garden
When you enter this glade, you'll be surrounded by magnolia trees, a waterway that leads into a lily pond, and beautiful flowers. Nancy's Garden is called a "White Garden" because it relies on white or pastel shades. In addition to the magnolias, you'll find light pink crape myrtles and azaleas.
Crape Myrtle Allee
Crape myrtles grow well in the Dallas heat, so you'll find a huge array of them in the arboretum. Follow the stone walkway of the allee through rows of these vibrant trees until you reach the whimsical "toad fountain," located in "Toad Corner."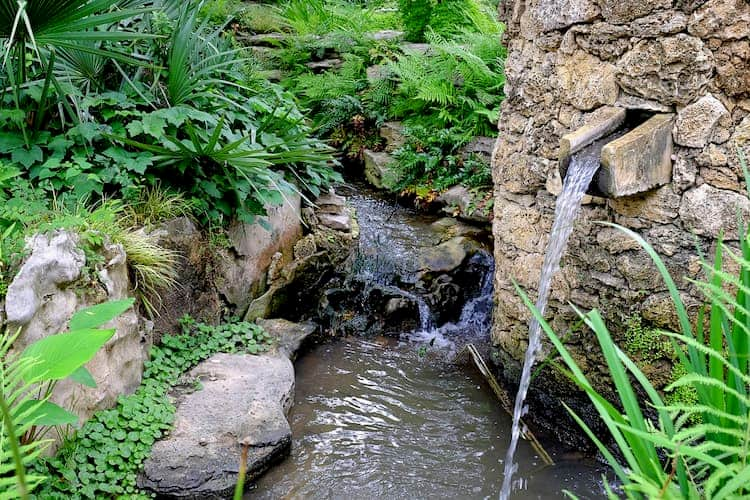 Chandler Lindsley Shadow Garden
Need to cool off? Head to this garden with a lawn covered by mature shade trees. Stretch out on a blanket and sketch or write until you're ready to get back to exploring.
Special Events
The Dallas Arboretum isn't just a great place to explore—it's also a great place to host a private event. In a normal year, the arboretum hosts more than 700 weddings, corporate events, and quinceañeras. Weddings come with your choice of 18 ceremony locations and 4 reception locations, tables for guests and food, an event manager, time for a wedding rehearsal, and set-up and tear-down services. If you're planning a corporate or social event, you can choose between four beautiful indoor venues, each with Wi-Fi, tables, and chairs, and you'll receive free admission to the gardens for all guests.
Think the Arboretum might be the right setting for your group event? You can fill out the event inquiry form or the wedding inquiry form online to get more information and a quote. If you're looking for transportation, Texas Charter Bus Company can also provide a free, no-obligation quote when you call us at 214-396-2444.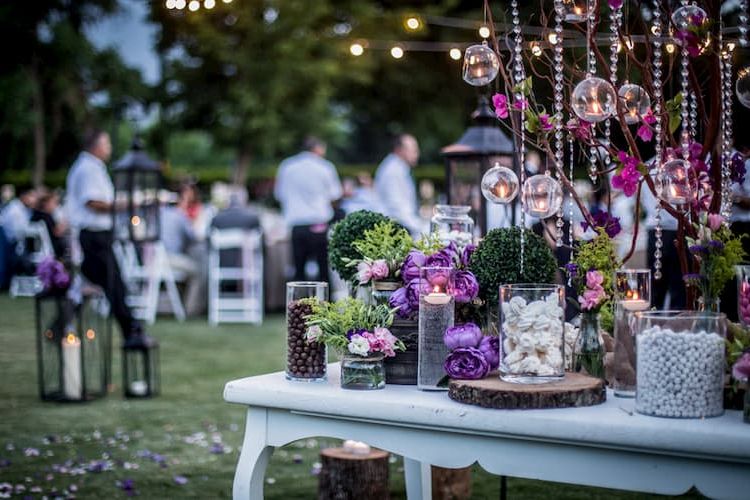 Seasonal Events
The Dallas Arboretum and Botanical Garden hosts a rich array of seasonal events every year. If your group is visiting during spring, you can experience Dallas Blooms, with over 500,000 tulips, live music, topiaries designed to look like musicians, and food, wine, and beer tastings. Fall brings Autumn at the Arboretum and the Pumpkin Village, with four decorated pumpkin houses and 90,000 pumpkins and gourds. Explore the hay bale maze and the pumpkin patch while admiring over 150,000 autumn flowers.
The final event of the year is Holiday at the Arboretum, with one dozen Victorian-style gazebos that reflect each of the 12 Days of Christmas. In the evenings the gardens light up with more than a million holiday lights, and after Thanksgiving, you can visit the Christmas Village, home to Santa Claus, shopping, and holiday food and drinks.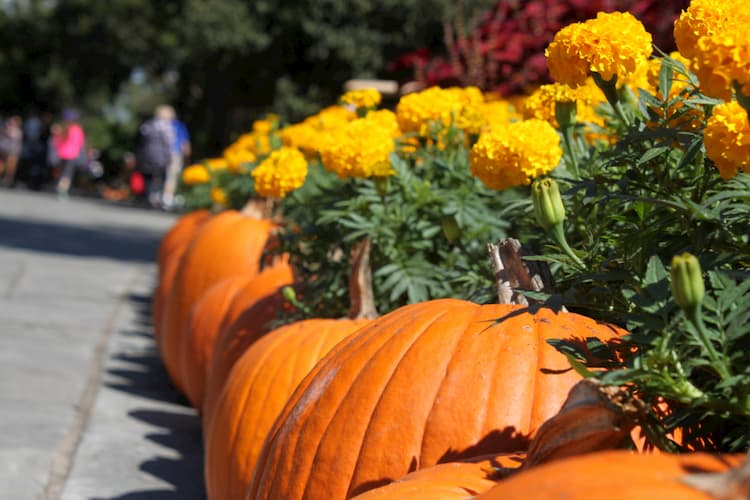 Plan Your Visit to the Dallas Arboretum and Botanical Garden
Treat your youth group to a holiday outing or your class to a field trip at the beautiful Dallas Arboretum. With discounts on group tickets and free parking for charter buses, it's a great place to visit with a cluster of more than 10 people. And you won't have to worry about where to park when you book with Texas Charter Bus Company. Just give us a call at 214-396-2444, and then let the gardens know you're bringing a bus. Your professional driver can drop your group off and take advantage of the complimentary bus parking while you explore the gardens' vibrant trees and flowers.
Tags In
Do you need to rent a charter bus?