A Group Guide to Dallas Arts and Culture
Dallas's art scene is one of the most highly acclaimed in the country, with tons of galleries, live music venues, and museums to explore around town. So if you decide to plan an outing into the city's designated art district or any of its artsy neighborhoods, the hardest part might just be figuring out where to go!
To help you narrow down your itinerary, Texas Charter Bus Company put together this guide to Dallas's top arts and culture destinations, just for you. Keep reading to figure out what you want to visit, and our team can help you get there with a personalized minibus or charter bus rental. Call 214-396-2444 today to book your bus in Dallas.
Dallas Arts District
Art lovers, you're in luck. This district is where most of the city's performing art centers and fine art centers are located, so you can gallery-hop and sit in on your favorite concerts without ever leaving these 70 acres of downtown.
Since all the structures within the district are so close together, your charter bus's parking situation will likely be the same regardless of where you visit. Due to the district's close vicinity to downtown, bus parking spaces are limited to one place: along Harwood Street's right curb, between Woodall Rodgers Freeway and Flora Street. These street parking spaces are free, but keep in mind that they fill on a first-come, first-serve basis.
Some of the most popular venues and gallery spaces in the Dallas Arts District include:
Dallas Museum of Art
Address: 1717 N Harwood St, Dallas, TX 75201
This museum is not only the most comprehensive art gallery in town but also one of the largest museums in the country. Here, visitors can wander through 370,000 square feet of galleries and admire the more than 24,000 objects on display—ranging from relics of the third millennium B.C. to contemporary art from local talent. This building is also home to the Mildred R. and Frederick M. Mayer Library, a non-circulating research library with over 50,000 volumes available for curators and average readers alike.
The Dallas Museum of Art is open Wednesday through Sunday, 11 a.m. to 5 p.m. General admission is free to the public, but some limited-time exhibitions require a $9 or $16 ticket for entry. All galleries are wheelchair-accessible, and mobility devices are available at the front desk upon request. If you're visiting with folks who have mobility concerns, the museum requests to have your bus driver drop everyone off along Flora Street, on the east side of the museum.
Also, keep in mind that when you visit the museum, outside food and drinks are prohibited everywhere except the Eagle Family Plaza, which allows picnics and pets. If your art enthusiasts want to save some money and plan a picnic there, your bus driver can look after your coolers and personal belongings while you tour the museum!
Nasher Sculpture Center
Address: 2001 Flora St, Dallas, TX 75201
Nasher is considered a must-see for visual arts lovers passing through Dallas, and it's no secret why. Nowhere else in the city can you take in masterpieces by the likes of Picasso, Matisse, and Auguste Rodin in one place!
Right across the street from the Dallas Museum of Art, the Nasher Sculpture Center showcases 300 installations across a variety of indoor and outdoor exhibits. While the permanent collection covers a wide range of eras and techniques, the center is also known to exhibit more contemporary and experimental pieces from up-and-coming artists in special-edition galleries.
Aside from taking in all the sculptures, your visiting group can take part in programs and classes during your visit. Students young and old are sure to love spending the night at the museum or making their own sculptures based on works of the Masters, while your group of educators is sure to learn and grow through one of the workshops the center regularly provides.
Tickets for most adults are $10, with varying discounts for veterans and seniors and free admission for children under 12.
Crow Museum of Asian Art
Address: 2010 Flora St, Dallas, TX 75201
While this museum is often overshadowed by its counterparts in the Dallas Arts District, if your group is interested in learning more about different arts and cultures of Asia you shouldn't pass up the chance to visit. Peruse the collection of artifacts and modern art from all over the continent, including jade carvings from China, depictions of Vishnu from throughout India, and contemporary ceramic pieces from Japan.
Even better? This museum is free to the public, making it a great destination for youth groups, nonprofits, and enrichment programs with limited budgets. The museum itself is usually open between 10 a.m. to 6 p.m. every day except Monday, but if you'd like a guided tour of the galleries you'll need to reserve one between 11 and 4.
Kalita Humphreys Theatre
Address: 3636 Turtle Creek Blvd, Dallas, TX 75204
When construction wrapped on this theatre in 1959, it was one of the most innovative performing arts centers of its time. And as the only theater complex designed by famous architect Frank Lloyd Wright, it remains a historic Dallas landmark that's well worth a visit if you like geometric and modern architecture.
This small and intimate theatre only seats about 500 people, which means your group of patrons will have an up-close view of Dallas' local theater troupes in motion as they perform original productions and fan-favorites alike, including In The Heights and High School Musical.
The Morton H. Meyerson Symphony Center
Address: 2301 Flora St, Dallas, TX 75201
This world-class concert hall is most notably the home of the Dallas Symphony Orchestra—the city's 120-year-old band of classical musicians. The Dallas Symphony has performed many exclusive pieces in recent years, including Wagner's Prelude, Mahler's Sixth Symphony, and pieces by Tchaikovsky.
In addition to seasonal symphony concerts, this venue also plays host to the many programs the organization offers for young musicians. Bring your afterschool group or homeschooling pod over to learn more about the history of certain instruments, try their hand at writing concertos, and more!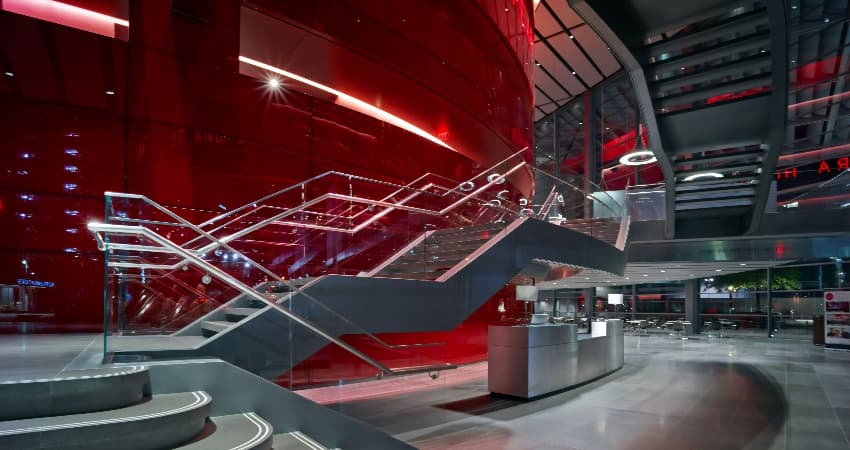 Winspear Opera House
Address: 2403 Flora St, Dallas, TX 75201
Often recognized as one of the best opera houses in the United States. Designed as a 21st-century take on traditional opera houses, blending modern design with the traditional "horseshoe" shape that allows for optimal acoustics. This theatre can seat 2,2000 people and caters specifically to performances by the Dallas Opera, though ballet shows and off-Broadway performances occasionally make their way onto this stage.
Concert times vary depending on the season, but you don't need to see a show to visit the opera house. If your group would like to walk around the complex and take in the balconies laden with gold-leaf and the spacious fly-tower, the complex is open most days between 10 a.m. and 6 p.m.
Deep Ellum
As far as Dallas culture is concerned, Deep Ellum is where it's at. This artsy neighborhood is known for its variety of dining options, hip boutiques and stores, vibrant bar scenes, and live music venues. Private tours of the neighborhood are available for a fee, but some of the best parts of Deep Ellum are found by just wandering around and seeing what piques your interest!
Like the Dallas Arts District, most of Deep Ellum is urban and structured to be pedestrian-friendly. Because of this, the neighborhood doesn't have a lot of parking options—especially for oversized vehicles and motorcoaches. Your driver will likely need to find a paid parking lot in a nearby district, so your passengers can be dropped off near your favorite venue without having to stress over where your bus rental will park.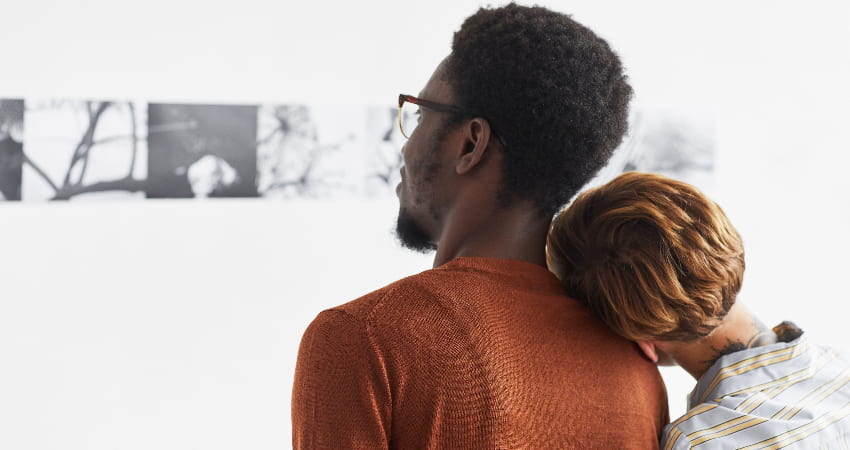 Deep Ellum Art Co.
Address: 3200 Commerce St., Dallas, Texas 75226
This multi-purpose venue prides itself on staying at the heart of the district's culture scene in many ways. Inside, you'll find 5,000 square feet of gallery space, a high-tech and intimate music venue for local acts, and a full bar with lots of beers, ciders, and wines on tap. Venture outside into the Art Yard to meander through the mural gallery and selection of food truck stalls—or just relax with a few yard games with your kids and kids-at-heart.
Latino Cultural Center
Address: 2600 Live Oak St, Dallas, TX 75204
There's almost always something going on at this Latino community center, so stop by for a dance production at the in-house theater, peruse the stalls at a pop-up craft market, or schedule a tour of the facility's murals and art galleries.
Tours of the Latino Cultural Center are free to the public and usually last 45 minutes—though groups of 80 or more should plan to spend about 2 hours here. Your tour reservation should be booked at least 4 weeks before you arrive to ensure guide availability.
The Power Station
Address: 3816 Commerce St, Dallas, TX 75226
This non-profit art space is a popular venue for special exhibitions, fundraisers, and private events in the Dallas art community. When they're not admiring the regular rotation of local artists' works, your guest attendees can enjoy views across Deep Ellum from this 20s-era power station's industrial windows.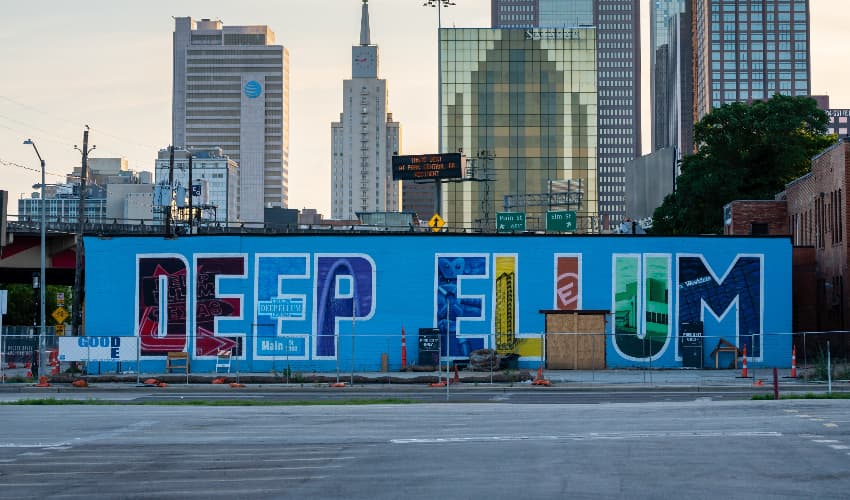 Explore Dallas Arts and Culture Hotspots
Whether you're planning your art club's next soiree or your art class's next field trip, let the professionals handle the travel logistics to and from your favorite Dallas art galleries and museums. Texas Charter Bus Company offers a diverse fleet of minibuses, charter buses, ADA-compliant motorcoaches, and more for all your group transportation needs! Call 214-396-2444 today for a free, no-obligation quote tailored to your ideal Dallas bus rental plan.
Do you need to rent a charter bus?