Best Outdoor and Patio Dining Spots in Dallas
Are you planning a rehearsal dinner for your wedding or a holiday party for your company? You'll need to find a Dallas dining spot with the perfect ambiance, refreshing drinks, and delicious food for your event. Not all Dallas restaurants offer group dining options, so you may need to do some digging to find the venue for your needs. We've done a little bit of the work for you and compiled some popular group dining options in DFW.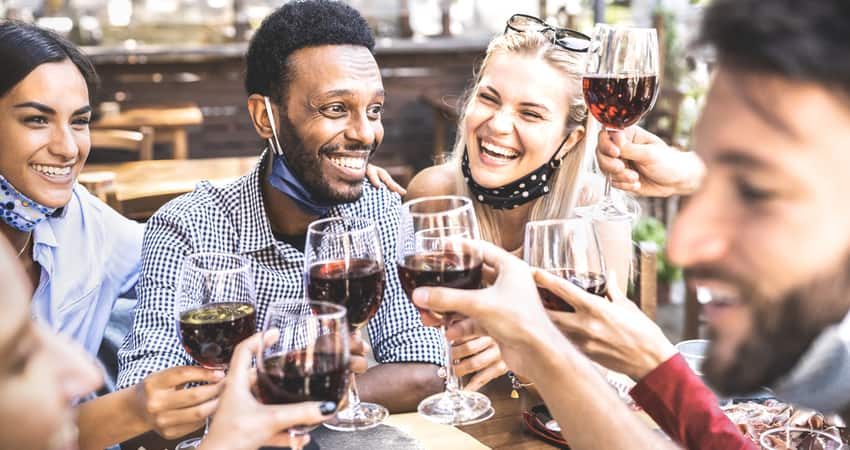 Texas Charter Bus Company can provide sleek and efficient transportation for group dining events anywhere in Dallas. Have your guests hop on a private charter bus rental to shuttle them to and from your event with ease. You won't have to worry about guests struggling to find parking or needing to call a rideshare after maybe having one too many cocktails. With a private shuttle bus rental, everyone can relax, enjoy food, and have drinks without the worry of driving at the end of the evening. Call the Texas Charter Bus Company team 24/7 at 214-396-2444 to find a minibus or charter bus rental for your Dallas event.
The Rustic
Address: 3656 Howell St, Dallas, TX 75204
Phone: (214) 730-0596
Good for: large corporate parties, wedding rehearsal dinners, and non-profit events
The Rustic offers three private dining spaces for group events, including a spacious backyard patio. The popular Uptown Dallas eatery also hosts free live music events throughout the week on their spacious outdoor stage. Some of The Rustic's best bites are the brisket-topped Rustic burger, cactus fritters, molasses-brined quail, and decadent peanut butter pie for dessert. Parties of 20 or more guests should make an inquiry in advance to organize an event space or private dining option.
Charter bus rental parking: The Rustic does have its own parking lots but these can quickly become packed during live music nights. Oversized vehicles will likely need to park on the street, but you can confirm parking options when you reserve your event. Street parking is available along Howell Street.
The Porch
Address: 2912 N Henderson Ave Dallas, TX 75206
Phone: (214) 828-2916
Good for: laid back, personal get-togethers like birthday celebrations
This Lower Greenville eatery serves up elevated Southern fare and has a quaint, covered patio for small- to medium-sized events. Make a group reservation for lunch, dinner, or weekend brunch and enjoy bites like smoked short ribs, chicken fried steak, mac and cheese casserole, and crab cake sliders. Outdoor tables are relatively small, but the restaurant can work with you to accommodate your group.
Charter bus rental parking: Several parking lots can be found off of Miller Avenue and Willis Avenue. These lots may be able to fit minibuses but likely won't be able to accommodate full-sized charter buses, so you'll have to organize off-site or street parking.
Henry's Majestic
Address: 4900 McKinney Ave, Dallas, TX 75205
Phone: (469) 893-9400
Best for: small- and medium-sized personal parties
Henry's Majestic has a trendy, covered patio and a tasty menu filled with New American food and craft cocktails. The patio has plenty of seating, a fire pit, TVs, and usually a live band providing entertainment. Make a group reservation for brunch and grab savory avocado toast, the Majestic breakfast plate, or chicken and waffles paired with a refreshing AM cocktail. If you're planning a lunch or dinner, guests have raved about the bone marrow burger, Texas-style pho, and bourbon maple meatballs.
Charter bus rental parking: The restaurant shares a parking lot with a few other businesses and parking may get tough during brunch. Consider organizing off-site parking at a public lot or along the street.
Chelsea Corner
Address: 4830 McKinney Ave, Dallas, TX 75205
Phone: (469) 726-2211
Best for: wedding-related events, birthday celebrations, and business happy hours
With four unique venue rental spaces, including a 2,500 square foot backyard-style patio, Chelsea Corner is an amazing place for dining events. It's a posh spot for a bridal shower brunch or even a big group happy hour with your entire company. Enjoy Chelsea Corner's weekend boozy brunch with shareable items like Southwest chicken eggrolls and beignets, along with brunch plates like the crab cake benedict and bourbon pecan french toast. If you're dining during the week, Chelsea Corner's main menu has tasty items like tender braised short ribs and tangy Caribbean shrimp tacos. Private event inquiries can be made online or by phone.
Charter bus rental parking: Parking is very limited and most guests utilize complimentary valet services or street park in the area. When you book your event, be sure to ask about pickup and dropoff options for your charter bus. After dropping your group off, your driver can find parking on a nearby street. Tracy Street is usually the least crowded option.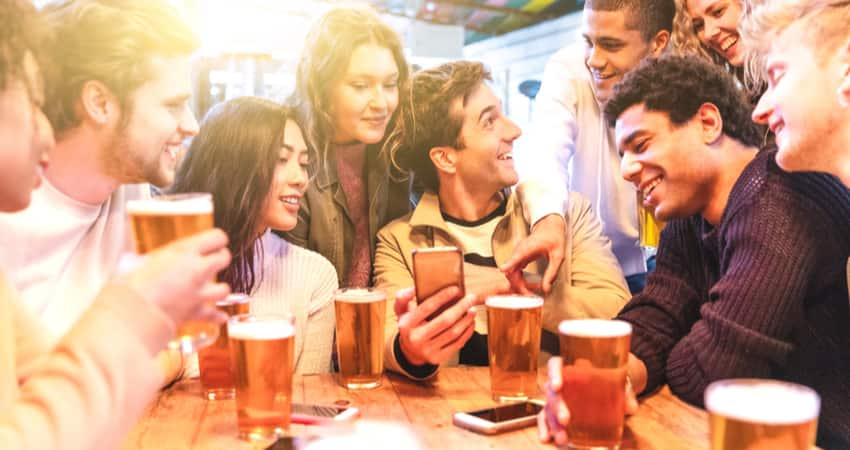 Braindead Brewing
Address: 2625 Main St, Dallas, TX 75226
Phone: (214) 749-0600
Best for: casual group outings with friends
Not only is Braindead one of Dallas's most popular breweries, but it's also a wonderful group dining space. This artsy Deep Ellum brewery has a large patio with umbrellas for a laidback meet-up with friends, family, or coworkers. The brewery features around two dozen beers on tap and a few additional bottled brews. Braindead's food menu includes a variety of burgers, sandwiches, salads, and bar bites like chicken wings and queso dip. If you're vegan, Braindead has plant-based items like mac and cheese, mushroom and quinoa burgers, and BBQ  cauliflower. Grab a flight of their popular brews, chow down on food, and enjoy your group's company!
Charter bus rental parking: A paid public parking lot is located right next door to the brewery. These public lots usually can't accommodate oversize vehicles, so finding parking on Main Street or nearby roads may be your best bet when traveling by charter bus rental. Keep in mind, roads in Deep Ellum are often quite crowded and your driver may need to park farther away.
Jaxon Texas Kitchen and Beer Garden
Address: 311 S Akard St, Dallas, TX 75202
Phone: (214) 838-1422
Best for: company happy hours
Jaxon Texas Kitchen offers a classy yet relaxed atmosphere for groups who may want a fancy ambiance for an event. This restaurant and brewery is located in Downtown Dallas and offers a patio area among the towering downtown skyscrapers. Relatively small groups can book a reservation, while large groups can organize a private event by inquiring on their website. The food menu includes Southern-influenced fare like brisket and fried chicken sandwiches, barbecue, and Southwest-style quinoa bowls. Jaxon is well-known for its extensive cocktail and beer menu. They proudly offer local craft beers on draft and craft cocktails like specialty margaritas.
Charter bus rental parking: Parking in Downtown Dallas can be a hassle. Guests traveling in personal vehicles can park in the AT&T Discovery District parking garage at 1212 Jackson Street. Oversize vehicles like charter buses and minibuses won't fit in this garage though. So you'll have to organize parking in a private lot.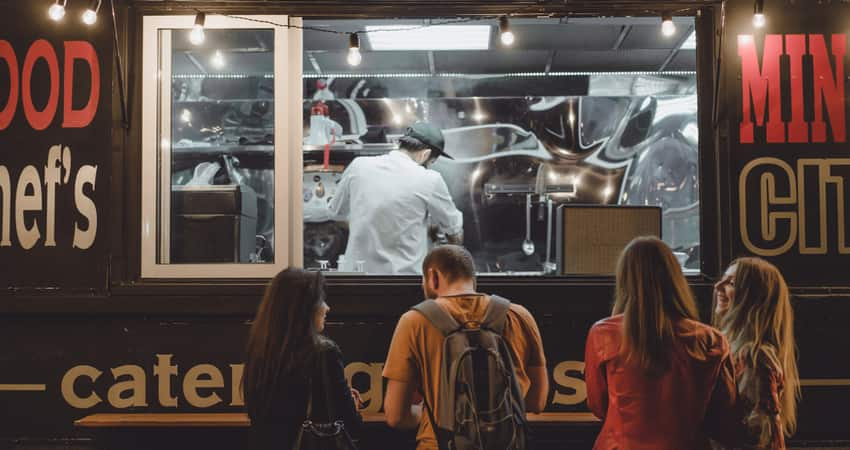 Truck Yard
Address:  5624 Sears St, Dallas, TX 75206
Phone: (469) 500-0139
Best for: outings with friends and family
Unlike other restaurants on this list, Truck Yard is more than one business. The establishment's retro backyard consists of the main Truck Yard kitchen and bar, as well as multiple local food trucks that rotate throughout the week. You can order delicious cheesesteaks and beer from Truck Yard kitchen or stop at other local trucks that serve up everything from Tex-Mex to Italian street food. There are multiple seating areas, including dozens of picnic tables in the sprawling yard and the unique Treehouse Bar above the yard. Enjoy live music, savory food, refreshing beer, and time with your closest friends. Truck Yard does not take reservations but does offer private event accommodations by email at dallasevents@texastruckyard.com.
Charter bus rental parking: There's a spacious parking lot right next door to Truck Yard. On a busy day, parking in the lot will be difficult to find. Your charter bus driver may have to park on a nearby road like Greenville Avenue.
Wine, Dine, and Have a Good Time in Dallas
Texas Charter Bus Company is here to make sure you can focus on your event rather than how everyone will get there. Pick your dining spot, get your group together, and leave the safe transportation up to your charter bus driver. Call us anytime at 214-396-2444 to rent a charter bus for any group dining occasion in Dallas!
Do you need to rent a charter bus?