A History Buff's Guide to Dallas
If you're traveling with a group of history students or history lovers, Dallas has plenty of attractions to keep you busy. The earliest destinations that are still standing date back to the 1840s, when American settlers first arrived in Dallas-Fort Worth. Although the Wichita, Comanche, Caddo, and Cherokee tribes once passed through and camped in the area, you sadly won't find many artifacts of their presence.
But if your group wants to see log cabins, antique trains, or historic buildings, Dallas has you covered, and Texas Charter Bus Company would love to help you get around. We can provide modern charter buses to take you to every historical landmark on your itinerary. Just give us a call at 214-206-8432, and we'll find the right size and type of bus for your group.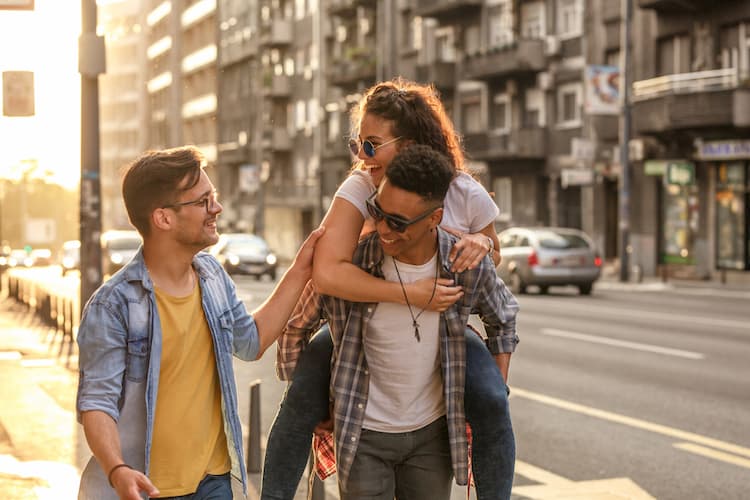 Pioneer Plaza
West Texas became a popular destination for settlers in the mid- and late-1800s because it was a good place to raise cattle. When those cattle needed to get from Texas to the Northeast, where there was high demand for beef, cowboys (and girls!) took them along the Shawnee Trail. The trail ran through the heart of Dallas, and the city has honored its history by constructing Pioneer Plaza.
In the plaza, you'll find 52 bronze statues, 49 of cattle and 3 of cowboys. Some of the cow statues even have running water beneath them in honor of the rivers they had to cross. You can snap a few pictures while you talk about how the cattle industry helped build Dallas.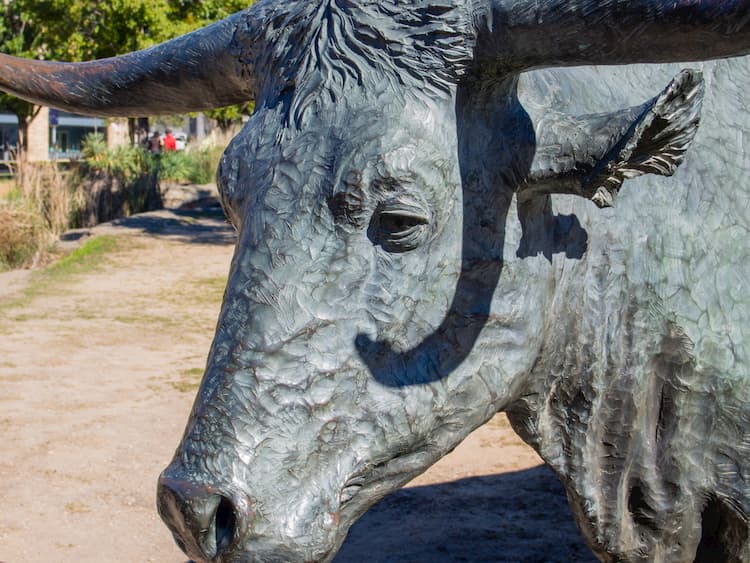 Charter bus parking: The plaza stands in downtown Dallas, so parking can be tricky, but there are an assortment of paid public lots downtown that your bus can use.
Address: 1428 Young St, Dallas, TX 75202
Dallas Heritage Village
Spanning 13 acres, the Dallas Heritage Village is a living history museum that contains real log cabins and Victorian homes built between 1840 and 1910. Each of the cabins and homes has been filled with historical furnishings to give visitors an idea of how people really lived during the time period.
Pick up a pamphlet at the visitors' center to take a self-guided tour of each home. You can see everything from medical and dental items to a Meeks Brothers parlor set and Victorian homemade chairs. If you're bringing kids, let them play with Lincoln Logs and "quilt puzzles" made from pieces of differently shaped fabric.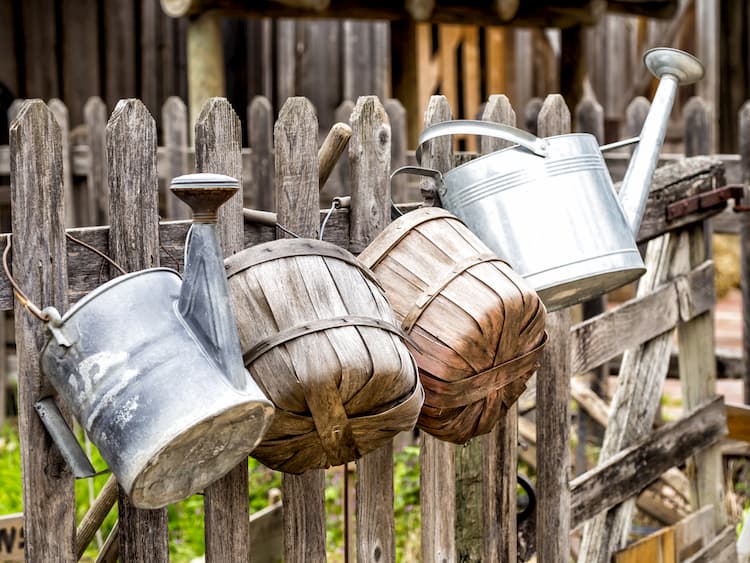 Charter bus parking: The Village has two large paved lots and unpaved overflow parking, and all parking is free.
Address: 1515 S Harwood St, Dallas, TX 75215
Log Cabin Village in Fort Worth
If you can't get enough of historical homes or you're staying closer to Fort Worth than downtown Dallas, you can visit the Log Cabin Village, another living history museum. Like Dallas Heritage Village, this area contains real log cabins, mostly built between the 1840s and 1890s. However, this village offers several features the one in Dallas doesn't, like a smokehouse, a water-powered gristmill, and a blacksmith shop.
Stop by the herb garden to see plants that families would have grown in the late nineteenth century, and let your kids sit down and pretend to attend a lesson in the one-room schoolhouse. The 7 log cabins include authentic Victorian furnishings, and historical interpreters reenact how people lived in Dallas from 1840-1890.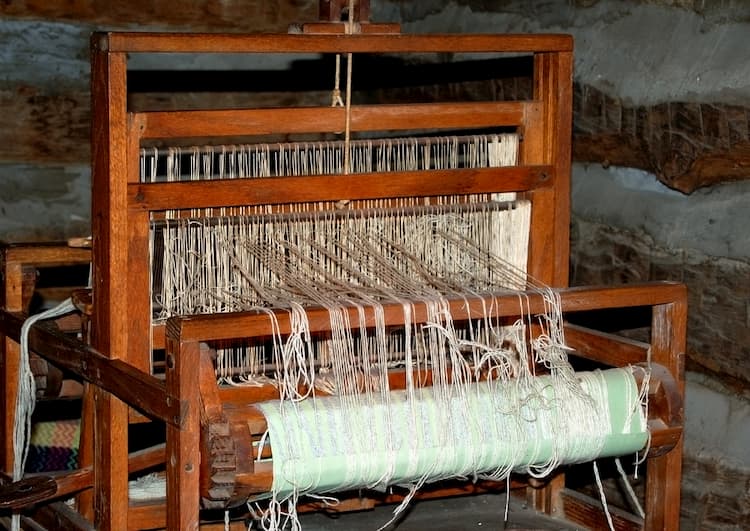 Charter bus parking: Several public parking lots lie 2-4 minutes from the village, so your charter bus driver can drop you off and then quickly find parking.
Address: 2100 Log Cabin Village Ln, Fort Worth, TX 76109
African American Museum of Dallas
When people talk about settlers coming to Texas, they too often talk about white cowboys and pioneer families. But African American people played an essential part in founding Dallas, a fact emphasized by this museum.
Located in the heart of Fair Park, the African American Museum of Dallas houses one of the largest collections of African American folk art in the U.S. It's also the only museum in the Southwest focused entirely on African American art, history, and culture. The art here ranges from paintings and sculptures to textiles, masks, and golden artifacts.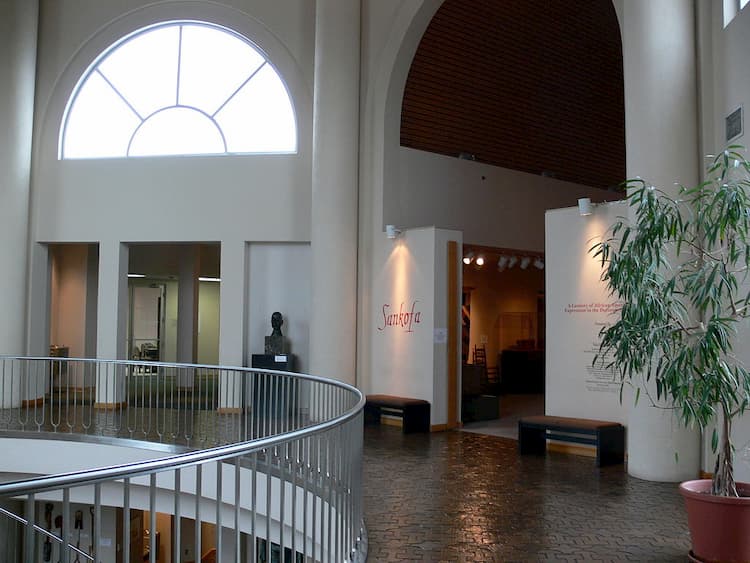 Image credit: https://commons.wikimedia.org/wiki/File:Dallas_African_American_Museum_2.jpg
Charter bus parking: The Museum has free bus parking, though you'll have to pay if you visit during the State Fair of Texas (the fair is held in the park where the museum is located).
Address: 3536 Grand Ave, Dallas, TX 75210
National Cowgirl Museum and Hall of Fame
Like African American people, women are often left out of conversations about pioneer settlement in the 1800s. The National Cowgirl Museum and Hall of Fame attempts to correct this oversight by honoring over 200 women of the West who were artists, writers, singers, businesswomen and, of course, cowgirls.
The women commemorated here include Annie Oakley, Sacagawea, Georgia O'Keeffe, Laura Ingalls Wilder, and Mollie Taylor Stevenson Jr. See artifacts like Annie Oakley's gun and wedding ring and Dale Evans's saddle, or browse the library, which contains more than 2,000 books written by and about cowgirls.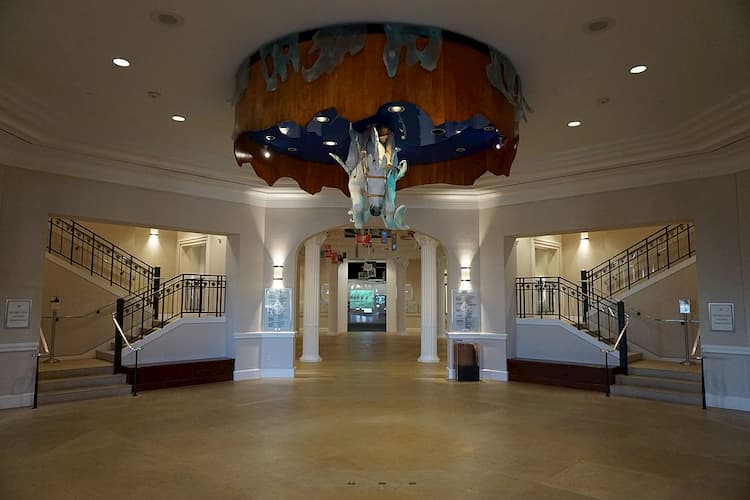 Image credit: https://commons.wikimedia.org/wiki/File:National_Cowgirl_Museum_and_Hall_of_Fame_January_2017.jpg
Charter bus parking: Charter buses should drop off guests at the plaza in front of the Museum and park in the lot across from Harley Street. Bus parking costs $10.
Address: 1720 Gendy St, Fort Worth, TX 76107
Grapevine Vintage Railroad
The Grapevine Vintage Railroad runs from the small town of Grapevine to the Fort Worth Stockyards and lets you experience how it felt to ride a train in the late 1800s and early 1900s. The railroad has two locomotives, an 1896 steam locomotive called Puffy and a 1953 diesel locomotive called Vinny, and most of the coaches come from the 1920s.
If you're traveling with a group of coworkers or your wedding party, you can book tickets for the Jazz Wine Train to get an even stronger taste of the Roaring 20s. Escorting a group of schoolchildren or a youth sports team? Reserve spots on the North Pole Express during the holiday season.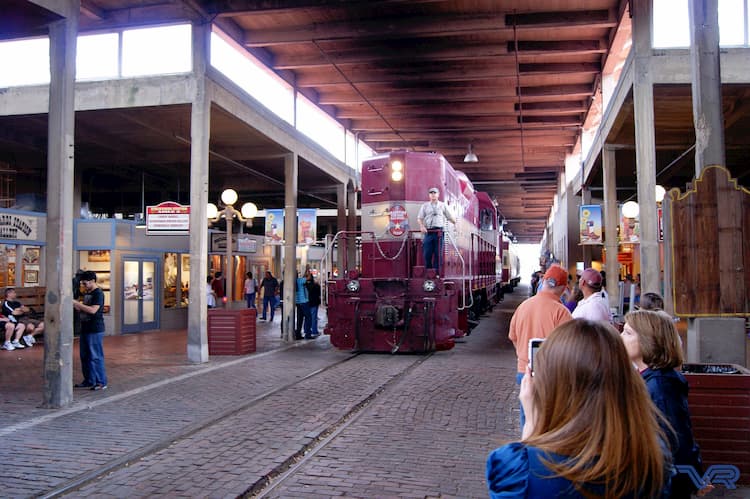 Image credit: https://www.flickr.com/photos/neuwieser/5965805158/
Charter bus parking: The Railroad recommends parking your charter bus at the following locations near the Grapevine Train Depot: 705 S. Main St. (Cotton Belt Depot), 636 S. Main St. (behind the Grapevine Visitors Information Center), 814 S. Main St. (next to Chill Sports Bar & Grill), 410 W. Dallas Rd. (next to Lone Star Hi-Railers locomotive), and 307 W. Dallas Rd. (behind the former Grapevine Police Station).
Address: 705 S Main St, Grapevine, TX 76051
White Rock Lake
Established in the 1910s, White Rock Lake once provided most of the water for the city of Dallas. The dam and spillway were built in 1911, while the lake was filled in 1914. In 1935, the Civilian Conservation Corps was tasked with turning the lake into more of a recreation area, and they added benches, buildings, and bridges.
Today, White Rock Lake has become one of Dallas's most popular outdoor destinations. Pack baskets full of sandwiches and fruit and stash them in the overhead storage space on your charter bus so you can have a picnic in the park, or go hiking, biking, or running. Traveling with a group who loves watersports? You can kayak or fish in the lake.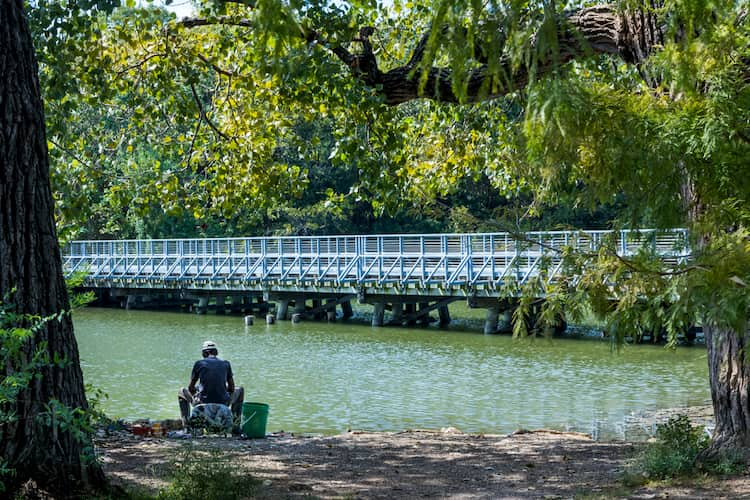 Charter bus parking: White Rock Lake has several parking lots surrounding it where your charter bus can park.
Address: 2810 White Rock Rd, Dallas, TX 75214
Bonnie and Clyde Gravesites
Bonnie Parker and Clyde Barrow, two of history's most infamous Great Depression-era outlaws, both came from Dallas and are buried there. If you'd like a guided tour, the Dallas Historical Society offers group tours of locations throughout the city that the couple frequented. You can set up a tour by emailing tours@dallashistory.org.
But if group tours aren't your style, you can also visit the graves on your own. At the request of Bonnie Parker's family, the two are buried separately. Her grave lies in Crown Hill Memorial Park, while his is in the small Western Heights graveyard off Fort Worth Avenue. Just keep in mind that many people have loved ones buried in these cemeteries, so be respectful while visiting.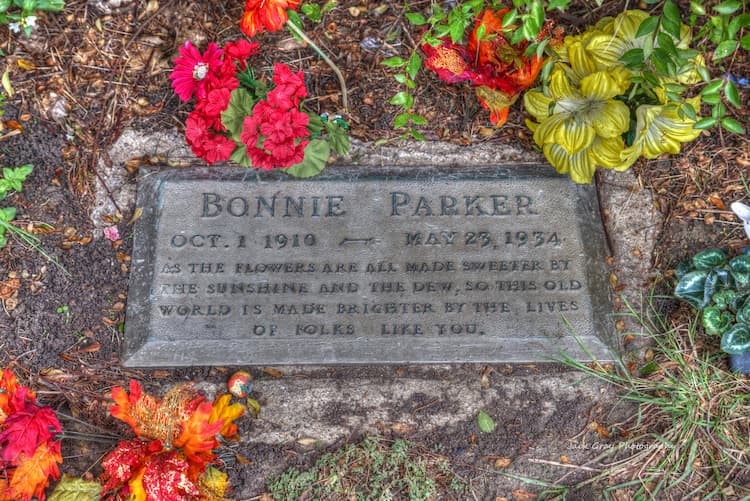 Image credit: https://www.flickr.com/photos/jackgray0000/22464623118
Charter bus parking: Crown Hill Memorial Park has its own parking lot. The Western Heights graveyard doesn't but isn't in a busy part of Dallas, so your charter bus can probably find parking along the street or in a nearby shopping complex parking lot.
Addresses: 9178 Webb Chapel Rd, Dallas, TX 75220 (Bonnie Parker's gravesite)
1613-1699 Fort Worth Ave, Dallas, TX 75208 (Clyde Barrow's gravesite)
Rancho Encinal at the Dallas Arboretum and Botanical Garden
A large portion of the Dallas Arboretum and Botanical Garden is located on the grounds of the Rancho Encinal estate, which was commissioned by Everett Lee and Nell DeGolyer in 1939. They built their Spanish-inspired home on 44 acres of land, and Nell DeGolyer filled much of that land with her flower gardens.
In 1972, the DeGolyer's children donated the estate to Southern Methodist University, and in 1976, the university gave it to the city so it could become part of the Dallas Arboretum and Botanical Garden. The historic home still stands today, and you can tour it and its 1930s and 40s furnishings when you visit the botanical garden.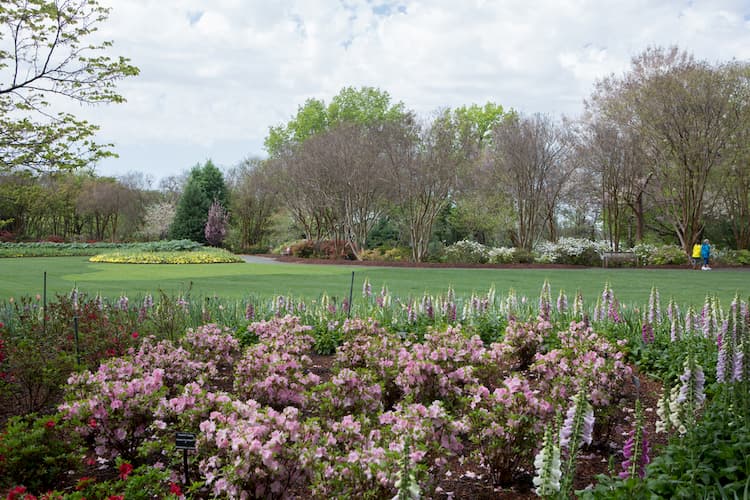 Charter bus parking: Parking costs $15 or $10 if you book online ahead of time. Booking online in advance is an especially good idea for charter buses, because while parking is available both in front of the garden and in a parking garage, buses may not fit in the garage.
Address: 8625 Garland Rd, Dallas, TX 75218
Dealey Plaza
The city's most famous historical destination is also one of its most tragic. In 1963, President John F. Kennedy was assassinated in Dallas's Dealey Plaza. Your group can walk through the plaza and see the exterior of the former School Book Depository where Lee Harvey Oswald hid to carry out the assassination. If you're willing to pay, you can visit the Sixth Floor Museum inside the Depository, which features detailed exhibits about JFK's presidency and his death.
You can also see the "grassy knoll" that's been the subject of many conspiracy theories and the John F. Kennedy Memorial, a beautiful, solemn site that's free to visit. Designed by Philip Johnson, a famous architect and friend of the Kennedy family, the memorial resembles a tomb with an open roof so Kennedy's spirit can fly free.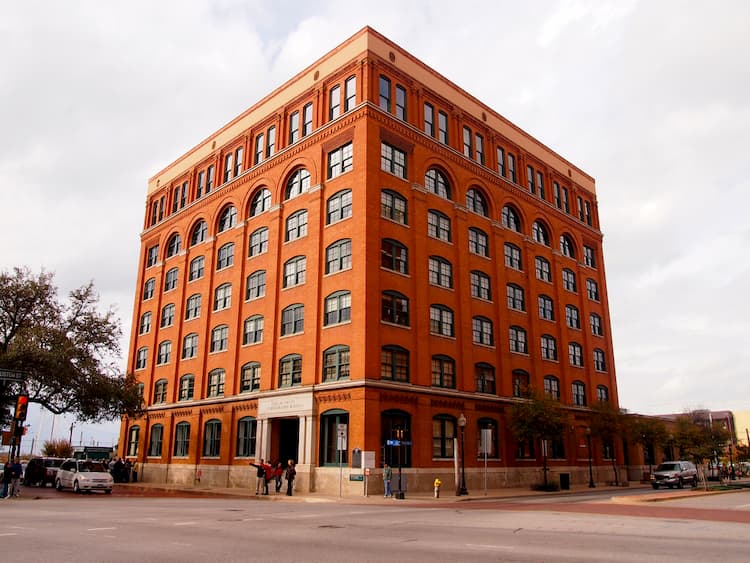 Charter bus parking: Because Dealey Plaza lies in the center of downtown Dallas, there isn't much parking for charter buses. Your driver can choose from a selection of paid public lots or drop you off, return to the hotel, and come back to pick you up.
Address: 411 Elm St, Dallas, TX 75202
See Dallas's Historical Destinations on Your Bus Tour
Dallas has a wide array of historical destinations for your group to explore, from 1840s log cabins to 1930s estates. If you'd like to travel all over Dallas without battling the city's intense heat and traffic, Texas Charter Bus Company can help. We have air-conditioned, comfortable charter buses to take your team of history buffs anywhere you want to go. Just give us a call at 214-206-8432 to start planning today.
Do you need to rent a charter bus?