Your Guide to Visiting Space Center Houston with a Group
Whether you're coming into Houston specifically to see it or it's just another stop on a Texas road trip, a trip to Space Center Houston is sure to be a hit for space enthusiasts of all ages.
Need help planning your visit? We've put together this guide just for you! It covers all the ins and outs of visiting Space Center Houston with a group—from how to get the best discounts to what you can expect to see while you're there.
Need a ride to the center? We can help you there too! Texas Charter Bus Company specializes in moving groups of all shapes and sizes efficiently and comfortably. Call 346-200-7677 today to learn more about our bus rental options, and keep reading to learn more about Space Center Houston!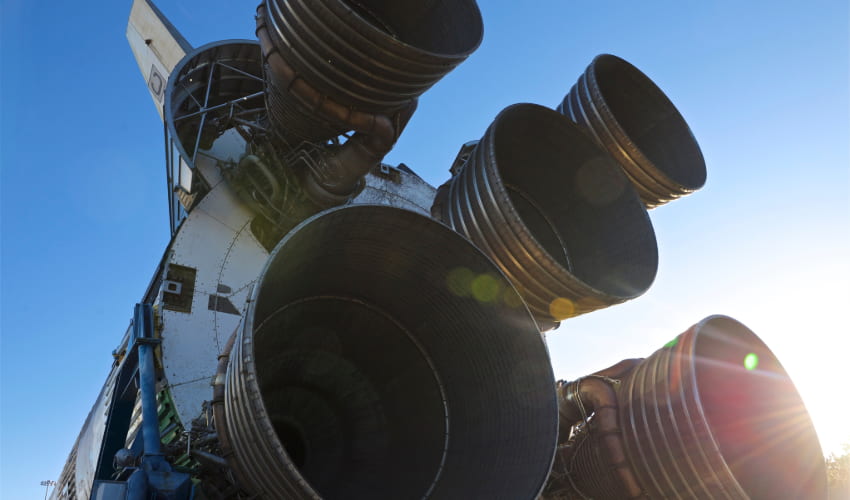 The Basics
Address: 1601 E NASA Pkwy, Houston, TX 77058
Phone: 281-244-2100
Space Center Houston is the official visitor center for Johnson Space Center—the mission control for NASA and the International Space Station, as well as where most U.S. astronauts receive their training. As Houston's first Smithsonian Affiliate museum, it aims to teach visitors the history of manned space-flight and inspire kids with the possibilities of space travel.
It's located roughly 30 minutes out from downtown Houston, and groups should allot 3 to 5 hours for their visit if they want to see everything.
Permanent Exhibits
Space Center Houston is huge—250,000 square feet, to be exact! With over 400 artifacts to observe and plenty of live presentations to see, the center can be overwhelming for first-time visitors. If you're not sure where to start your self-guided tour, here's a run-down of the center's major attractions:
Astronaut Gallery
Ever wondered how long it takes astronauts to suit up for a spacewalk? Or what they wear when they're floating around the station? See for yourself at this gallery: the world's most comprehensive collection of astronaut apparel.
Starship Gallery
Everything in this exhibit was at one point outside of Earth's atmosphere: probes, satellites, spacecraft, and more! Follow the timeline of human space exploration through artifacts like the Apollo 17 Command Module (which once sat on the moon) and the huge Skylab Training module (the country's first space station). Oh, and did we mention there are real moon rocks? Because there are real moon rocks—all of which are 3.8 billion years old.
Mission Mars
Your aspiring astronauts may just be a part of space exploration's next frontier: Mars! Here, they can get a preview of what that might be like. Climb into a replica Orion capsule to learn what it takes to get to Mars, experience what a day on the Red Planet feels like, and check out real and very rare Martian meteorites.
International Space Station Gallery
See what the crew aboard the ISS is up to at this interactive gallery dedicated to the football-field-sized science lab currently orbiting Earth. This exhibit not only lays out the history of the space station, but also showcases current research projects and what it's like to live in space.
Mission Briefing Center
Come and catch a presentation on what NASA has planned for the future of space exploration, watch current space missions unfold in real time, or get involved at a special event in this auditorium space.
Independence Plaza
Who wouldn't want to jump at the chance to walk around inside a space shuttle? Here, aspiring astronauts and their chaperones can tour an exact replica of the iconic Independence shuttle, mounted atop of the original NASA 905 shuttle carrier that jetted the real Independence into space.
NASA Tram Tour
Take a peek behind the scenes at NASA Johnson Space Center! This outdoor tram takes guests from the main exhibits of the Space Center to the actual Saturn V shuttles in Rocket Park and through the Christopher C. Kraft Mission Control room—you know, the "Houston" we hear astronauts talk to in movies.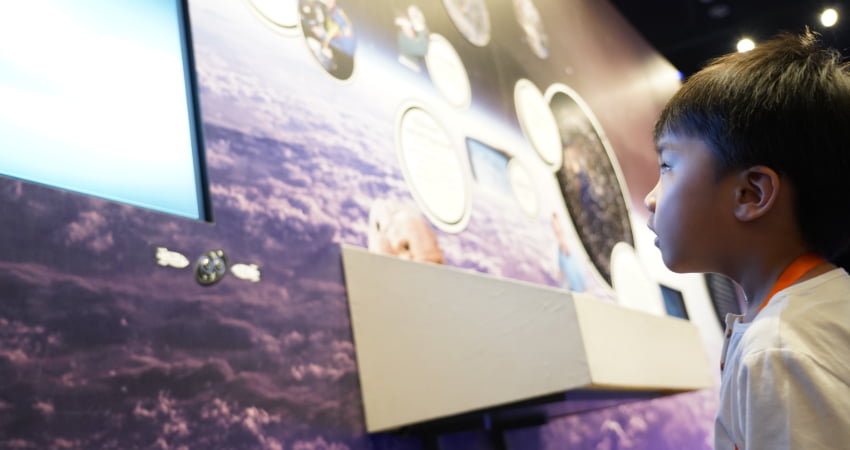 Group Admission
Normally, admission ranges from $25 to $30 per person, depending on the visitor's age and military status.
However, Space Center Houston offers a variety of group discounts based on what kind of group you are, how many people are tagging along, and when you book tickets. For the best rate the Center can offer—$15.95 per general admission ticket—your group must include at least 20 people and prepay admission at least 7 days before you arrive.
On top of the discounted admission, tour groups can also benefit from other perks, like
One complimentary ticket for every 20 purchased
Free admission for your charter bus driver when they show their ID to the Guest Services Desk
Three tiers of add-on programs, including private tram tours, meal voucher tickets, and customizable VIP tour packages
All reservations are non-refundable, but group tickets are valid for 1 year from the date of purchase
Keep in mind that if you're reserving less than 75 tickets, you can receive them electronically—but if you're booking more than that, they'll need to physically mail the tickets to you. Register your group tour online, or call 281-283-4755 to reserve and pay by card.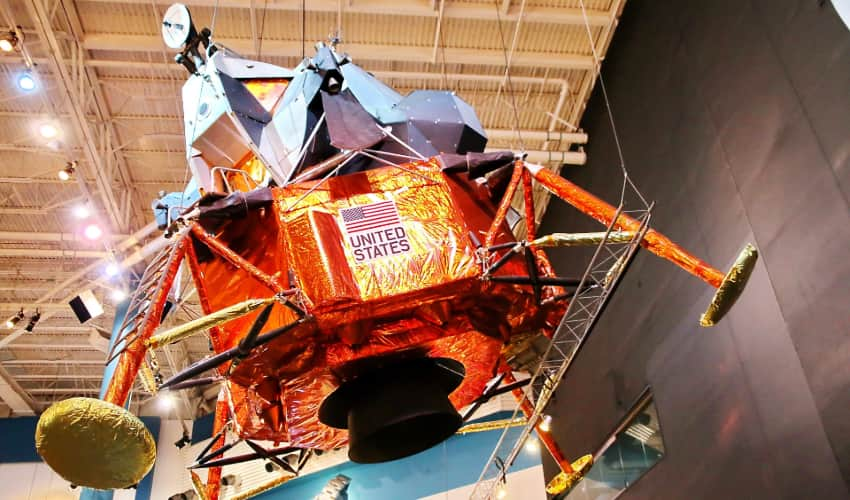 Field Trips
From local classes learning about NASA's role in Houston's history to up-close and in-depth shuttle tours with your after-school STEM club, spending the day at Space Center Houston is a fantastic way to get your school group or scout troop interested in science and math.
The center even offers special packages just for groups with kids, like overnight campouts under the SpaceX Falcon 9 rocket and exclusive tours of NASA's Neutral Buoyancy Lab—where astronauts train for living in micro-gravity!
Whenever you're ready to start planning your field trip to Space Center Houston, here's what you'll need:
to complete a field trip request form and email it to reservations@spacecenter.org
to pay for your tickets at least 7 days before your visit, in order to receive the group discount
to find at least one chaperone for every 10 students, regardless of their age
There are lockers for storing bulky backpacks and luggage available near the check-in desk. If these fill up, your group can also stow their personal belongings in your bus' overhead storage compartments—your driver can make sure your stuff is safe and sound.
Parking
Parking fees at the center are $5 per vehicle, and they are waived for school buses and charter buses. Upon entry, your bus driver can drop everyone off right at the entrance and a volunteer will direct them to the designated parking lot for oversized vehicles.
Food
Guests cannot bring outside food into the center. That means when it comes to food, your group has two options: purchase a meal at the Zero-G Diner inside the center or bring a picnic lunch.
If you opt for the former, upon request, groups can receive discounted meal vouchers as a part of their admission plan. Don't lose your voucher—you can't get a new one. So if you're visiting with kids, we recommend having your chaperones hold on to them until lunchtime.
If your group decided to take the picnic route, keep an eye out for the park area adjacent to the guest parking lot. There, you'll find enough covered picnic seating to accommodate 75 and a grassy area to seat an additional 50—all available on a first-come, first-served basis. Coolers must remain in your charter bus's undercarriage luggage bay until lunchtime and cannot be stored inside the center.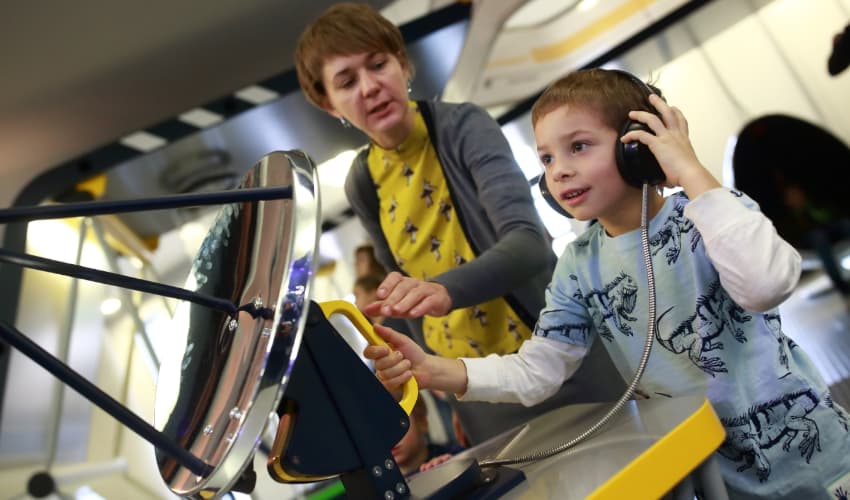 Accessibility
Space Center Houston is a Certified Autism Center, which means the staff have received specialized training to best accommodate all guests and the museum offers low-stimulus, sensory-friendly admission days regularly.
As for mobile accessibility, the tour trams have motorized lifts on them, all exhibits are wheelchair accessible, and every theatre has ground-level entrances. Check out the center's accessibility guide for more information, including resources for folks who are blind, deaf, or hard-of-hearing.
And if you ever need an ADA-compliant ride here, leave it to Texas Charter Bus Company. Our team will have no problem finding a coach that has a lift, extra handrails, wider aisles, and plenty of space to store mobility aids—all at no additional cost.
Book Your Ride to Space Center Houston
Now that you know what to expect from your trip to this iconic Houston destination, all that's left to do is to figure out how you're going to get there. Texas Charter Bus Company is here to help!
Our team is available 24/7 to help you find the perfect minibus or charter bus rental to suit your group's size, itinerary, and amenity needs. From onboard restrooms and reclining seats to TVs and a DVD player so everyone is entertained for the long haul, we'll work with you to make it happen. Give us a call at 346-200-7677 whenever you're ready to receive a free, no-obligation quote for your bus rental to Space Center Houston!
Do you need to rent a charter bus?