A Group Travel Guide to Dallas Airports
The Dallas–Fort Worth metro area sees a ton of air traffic every year. More than 90 million passengers fly through the region between the area's two airports. With such busy skies, you'll want to put a little thought into which airport you're planning to fly out of. Thankfully, it's a pretty easy choice!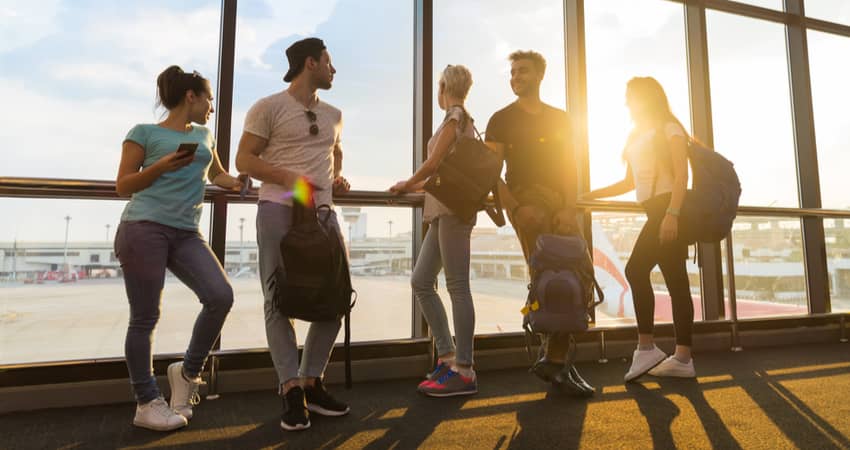 If you're flying international, you'll have to choose Dallas Fort Worth International Airport (DFW), but if you're staying in the US, you can also opt for Dallas Love Field Airport (DAL). Groups traveling domestically may want to look at both options. Prices, convenience, and domestic flight availability can vary between DFW and DAL.
Once you pick our airport, you'll have to think about how your group will get to and from the terminal. Texas Charter Bus Company provides group transportation for airport transfers across the state. Forget about paying pricey parking fees, racking up big taxi bills, or having to hail several XL rideshares for your large group. A private airport shuttle will be fitted to your group's size, needs, and itinerary. Just call 214-396-2444 to book a comfortable Dallas airport shuttle for your group trip.
Now let's take a look at some Dallas airport details that will help you in your travels.
Dallas/Fort Worth International Airport
Address: 2400 Aviation Dr, DFW Airport, TX 75261
DFW is one of the busiest airports in the world by passenger traffic and can be a bit hectic for large groups to navigate. Unfortunately, you won't have any international flight alternatives short of driving to Austin or Houston. With proper planning though, flying out of DFW can be stress-free!
Why should my group fly out of DFW?
Depending on where you're traveling, DFW is often cheaper to fly into than DAL. Its American Airlines hub is the second-largest airline hub in the world, which means more flights, destination cities, and a wider selection of tickets at different price points.
Where do we unload our private bus?
Charter bus areas are located curbside at the lower level of each terminal. Since DFW can be quite crowded, you'll want to have clear communication with your driver on what terminal you'll be waiting at and when you're landing.
Where can groups eat at DFW?
You'll find dozens of places to eat across DFW's five terminals. Not all airport eateries are accommodating for big groups, though. Sure, you can grab some snacks and relax at your gate,  but if you have a long wait or layover, why not get a full meal? Grab a table at Pappadeaux Seafood Kitchen in Terminals A and C, get a quick bite at Banh Shop in Terminal D, or have Tex-Mex fare and drinks at Pappasito's Cantina.
What can my group do at DFW?
If you arrive at your gate way too early and need something to kill time, DFW Airport has a few options for you. Strtech out at 24-hour yoga spaces in Terminals B and D, get a quick massage or mani-pedi at Xpress Spa in Terminals A and D, or browse shops around the terminals like Brighton Jewelry and Brooks Brothers.
Groups with a few hours to half a day free may want to do something away from the airport. Hop on your charter bus and shuttle next door to play a few holes at Bear Creek Golf Course or to Great Wolf Lodge Water Park for a fun day in the sun.
Dallas Love Field Airport
Address: 8008 Herb Kelleher Way, Dallas, TX 75235
Smaller than its international counterpart, DAL has a more limited selection of flights but is still a good option for groups traveling within the US. If you're choosing DAL, keep in mind that Southwest Airlines is the primary carrier here. So if you're a frequent American Airlines or Delta flier who's itching to use some airline points for your group trip, you likely won't be able to use them here.
Why should my group fly out of DFW?
Although your group will likely be paying more for your tickets at DAL, you won't have to deal with the crowds at DFW. This is often worth the extra bucks for some travelers who are easily stressed. The airport has fewer terminals, which means it's easier to navigate when you have a large group of travelers. DAL is also much closer to Downtown Dallas than DFW, located just about 7 miles away.
Where do we unload our private bus?
DAL has a designated staging and pickup areas for charter buses. Bus pickup can be found along the curb of Aviation Place just past Parking Garage C. Groups flying into DAL should ask their driver to wait at the staging area on Aubrey Avenue near the airport entrance. Idling in the loading zone while they wait for your group may result in a ticket.
Where can groups eat at DAL?
With smaller airports comes a slimmer selection of eateries. Big groups will have a hard time finding somewhere to eat at Love Field, so grabbing food and taking it back to your gate is likely going to be your best option. Sky Canyon Cafe in Terminal 2 offers quick Tex-Mex bites, while Campisi's has pizza and Italian sandwiches to grab on the go.
What can my group do at DAL?
Since DAL is much closer to Downtown Dallas than DFW, you'll find more nearby activities to enjoy if you have a long wait before takeoff. Grab a bite to eat in Uptown, have drinks and view the street art in Deep Ellum, or visit attractions like Reunion Tower for some great photo-ops. If your wait time is relatively short, you may want to stay put at the airport. You won't find many shopping options and the airport doesn't have lounges, so we'd recommend catching up on some shut-eye, streaming your favorite TV show, or listening to podcasts at your gate.
Travel to Dallas' Airports with Texas Charter Bus Company
Whether you're a group of Dallas natives headed out of town to a special event or you're out-of-towners flying into the Big D for a group trip, Texas Charter Bus Company has you covered. Rent a Dallas charter bus to safely transport your entire group to the airport in one spacious vehicle. We'll pair you with a minibus or charter bus perfectly suited to your group's size and needs. Call 214-396-2444 to learn more about our charter bus pricing and to get a free quote!
Do you need to rent a charter bus?