The Ultimate North Texas Road Trip Guide
Need a major change of scenery? Taking a day trip to the next city over might not cut it. So why not plan a group road trip with friends or family? Whether you're Texas natives or a group of out-of-towners, there's no better way to see all the Lone Star State has to offer than hitting the road.
Other than Alaska, Texas is the biggest U.S. state by land area (because everything is bigger in Texas, right?). It's so big that this blog post warranted two parts! Today, we'll be going over some travel tips and how to start your trip around North Texas. So get your group together to chow down on Tex-Mex in San Antonio, line dance at honky-tonks in Fort Worth, and learn a wealth of knowledge about Texas history in Austin.
How to Get Around
Putting together your Texas road trip itinerary is just the first step. You'll also have to figure out how you'll get around this massive state! Texas Charter Bus Company can help you take on the roads with easy group transportation services across the state. Organizing a caravan can work for relatively small groups. You can just pack up your sedans and get going.
But what about groups traveling with extended family or a large friend group? Stuffing everyone into small cars probably isn't going to work. Rent a minibus to comfortably shuttle everyone to each and every stop on your road trip itinerary. Rather than being packed like sardines in a car for the long haul, a minibus will give everyone plenty of space to stretch out and relax. A bus rental can also come with amenities to help pass the time during longer legs of the trip. Cool off in a climate-controlled cabin after exploring Texas outdoors, upload your best photos to social media with WiFi, play a movie for everyone to enjoy with onboard TVs, and charge up your electronic devices on your bus's power outlets.
Charter bus amenities aren't the only things that can boost your group road trip experience. Renting with Texas Charter Bus Company means you'll have a professional driver for every part of your trip. They'll work with your schedule and itinerary to ensure you enjoy your road trip to the fullest.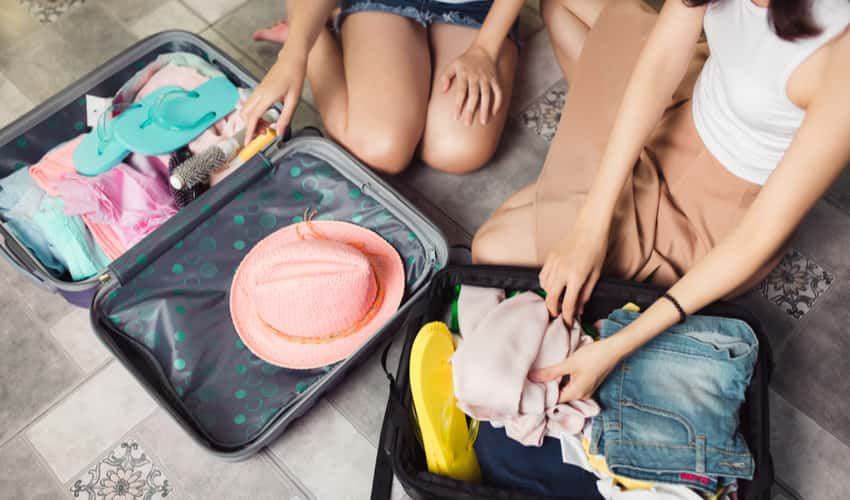 Planning and Packing Tips
If you're not sure where to start on your road trip planning with a charter bus, don't worry. Here are a few tips to consider when planning:
Take your time: While building your itinerary, allot as much time as possible to each city. There's a lot to see in Texas's major cities and most cannot be fully covered in just a couple of days. Make a list of your must-do activities and try to give your group at least 2-3 days per city to see as much as you can without rushing.
Pack smart: Be sure to make a list and check it twice. Charter buses have extensive storage space, so you won't have to worry about overstuffing a trunk. Pack a small bag with easy-to-reach essentials for inside the cabin and a larger bag with additional items to store in luggage bays.
Book your lodging early: Major cities can get crowded during peak travel seasons (mainly summers and holidays). Look into lodging with plenty of time to spare and inquire about group discounts.
Don't forget about your driver: You'll need to reserve lodging accommodations for your driver as well. They'll need 8 hours of sleep for every 10 hours of driving. Some hotels offer discounted rates for bus drivers. Be sure to also ask about overnight parking options for your bus.
Book your bus early: Making your reservation as early will ensure you get the best charter bus price Call 281-383-9491 to get a quote at least 3 or 4 months in advance (6 months is recommended if you're traveling in parts of spring and summer.) Texas Charter Bus Company has rental experts available 24/7 for whenever you're ready to book.
Build Your Itinerary
There are numerous routes you can take through Texas. Your group can pick and choose where and when you'll want to travel. The following route by no means covers all of Texas' wonders (sorry El Paso, you'll have to sit this one out for now) but it'll take you through most of its major cities.
Saddle up and let's get on the road!
Dallas
Does anyone actually call it the Big D? Maybe. Maybe not. Either way, Dallas is a big city with lots to do. Dallas is home to top sports teams, the State Fair of Texas, killer barbecue spots, and German chocolate cake (yep, it's not actually from Germany).
Dallas charter bus tip: Dallas has designated motorcoach parking areas along the street in the downtown area. If you're visiting crowded attractions like the Dallas Arboretum, organize a dropoff and pickup spot with your driver. They can park off-site while your group explores Dallas's busiest attractions.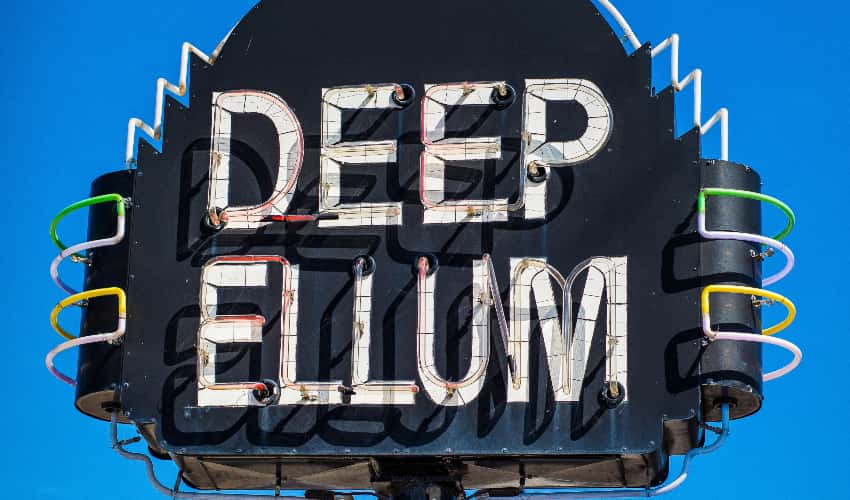 Image credit: Heather Gil on Unsplash.
Shop, drink, and eat local
Looking for the best local places to wine and dine in Dallas? Deep Ellum and the Bishop Arts District are two of the best neighborhoods for foodies to get their fill. These neighborhoods have local art spaces, boutiques, music venues, and of course lots of food. Grab drinks at Braindead Brewing and pizza at Cane Rosso's or get mouth-watering brisket at Lockhart Smokehouse BBQ and dessert at Emporium Pies.
Deep Ellum address: Main Street, Dallas, TX 75226
Phone: 214-748-4332
Bishop Arts District address: Bishop Avenue Oak Cliff, Dallas, TX 75208
Phone: 214-333-3595
Take in the Dallas landscape
Groups who love the outdoors definitely need to visit the renowned Dallas Arboretum and Botanical Garden. The 70-acre botanical garden is located off of White Rock Lake and is one of the most peaceful spots in the bustling city. It's a beautiful place to visit year-round but is especially breathtaking during spring's full blooms and the fall's changing foliage.
Address: 8525 Garland Rd, Dallas, TX 75218
Phone: 214-515-6615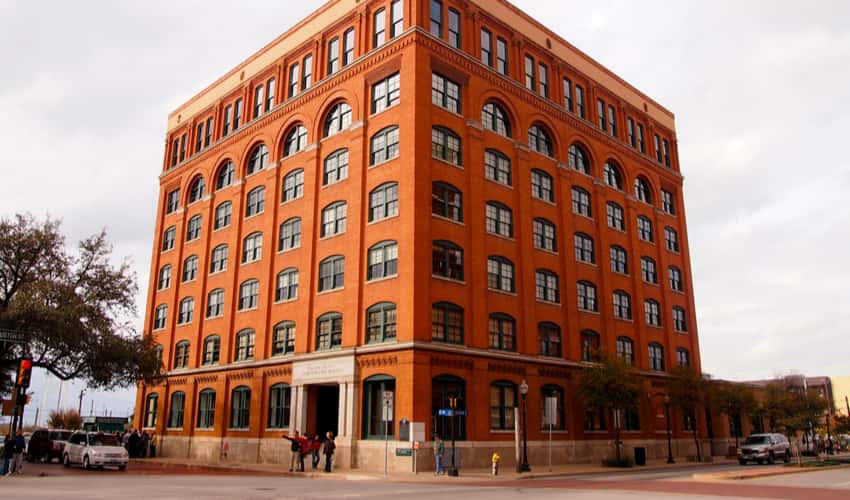 Learn about important national history
The Sixth Floor Museum at Dealey Plaza has a dark but vital history to explore. This site exhibits the life and death of President John F. Kennedy, who was assassinated in the plaza on November 22, 1963. Visiting the museum will take around two hours as you learn and take a walk through history with in-depth exhibitions.
Address: 411 Elm St, Dallas, TX 75202
Phone: 214-747-6660
Arlington
Arlington's just a stone's throw from Dallas and houses some of the metro area's biggest attractions. Although Arlington is a small city in comparison to Dallas, you can easily spend plenty of time here. Hop on your bus shuttle and enjoy an afternoon or a full day or two checking out Arlington's top attractions.
Arlington charter bus tip: Many of Arlington's popular destinations have plentiful parking options for oversized vehicles. Just be sure to organize any parking payment ahead of time, if possible.
Explore modern sports marvels
Football is huge in Texas. Some would say it's a way of life. Dallas Cowboys fans, for instance, are some of the most passionate football supporters in the NFL, meaning games at AT&T Stadium are always in high demand. With such a large fan base, the Cowboys' home is also one of the largest sporting venues in the league. Sports fans should make a stop here and book a group tour of the massive modern stadium.
Address: 1 AT&T Way, Arlington, TX 76011
Phone: 817-892-4000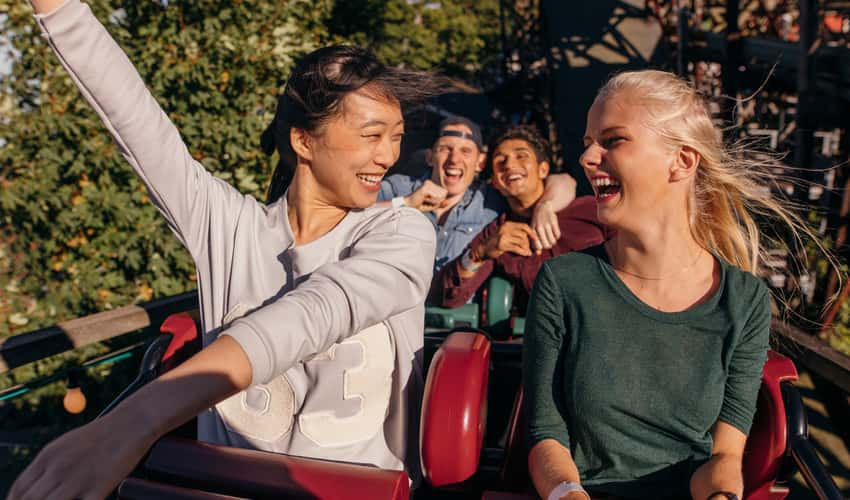 Tap into your inner thrill-seeker
While California and Florida have Disney and Universal, Texas has Six Flags. Okay, well, Six Flags isn't exclusively located in Texas, but it did start here! Six Flags is actually headquartered in Grand Prairie right next door to Arlington. Six Flags Over Texas is the company's first park and a locally-loved spot for adrenaline junkies. With 13 rollercoasters and dozens of other rides, your group can easily spend a full day here.
Address: 2201 E Road to Six Flags St, Arlington, TX 76011
Phone: 817-640-8900
Fort Worth
As a major player in the cattle ranching industry, Fort Worth is the place to be for a taste of the Old West. It's where you can break in a pair of cowboy boots, attend a rodeo, and line dance the night away at honky-tonks.
Fort Worth bus tip: Free and paid motorcoach parking is available throughout Fort Worth. Visit the city's website to learn more about motorcoach accommodations. If you're planning a bar-hop between Fort Worth's honky-tonks and saloon, be sure to organize pickup and dropoff with your driver. You'll have a built-in designated driver for your entire night out.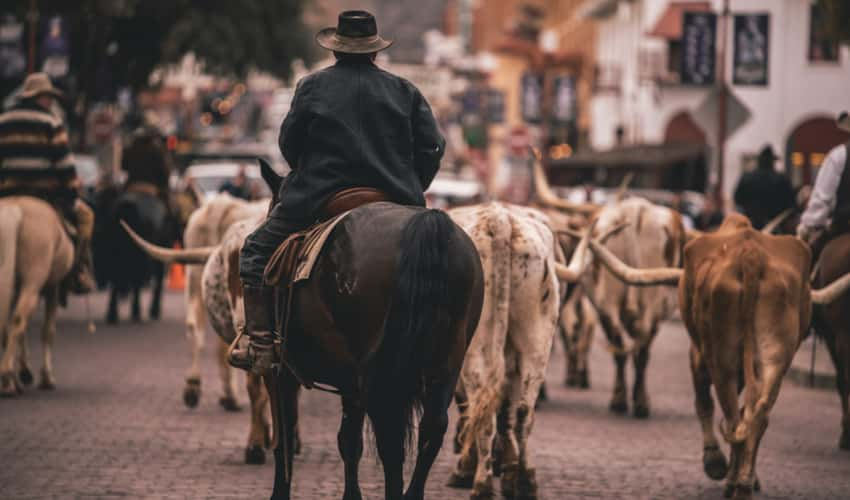 Visit the historic stockyards
The Fort Worth Stockyards served as a hub for cattle raising and shipment from 1866 to 1971. It helped shape both the economy and culture of Fort Worth. Today, the area is designated as a national historic district and is passionately hanging on to its cattle ranching roots. Check out the Stockyards Museum, get down and dirty with heaping plates of barbecue, attend a Cowtown rodeo, and stick around for the twice-daily longhorn cattle drive.
Address: 2501 Rodeo Plaza, Fort Worth, TX 76164
Phone: 817-624-4741
Soak up some Texas sunshine
Visiting another botanical garden may not be for everyone, and honestly—Texas has a lot of them. If you already visited the Dallas Arboretum, making a stop at the Fort Worth gardens may be overkill. Instead, check out the Fort Worth Water Gardens in downtown. This urban park is less of a garden and more of an artistic oasis of man-made fountains, waterfalls, and pools. It's a great spot to enjoy the beautiful weather among the many serene water features.
Address: 1502 Commerce St, Fort Worth, TX 76102
Phone: 817-392-5700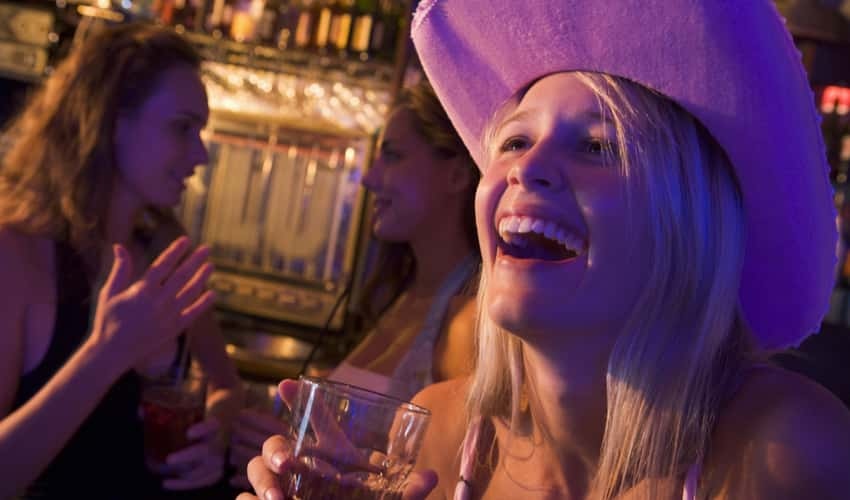 Get down at the local honky-tonks, saloons, and dives
If you're traveling with a group of adults, there's no better way to enjoy a night out than at a honky-tonk (a cowboy-themed bachelor and bachelorette party or birthday bash sounds pretty fun). Fort Worth's Old West history makes it a fitting location for a country night out on the town. With a private charter bus, you'll have a built-in DD for your bar hopping between the city's coolest honky-tonks and saloons. Check out a few of these popular spots to dance and enjoy country music all night:
Billy Bob's Texas
Address: 2520 Rodeo Plaza, Fort Worth, TX 76164
Phone: 817-624-7117
Thirsty Armadillo
Address: 120 W Exchange Ave, Fort Worth, TX 76164
Phone: 817-624-2770
White Elephant Saloon
Address: 106 E Exchange Ave, Fort Worth, TX 76102
Phone: 817-624-8273
Lil' Red's Longhorn Saloon
Address: 121 W Exchange Ave, Fort Worth, TX 76164
Phone: 817-740-0078
Lola's Trailer Park
Address: 2735 W 5th St, Fort Worth, TX 76107
Phone: 817-759-9100
Hit the Road to South and Central Texas
It's time to get back on the road and head south toward the state capital. The next leg of your ride will take you down I-35 S for around 3.5 hours. Enjoy the views out of your charter bus's panoramic windows or pass the time with a long movie on the bus's TVs. Pro tip: pick a long movie to hold everyone's attention the entire time. Avengers: Endgame and Titanic are solid choices.
If you're planning to take your time and make some stops on the way to Austin, the I-35 route will take you through Waco, the home of Dr. Pepper, and Temple, Texas' wildflower capital. Visit the Dr. Pepper Museum & Free Enterprise Institute and take a photo op in the blooming wildflowers during spring.
Once you make it to Austin, check out the second part of this Texas road trip series to guide you throughout your time in Central and South Texas. Don't forget to give Texas Charter Bus Company a call at 281-383-9491 with any questions you may have about multi-day rentals around the Lone Star State.
Do you need to rent a charter bus?