The Best San Antonio Hidden Gems for Frequent Visitors
If you're from San Antonio or visit the city a lot, you've probably already seen The Alamo and the River Walk more times than you'd care to count. Sure, the major historic attractions in Alamo City make for an educational visit, but after you've been once, you've got the gist.
Instead, why not plan a group trip around some of San Antonio's lesser-known gems? Organize a group trip to the city's offbeat yet interesting spots with Texas Charter Bus Company. Book a charter bus for your scout troop, community organization, or even a big friends' trip to make your outing as smooth as possible. Renting a private motorcoach with Texas Charter Bus Company will give your group plenty of space to travel together and the freedom to travel on your own time. Call 210-686-1207 to get a personalized bus quote for your San Antonio group trip!
While creating your group itinerary, consider penning these hidden gems into your schedule: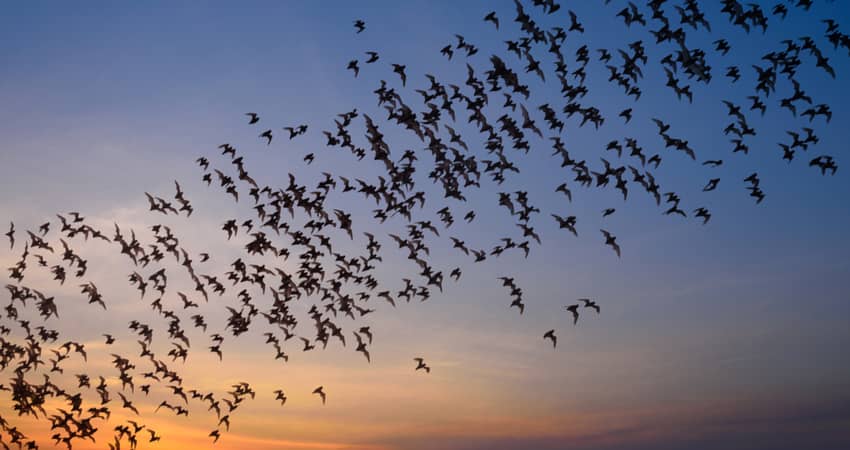 Bracken Cave Preserve
Address: 26101 FM3009, San Antonio, TX 78266
Phone: 512-327-9721
Texas is home to several massive bat colonies that give us a look into the lives of these nocturnal critters we don't often see. Bracken Cave Preserve is located about 20 miles from San Antonio and hosts more than 20 million Mexican free-tailed bats throughout the summer. It's the largest maternal colony in the world, doubling in size every summer after new bats are born.
Guests can watch the stunning sight of thousands of bats emerging from the cave during dusk. All visitors must book a tour through Bat Conservation International, the only organization registered to access the private property. Groups can book guided tours or private events by emailing bracken@batcon.org. Head out to the preserve in the early evening and learn about the colony before watching the bats take flight. Texas summers can be hot and muggy, even at night! Cool off in your charter bus's climate-controlled cabin on the ride back into the city.
Charter bus travel tip: The route to the preserve will take you along a dirt road and to a relatively small parking lot that isn't suitable for oversized vehicles. When you make your group reservation, notify your tour guide that you'll be getting dropped off before your driver returns to park outside the preserve's gate.
Buckhorn Saloon and Museum
Address: 318 E Houston St, San Antonio, TX 78205
Phone:  210-247-4000
Visiting the Buckhorn Saloon may be a bit macabre for some travelers, but it's a unique spot to add to your itinerary. This historic saloon is decorated with more than 500 species of mounted animals, including prehistoric elk, half-ton fish, and record-holding bucks. If you're traveling with inquisitive kids, don't worry—the saloon is also a cafe, museum, mini arcade, and shooting gallery all rolled into one. Although the stuffed taxidermy animals are the stars of the saloon, there are other exhibits that explore Texas history. Learn about pioneers of the Old West, the Texas Rangers, and the history of carnival sideshows. Groups of 10 or more can take advantage of discounted admission to the museums, while admission to the saloon and cafe is always free.
Charter bus parking tip: The saloon is located in the heart of Downtown San Antonio, just a few blocks from the River Walk and the Alamo. This makes parking a bit tricky. Have your bus driver drop your group off at a designated loading zone near the Alamo before parking off-site. Oversized bus parking options can be found on the City of San Antonio's website.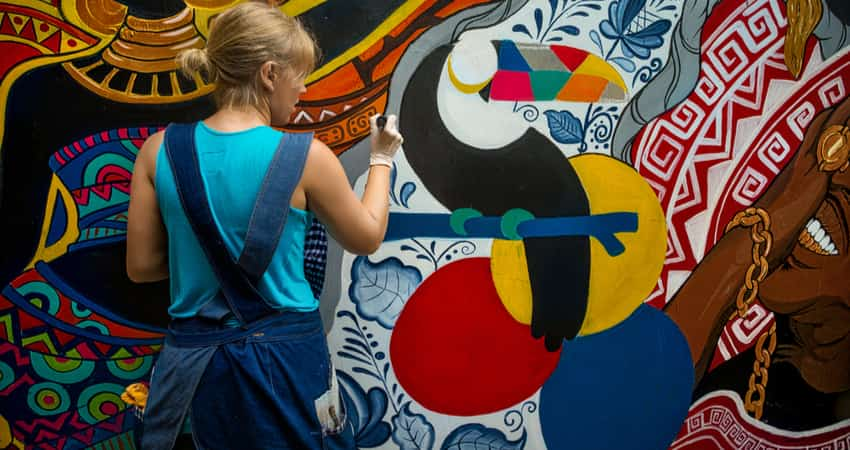 San Antonio Street Art Initiative
Address: Varies; N St Mary's St, San Antonio, TX 78212
The San Antonio Street Art Initiative (SASAI) has brought together local and international artists to create one of Texas's biggest outdoor art galleries. This ongoing project stretches across Midtown with more than 40 murals. One of the best ways to see the project is by mapping out a shuttle route by using the SASAI mural map. Texas Charter Bus Company lets you build your own itinerary and routes, so you won't have to miss any of the beautiful murals.
Hop off your charter bus and have a photo op at different mural locations along St Mary's Street. Make a stop to see over a dozen murals under the S PanAm Expressway and at the St. Mary's Strip. Groups of adults who may want to stop for a brew, cocktail, and bite to eat can pop into one of the many bars along the Strip. Don't worry, you'll have a built-in DD for your ride back home.
Charter bus parking tip: Since the SASAI is located in different parts of the city, you'll need to organize parking at each mural location you choose to visit. Parking under the S PanAm Expressway at the Midtown Murals is plentiful and free if you plan to start your day there.
Animal World & Snake Farm Zoo
Address: 5640 Interstate 35 S, New Braunfels, TX 78132
Phone: (830) 608-9270
Animal World & Snake Farm Zoo may not be as big as the San Antonio Zoo but that's part of the charm! Visiting this zoo is perfect for small school field trips, youth groups, and children's birthday parties. The zoo has exotic critters like binturongs, jaguars, monitor lizards, gibbons, macaws, and over 50 species of venomous snakes. The snake exhibits include important educational materials about identifying venomous and non-venomous Texas natives.
You'll also find a few recognizable furry friends like baby goats and pigs that you can pet and feed for a small fee. Groups looking for extra fun can book an animal encounter with non-venomous snakes, tortoises, fennec foxes, lemurs, or alligators. Your group will have a private talk with a zookeeper and your animal ambassador of choice.
Charter bus travel tip: The zoo is located in New Braunfels about 35 minutes from downtown. It isn't too long of a trip but if you're traveling with kids and hit traffic, you'll probably want something to keep them entertained. When you book your motorcoach with Texas Charter Bus Company, request amenities like TVs with DVD players and WiFi for a smooth trip. Once you get to the zoo, there's plenty of free parking.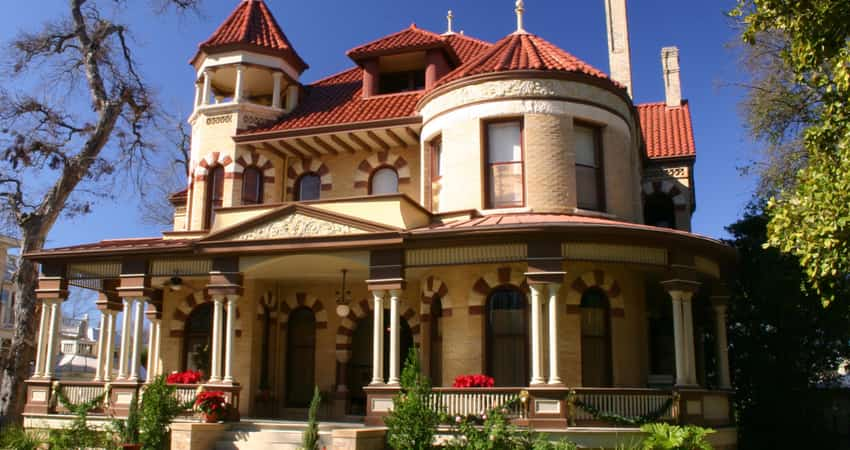 King William Historic District
Address: 1032 S Alamo St, San Antonio, TX 78210
Phone: 210-2278786
The King William Historic District may not be too much of a "hidden" gem since it's hard to miss the massive mansions in the neighborhood. Stretching across 25 blocks in Southtown San Antonio, the King William Historic District is a must-see spot for architecture lovers. Even if you don't know much about architecture, the eclectic mixture of styles is undeniably a cool sight. As you stroll or shuttle through the district you'll see influences of Victorian, Greek Revival, Baroque, Southwestern, and Italianate.
Unfortunately, most residences in this neighborhood are private property, but you're welcome to admire the extravagant homes and yards from afar. Three homes—Steves Homestead, The Guenter House, and Villa Finale—have been converted into museums and are open for tours with prior reservations.
Charter bus travel tip: As a mostly residential neighborhood, you're not going to find a parking lot for your charter bus. Most parking is available along the street but you'll be very lucky to find space for a motorcoach. Opt for a personalized hop-on-hop-off tour to avoid parking your bus or have your driver drop everyone off before parking outside of the district.
See San Antonio's Hidden Gems with Texas Charter Bus Company
Whenever you're ready to book your charter bus, give our rental team a call at 210-686-1207. A Texas Charter Bus Company rep will match you with a minibus or full-sized coach for your group trip. You'll get a quick, accurate, and personalized quote for your San Antonio trip in no time.
Do you need to rent a charter bus?