Houston "Deep Cuts" for Frequent Travelers
Frequent group travelers to Houston are already familiar with the city's rich artistic background, cultural diversity and eclectic cuisines. Not only is it the fourth largest city in America, it also welcomes over 7 million visitors annually, who are intrigued by its vast Museum District and its significant contributions to space exploration.
However, there's more to discover in Houston than just the usual mainstream attractions. There are several hidden gems that aren't crowded with locals or tourists and that offer a glimpse into the city's vibrant history while also being a source of entertainment for all age groups. In order to make your trip easier, Texas Charter Bus Company has compiled a list of must-see attractions in Houston that are unique and worth exploring. Once you've found a group destination that caters to everyone's interests, call us at 346-200-7677 and a friendly reservation specialist will pair you with a personalized charter bus rental!
A Guide to Houston's Unique Group Destinations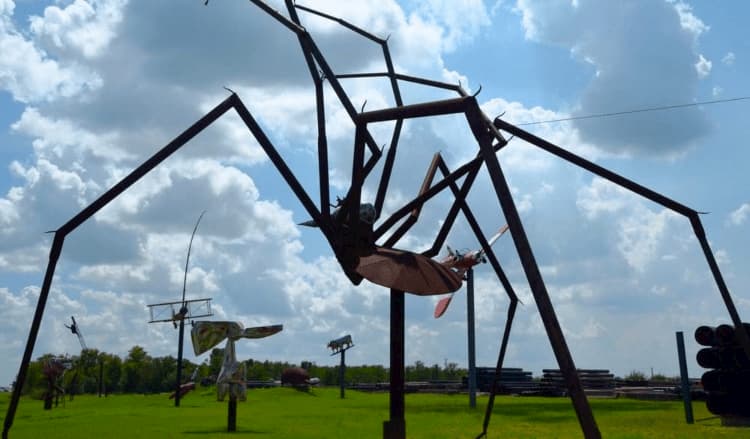 Eclectic Menagerie Park
What to expect: Waving to large metal creatures strewn across a pipe yard.
Located right outside the Texas Pipe and Supply Company is an open space public museum, also known as the Eclectic Menagerie Park, where a collection of 26 large metal sculptures reside. They are decoratively placed across the lawn and are built from scratch using unused pipes from the company itself. Some of the more popular ones include an enormous daddy long legs spider and a towering fishing pole that has successfully caught a Mazda instead of a fish.
The only way to visit this park is by driving by, which means all members of your group can enjoy the view from the panoramic windows on your charter bus while avoiding the blistering Texas heat. This activity can be added to an existing day trip so you can view yet another unique destination in Houston without spending another dime. In order to get the best view of the sculptures, your charter bus driver can take TX-288 South and proceed to exit from W Belfort Avenue, where you'll be able to drive very close to the Texas Pipe and Supply Company with the monsters positioned less than a mile away on your right.
Take a charter bus to: 2330 Holmes Road, Houston, Texas, 77051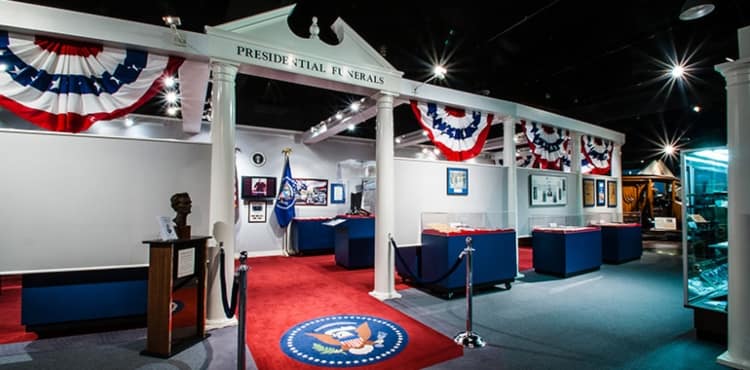 National Museum of Funeral History
What to expect: Presidential coffins, a school for embalming techniques and an unfortunate story involving a funeral bus.
For those interested in the reality of death, there's no better place to be than the National Museum of Funeral History. This morbid yet fascinating museum hosts a vast collection of funeral exhibits through time, such as those derived from Papal and Presidential funerals, hearses from the early 19th century, and even intricately painted West African coffins from Ghana. Take your visit up a notch and learn about the history of cremation or about the exhaustive process behind the most expensive funerals in the world (hint: the process comes from Japan.)
Visiting the museum is usually a self-guided adventure, but you can choose to book a guided tour if your group exceeds 25 people. Tickets for adults begin at $10, with seniors and children getting cheaper prices, while group rates begin at $8 per head. Once you've explored the museum to your heart's content, your charter bus driver can take you to one of many restaurants nearby for lunch. Popular options include Chula's Sports Cantina or Joe's Crab Shack.
Take a charter bus to: 415 Barren Springs Dr, Houston, TX 77090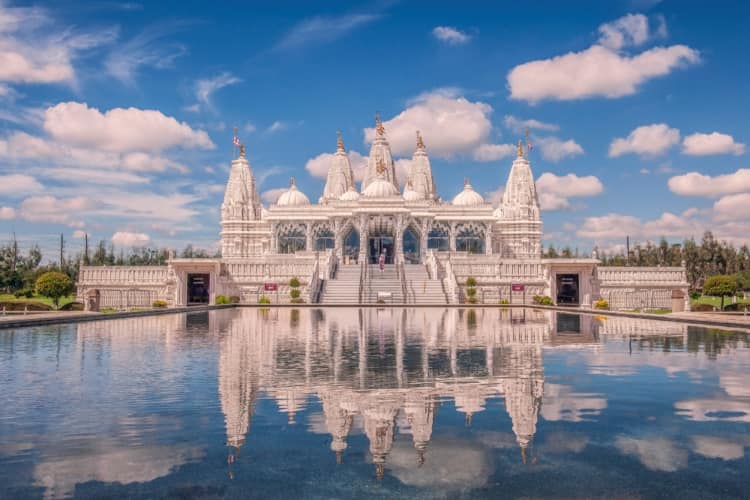 BAPS Shri Swaminarayan Mandir
What to expect: A historic Hindu temple, religious ceremonies and traditional gifts from the souvenir shop.
It's not often that one stumbles across a magnificent Hindu Mandir (temple) in the middle of Texas. The BAPS Shri Swaminarayan Mandir is known to be the first of its kind in North America, and its architectural intricacies are derived from the Indian Shilpa Shastra (treatises), along with contributions from Turkish limestone and Italian marble. It's a place of worship, congregation and religious Hindu ceremonies, with the opportunity for groups to visit any time of year.
Luckily, visiting the Mandir is free and usually takes around 45 minutes. However, advanced reservations are required for large groups. For smaller groups, there is an audio tour on site that provides interesting information on Hindu culture, traditions, art and philosophy. In addition, there is an exhibition that showcases India's contributions to Hinduism that is open for the public. If you simply want to enjoy the tranquility of the atmosphere, your group can even sit and meditate for as long as they wish.
It's important to note that no food, drinks or electronic devices are allowed in this religious facility, so storing those in your charter bus rental is your best bet.
Take a charter bus to: 1150 Brand Ln, Stafford, TX 77477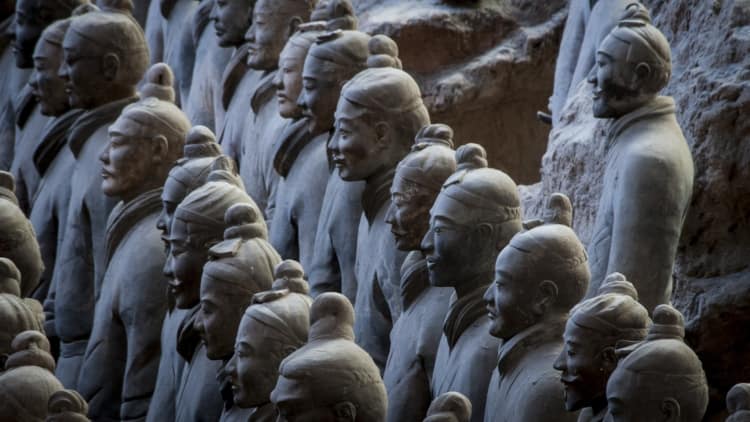 Lucky Land Houston
What to expect: An abbreviated version of Chinese history and koi fishponds.
Flying to China to see Qin Shi Huang's famous terracotta army will probably put a dent in your budget, so why not visit a replica at Lucky Land Houston? This incredible Chinese culture museum commemorates the country's history through the presence of traditional Chinese gardens, a Panda Village, Kung Fu statues and several other artistic pieces. It's an attraction perfect for a day's visit and includes activities that are both engaging and family friendly.
In order to visit this unique destination, groups are required to purchase tickets that usually range from $5 to $10. The museum also offers special discounts for educational trips or special occasions, so it's important to call them in advance. There are also several interesting shops nearby that sell Asian-themed knick knacks and goodies. If you purchase one too many things, you can always store your haul in the overhead cabins in your charter bus rental.
Last but not least, don't forget to snap pictures of all the sights around you! This Instagramable location will definitely have your followers wondering if you're in an exotic location far from Houston, Texas.
Take a charter bus to: 8625 Airline Dr, Houston, TX 77037
Art Car Museum
What to expect: A collection of cars adorned with ostentatious materials.
Car enthusiasts will be thrilled to know that there's a museum dedicated to just automobiles in Houston. The Art Car Museum, also known as the 'Garage Mahal', houses more art cars than can be found in any other city, all of which are decorated and displayed in outlandish fashion. Taking inspiration from Contemporary, Folk and Fine Art, each car is designed with paint, inflatable objects, glitter, gems, sculptures and other random contraptions (a.k.a the Easter Bunny.)
Visiting the museum is free of charge but requires an appointment made ahead of time. Currently, the museum is only open Friday through Sunday, but that is subject to change. Groups are allowed to wander around for as long as they wish but are not allowed to touch anything in the museum (no matter how strong the urge is.). Once you're done exploring the museum, your charter bus driver can take you to other attractions such as the Bayou Bend Collection and Gardens or the Beer Can House that are 5 to 7 minutes away.
Take a charter bus to: 140 Heights Blvd, Houston, TX 77007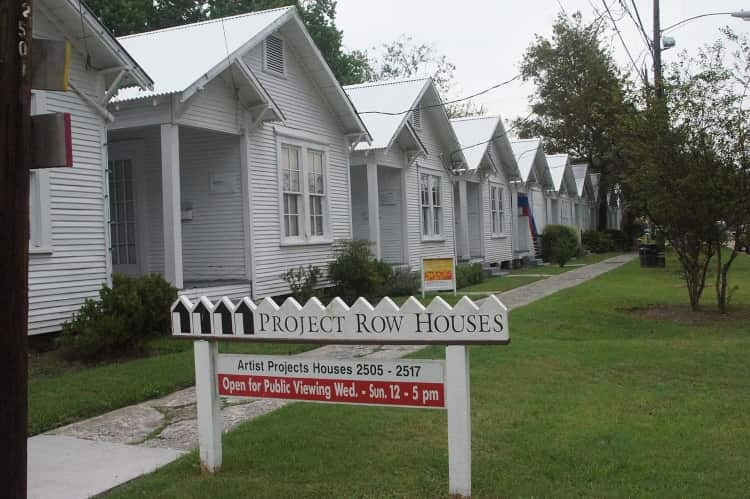 Project Row Houses
What to expect: House-hopping while getting an intensive cultural lesson on African American history.
Located in Houston's Historic Third Ward are a row of 22 shotgun-style houses spanning around five blocks. Known as Project Row Houses, ten of these free-standing structures provide cultural and artistic insight into the African American community through photography exhibitions, community projects and creative presentations. Every 6 months, each artist that is commissioned by PRH is given a house of their own to decorate and design to address issues affecting the African American community.
PRH provides guided tours for groups under 30 people that usually range from 45 to 60 minutes. The tour costs $12 per adult and needs to be scheduled at least 7 days in advance. It involves walking along the entire site while making occasional stops at the Small Business Incubations and the Young Mothers Residential Program section along the way. Don't worry about having to walk to the artistic installation—your charter bus driver can drop you off near the row of houses and pick you up once your tour ends.
Take a charter bus to: 2521 Holman St, Houston, TX 77004
Why Texas Charter Bus Company?
So, you've read this far, which means you've probably chosen the group destination you want to visit in Houston. Before you proceed with the booking process, let us explain why Texas Charter Bus Company is the perfect transportation service for your group.
Whether you're in a group of 18 passengers or 56, we can pair you with clean and spacious charter bus or minibus rentals to comfortably accommodate everyone onboard. Your corporate team, classmates, friends or family members will no longer need to sacrifice space and comfort, and everyone can stretch, take a nap or socialize on their bus rental. We also offer custom amenities to personalize your ride, ranging from free WiFi and electronic outlets to flat-screen TVs, and reclining seats, and plus sanitized restrooms on larger bus models. In addition, the drivers in our network can take your group anywhere in and around the Houston area—long trips, overnight trips, or even trips spanning a few hours can be taken care of by our experienced reservation team.
Explore Houston's Hidden Gems with A Group
Now that you have all the information you need, simply contact Texas Charter Bus Company at 346-200-7677 to find the right transportation for your trip to Houston's hidden gems. Our 24/7 team will be happy to assist you with your itinerary, offer you a free bus quote, or answer any questions that may arise along the way.
Do you need to rent a charter bus?