A Group Guide to Airports Near Austin
Many believe Austin-Bergstrom International is the only airport in town. And strictly speaking, they are correct—it's the only large-scale provider of commercial airlines in Austin. But that doesn't mean it's your only option. Whether your group decides to stick with ABIA or venture out to Killeen-Fort Hood Regional Airport an hour away, it helps to know the ins and outs of your airport of choice before you reach the terminal.
Luckily, Texas Charter Bus Company is here to help! Keep reading to learn more about the services and amenities of Austin's two major airports.
And if your group ever needs a lift to or from the terminal, the Texas Charter Bus Company team can set you up with a personalized airport shuttle that operates on your time. Checking flight status with free onboard WiFi, storing suitcases and carry-ons in the luggage bays and parcel racks, relaxing as a professional driver handles the navigation and traffic for you—if that sounds appealing to you, give us a call at 512-215-4891 to learn how to start your bus rental process!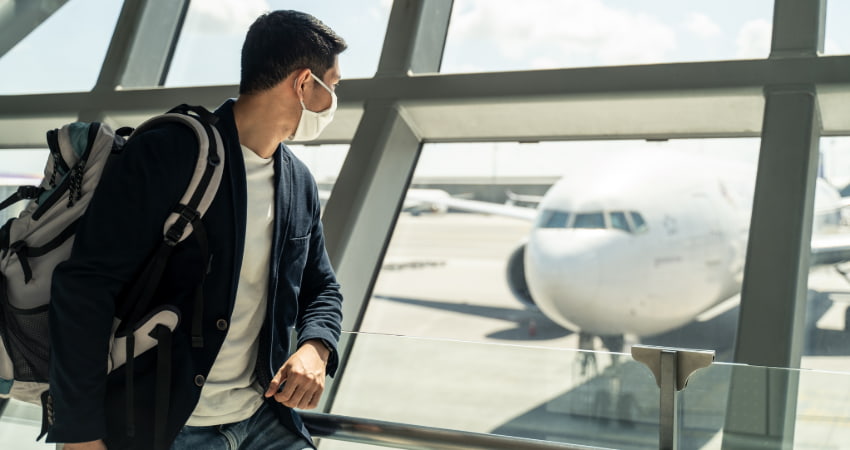 Traveling Safely
Needless to say, if your group is planning to travel during the COVID-19 pandemic, you should expect your experience to be a little different than normal. Although procedures will vary from airport to airport, enhanced cleaning procedures will likely be in place and everyone will need to wear masks or face coverings. Read up on your airport of choice's social distancing protocols before you embark so everyone in your group is on the same page.
And while traveling in a group is not advisable during the pandemic, if you are going to hit the road, Texas Charter Bus Company is here to make your transportation to and from Austin's airports as safe as possible. Rather than taking public transit with a bunch of strangers or splitting into multiple taxis, Ubers, or Lyfts, arriving by minibus or charter bus rental means arriving as one unit with limited contact with people outside your group. Every vehicle in our network is rigorously sanitized between trips, your professional driver will always wear a mask throughout your trip, and our team can set up any number of safety measures aboard your rental. From hand sanitizing stations to preboarding temperature checks to staggered seating arrangements to allow distance en route, we'll work with you to keep everyone safe and relaxed.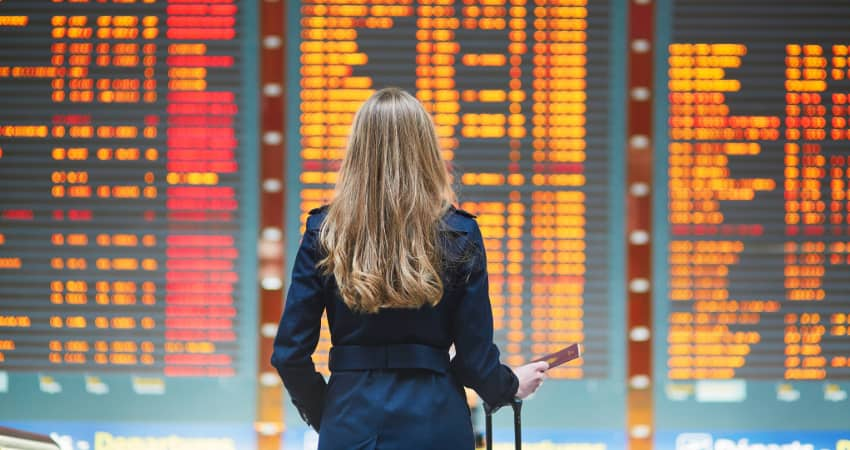 Austin-Bergstrom International Airport (AUS)
As far as many locals and veteran Austin visitors are concerned, this major air hub is the airport in Austin. And for good reason! It surely is the largest (4,242 acres), offers the most flights (350 daily flights), and is the closest to the city (5 miles away from downtown).
ABIA is made up of two terminals:
Barbara Jordan Terminal (3600 Presidential Blvd.) is home to the widest selection of airlines—from domestic mainstays like JetBlue, Delta, United, and American to international services like Air Canada, Aeromexico, British Airways, and more.
South Terminal (10000 Logistics Lane) is the smaller of the two and hosts both Allegiant Air and Frontier Airlines.
The two terminals are in completely separate buildings, so you'll either need to take the airport's shuttle service or arrange your own ground transportation to get between them.
Restaurants
In true Austin fashion, the dining options at ABIA are eclectic, innovative, and more often than not include BBQ sauce on the side. Hit up Tacodeli for a taste of breakfast tacos (welcome to Austin!), or if you have some time to kill, stop by Salt Lick Barbeque for a limited selection of the local chain's fan favorites. Juiceland and Jo's Coffee offer smoothies, coffee, grab-and-go salads, and sandwiches, and there's always nationwide franchises like Starbucks if you're looking for something more familiar.
Those flying into or out of South Terminal will find fewer options in the way of food, but the courtyard (Texas's only post-security outdoor space) has picnic tables and a food truck—De Nada Tacos.
Services
If your group has a long layover, there are few airports in the area with as many amenities and comforts as Austin-Bergstrom. Considering the city is known as the Live Music Capital of the World, it's only fitting that its airport features five stages and a rotation of local bands, so flyers can enjoy a free concert or two before boarding.
Even if you only need to wait around for a short while, both terminals offer free WiFi, and ATMs and currency exchanges are located every 10 or so gates. Parents with infants are welcome to take advantage of the free nursing suites opposite Gate 10, by the elevator. Each private room includes comfy seating, a table, power outlets and USB ports, and a mirror.
Accessibility
All terminals and gates at ABIA are wheelchair accessible. Most jetways are as well, but if you're flying with a smaller airline, your wheelchair users may need to request the use of a lift to board your plane. If you're traveling with service dogs, you may relieve your animals on the dog walk east of the Barbara Johnson terminal's lower level.
Parking
While waiting for your group to land, your bus rental and driver can stay at the cell phone waiting lot, north of the parking lot. This space doubles as a gas station and convenience store, so your driver can grab a cup of coffee or some snacks while they stay up to speed on the flight information displayed on screens outside.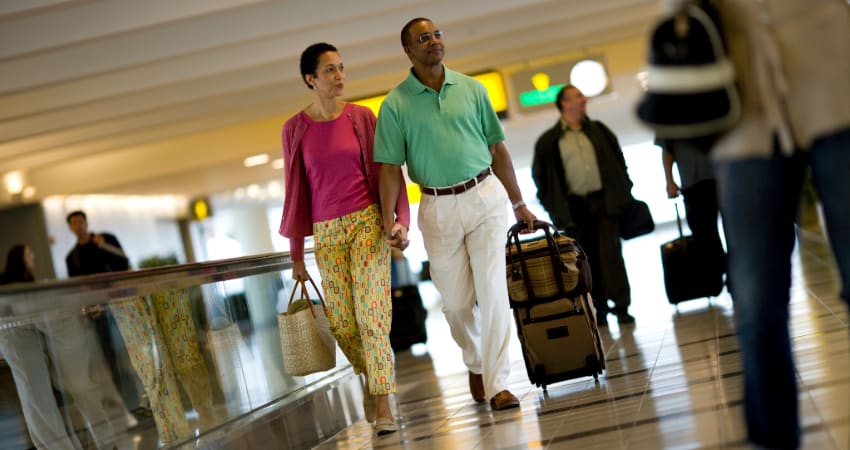 Killeen-Fort Hood Regional Airport (GRK)
While this regional airport offers far fewer flight options, depending on your origin or destination, you'll likely find the cheapest flights in the area here—especially if you're heading to or coming from somewhere else in Texas.
KFHRA is currently only serviced by two airlines: American Airlines and United Airlines. Both companies offer international flights departing from Killeen-Fort Hood. That being said, this airport is primarily used as a launch point for Dallas- or Houston-bound flyers, traveling college football teams during bowl season, military personnel entering or leaving nearby Fort Hood, and Austin visitors who don't mind driving the extra hour into town.
Restaurants
Given its small size, Killeen-Fort Hood Regional Airport does not offer the wide variety of dining options you'll find at Austin-Bergstrom. You won't see many major restaurants past security, but there are vending machines, tables with chairs, and a small locally-owned cafe with fresh-brewed coffee, sandwiches, and snacks. If you think your group will be exceptionally hungry before or after your flight, consider stopping at one of the local BBQ haunts in nearby Killeen, Texas for a sit-down meal.
Services
Being so close to one of the country's largest military bases, it should come as no surprise that Killeen-Fort Hood features a variety of exhibits, replicas, and statues related to military paraphernalia and the state's aviation history. If you're traveling with history buffs and have some time before your flight, be sure to walk around and learn a thing or two!
Besides the exhibits, the airport also offers more practical services such as ATMs, postal services, a shoeshine station, power outlets, and free Wi-Fi.
Accessibility
Like at Austin-Bergstrom, service animals are welcome and can be relieved before you go through security. Wheelchair accessible restrooms, gates, and jetways are also available throughout the airport—though you may need to request a wheelchair lift in order to board a smaller plane.
Parking
Unfortunately, KFHRA does not offer a free cell phone lot for airport shuttles to wait for you to land. So unless you can tell your reservation rep exactly how long it will take your group to mosey off the plane, get through baggage claim, and find your bus rental, your driver will need to park in the short-term parking lot outside the terminal. Parking here is free for the first 30 minutes and $1 per hour after that, with a maximum daily rate of $10.
Plan Your Austin Air Travel Today
As you can see, flying into and out of Austin can be simple and easy. And now that you have a better idea as to how you'll fly in, all that's left is to secure your transportation once you get here.
Texas Charter Bus Company can not only find your group the perfect charter bus or minibus to pick you up from the terminal but also service all your shuttle needs throughout Austin! Whether you're in town for a wedding, a corporate event, a college tour, or a little sightseeing with your family and friends, a reliable bus rental is the best way to keep everyone together and comfortable throughout your Austin travels!
Give us a call at 512-215-4891 whenever you're ready to get started. Our 24/7 reservation team is always available to assist you in finding the perfect ride. Call today to secure a free, no-obligation quote!
Do you need to rent a charter bus?