Travel Guide: Take a Charter Bus to The Alamo From Austin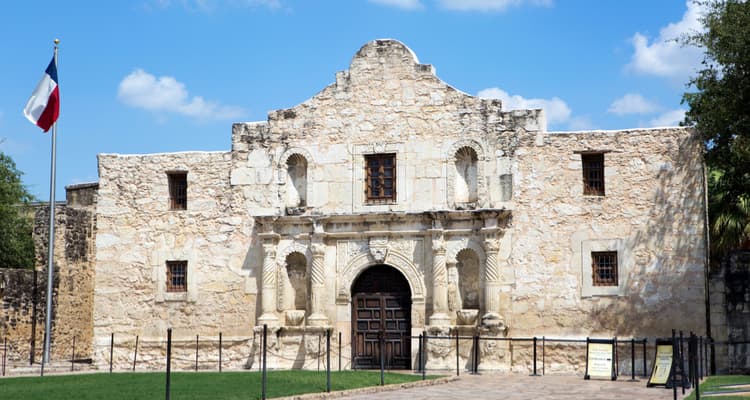 Traveling from Austin to San Antonio is a popular trip for both tourists and locals to take. The trek is short, sweet, and even perfect for a day trip. Between the Texas capital and the state's second-biggest city, there's an endless list of locations to add to your itinerary.
But what's one of the biggest attractions in South-Central Texas?
The San Antonio River Walk?
The Texas State Capitol?
Maybe even the Natural Bridge Caverns?
Those are all solid answers, but only one top-rated attraction stands the test of time in San Antonio: The San Antonio Missions. Specifically, The Alamo.
If you're looking to make the quick journey (80 miles is short compared to the 762 miles cross-country), buckle up and settle in with the Texas Charter Bus Company guide on how to get to The Alamo from Austin.
The Best Time to Visit
Most visitors make their way to San Antonio during the summer months. Although Texas summer heat can be a killer, that doesn't stop roughly 3 million people from visiting to "remember the Alamo."
If your schedule permits, visiting between November to mid-April will guarantee more forgiving weather and fewer fellow tourists.
During off-season (September 4 – May 24), The Alamo is open 7 days a week from 9:00am to 5:30pm. During peak season (May 25 – September 3), guests are welcome from 9:00am to 7:00pm.
Ticket Pricing and Group Options
Visiting The Alamo is completely free! Take a self-guided tour along The Alamo grounds or pre-book one of their guided tours for a fee. Guided tours options range in price from $12 to $15 per person.
The Alamo also offers veteran discounts for guided tours and audio tours, as well as education-focused options for students.
Transportation for Individuals, Couples, and Small Groups
Single travelers and small groups traveling to San Antonio's slice of history have a handful of transportation options to choose from. While small groups like families can travel by car, renting a minibus from Austin to San Antonio is an efficient alternative to avoid organizing a caravan.
Personal Vehicles
If you're planning to hit the road in your own vehicle, be sure to map out your route before the 1.5- to 2-hour ride. The quickest route to San Antonio by car is down I-35 South. This route is a straight shot, taking you through mostly small towns, with the largest stopping point being San Marcos about 30 miles out of Austin. You'll exit onto I-37 South briefly before exiting onto bustling E Commerce Street in Downtown San Antonio.
Where should we park while visiting The Alamo?
San Antonio is the second-largest city in Texas and The Alamo is among the busiest tourist attractions in the state. Depending on the time of year, you may have difficulty finding parking near The Alamo. Summer is generally the busiest season, so battling other tourists for a parking space may be inevitable.
Street parking may be difficult to come by but there are a handful of government-run parking garages and lots within a 5-to-10-minute walk. The Alamo allows drop-offs at the Houston Street gate for patrons who may be unable to walk from their vehicle.
Houston/Nolan Lot
Address: 1023 E Houston St, San Antonio, TX 78202
Rates: $3 a day, Monday – Thursday
$5 flat rate, Friday – Sunday
Houston Street Garage
Address: 503 Navarro St, San Antonio, TX 78205
Rates: $9 for up to 3 hours, Monday – Friday at 12:00pm
$10 flat rate, Friday 12:01pm – Sunday
St. Mary's Garage
Address: 400 N St Mary's St, San Antonio, TX 78205
Rates: $10 flat rate, Monday – Friday
$5 flat rate, Saturday – Sunday
Intercity Bus Service
Depending on the bus company, single round-trip tickets from Austin to San Antonio can range between $5 to $25. The bus ride generally averages 1.5 hours and pickup/dropoff locations vary, being dependent on the chosen company.
Choosing an intercity bus service can be economical for single travelers or small groups, but are not ideal for larger groups. Your group may not find enough seats on the same bus and find it inconvenient to travel through bus stations with dozens of people in tow.
Texas Eagle Train
Taking a train from Austin to San Antonio may not be the most popular option, but it's a great budget-friendly way for small groups to travel and appreciate the region's terrain. You'll have less travel flexibility and freedom than with a personal vehicle or Texas charter bus rental, but you may save a couple of bucks.
Depending on the time of year, you can usually swipe a Texas Eagle train ticket for anywhere from $15 to $30 roundtrip. The Texas Eagle leaves Austin daily around 6:30pm and arrives in San Antonio 3.5 hours later, around 10:00pm.
Such a late arrival will warrant a multi-night stay, especially if you're traveling to The Alamo. The San Antonio train station is located adjacent to the Alamodome, just 1.5 miles from The Alamo.
Austin Train Station
Address: 250 N Lamar Blvd, Austin, TX 78703
San Antonio Train Station
Address: 350 Hoefgen Street San Antonio, TX 78205
Charter Bus Transportation for Large Groups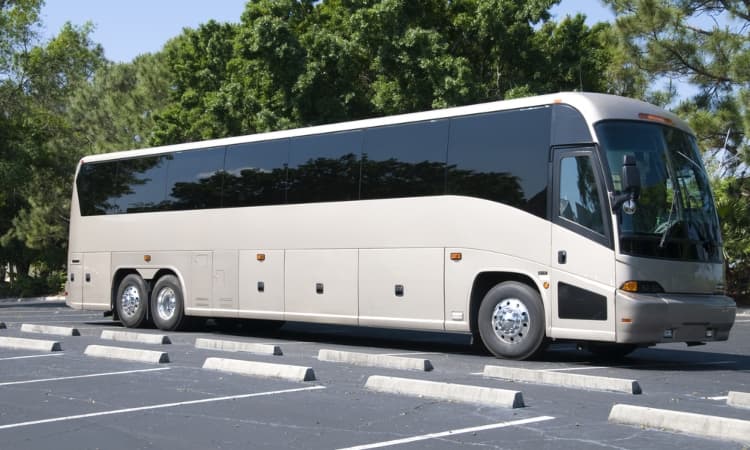 Traveling from Austin to San Antonio with a large group like a school field trip comes with larger-scale transportation logistics. Organizing a caravan or hopping on a train with two-dozen people or more could turn into a travel nightmare.
Make everything easier by booking a charter bus from Austin to San Antonio for your group trip to the Alamo. Instead of splitting up into a caravan and losing track of your fellow tourists, keep everyone together in a charter bus. Skip the worries of intercity bus services becoming overbooked or uncomfortable for your group; a motorcoach is fit to your personal needs. Rather than traveling late at night via train, take your time and depart whenever you want in a private charter bus.
Texas Charter Bus Company will transport your group between Austin and San Antonio for your field trip or private group tour of The Alamo. Forget the stress of driving and let a professional handle it for you!
Explore More of San Antonio's History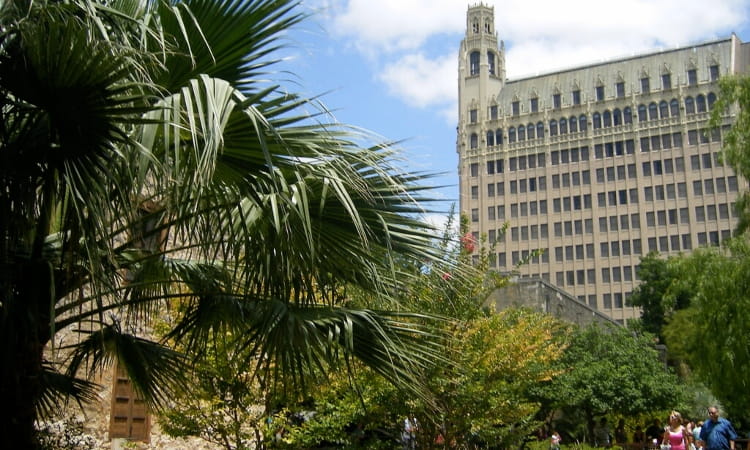 When you rent a private charter bus for your trip to The Alamo, you're also securing an opportunity to visit other historic sites across San Antonio.
The Alamo Plaza Historic District surrounding the Alamo contains several other historic locations that groups should check out before leaving the area.
Hipolito F. Garcia Post Office and Federal Building
Address: 615 E. Houston St, San Antonio, TX
Medical Arts Building (now the Emily Morgan Hotel)
Address: 705 E Houston St, San Antonio, TX
Menger Hotel
Address: 204 Alamo Plaza, San Antonio, TX
Although the Alamo is the most popular historic Spanish frontier mission in the country, San Antonio has four other missions located in San Antonio Missions Historical National Park. Mission Espada, Mission Concepción, Mission San José, and Mission San Juan make up the "San Antonio Missions" along with the Alamo.
The San Antonio Missions Historical National Park is located at 6701 San Jose Drive
San Antonio, TX 78214, about 5 miles south from the Alamo and downtown San Antonio. Your group can take I-37 South or Roosevelt Avenue down to this historic national park.
It is possible to visit the Alamo and the historical park in one day, but it may not be recommended during busy travel seasons and scorching hot days. Visitors usually spend around 2 – 3 hours at the Alamo and 3 – 4 hours at the San Antonio Missions Historical National Park.
If your travel group is feeling motivated to visit both locations in one day, you can take a break to cool off in your climate-controlled charter bus between stops.
How to Get to the Alamo from Other Texas Cities
Visitors flying into San Antonio or Austin have the easiest access to the Alamo and its surrounding history.
If you're traveling from Dallas, Houston or Fort Worth, expect a longer haul. Traveling by charter bus from Houston to San Antonio is around 3.5 hours and 200 miles along I-10 West. Taking a charter bus from Dallas to San Antonio will take a little over 4 hours across 278 miles of I-35 South. You'll definitely want a spacious charter bus with comfortable amenities, and a professional driver to handle those miles of Texas roads for you.
Wherever you're traveling from, Alamo visitors consistently assure that the trip to this slice of American history is well worth the miles. You can count on Texas Charter Bus Company to get you there. Call us at 281-383-9491 for a free quote!
Do you need to rent a charter bus?