Houston Restaurants with the Best Party Rooms for Large Groups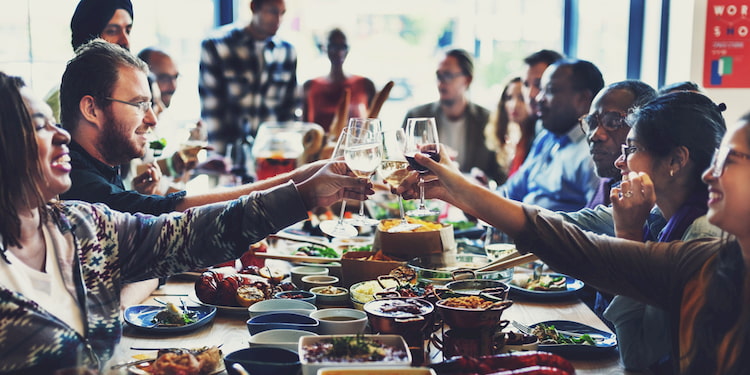 It's (almost) party time! You've got your guest list in one hand and someone else's credit card in the other. You know there needs to be booze and beer and food so good everyone will talk about it the next day. Maybe some of those little hot dogs wrapped in puff pastry, but like fancier? No problem. All of that, and more, will come once you find the best venue to fit your group.
When you're partying in Houston with 50 to 500 of your closest friends, you'll need the right space for them to comfortably mix and mingle. Houston is used to Texas-sized extravaganzas, and its diverse restaurant scene is prepared with private party rooms and buffet menus to fit all types of thirsty, hungry people. Want elegant and high-style for 350 wedding-goers? You got it. Casual, lowkey for an office of 20? Done. Check out this list of restaurants around Houston with party rooms for any group energy: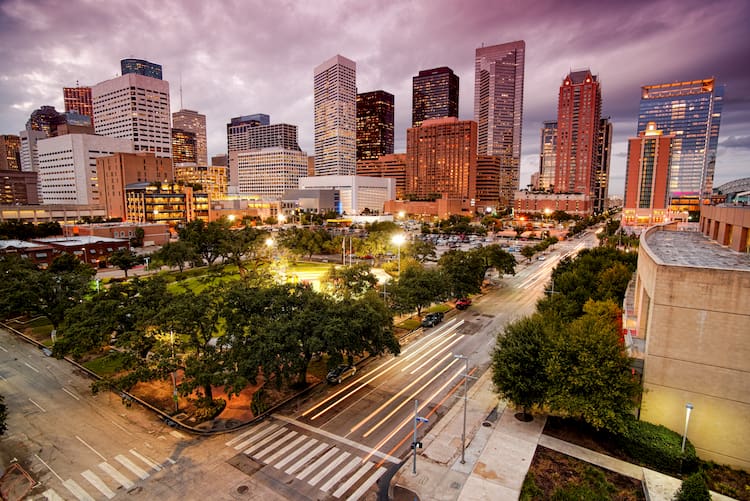 For a rowdy group of party people, head to Grooves
Cuisine: Casual American
Capacity: 100, seated
Event Spaces: 2
Grooves is a nightlife hotspot complete with 3 bars and a stage for a monthly line-up of headlining DJs. You may not want to bring a bunch of writer types here unless you're prepared to watch them nurse a vodka-cranberry in the corner for an hour before leaving without telling anyone. But for a high-energy crowd looking to let loose, enjoy making the private party rooms your home base for the night. The small, sophisticated Owner's Lounge has space for up to 50 people, and the Wine Room has its own full bar for folks to sip cocktails and snack on cajun boudin balls. Need a designated driver? Rent a charter bus instead!
For a classy crowd with refined palettes, try Vic & Anthony's Steakhouse
Cuisine: Steak, Seafood
Capacity: 450 seated
Event Spaces: 3
This elegant steakhouse offers 3 private dining rooms with unique yet distinguished vibes. The Wine Room kicks up the elegance a notch with impressive archways and an extensive wine collection, and the Ballroom? A beautiful space large enough for galas and conferences, adorned with crystal chandeliers and rich mahogany accents. Mom will love it, and so will you. Once you sit down and dig in to the house Tomahawk Chop or Alaskan King Crab Legs, you'll never want to leave.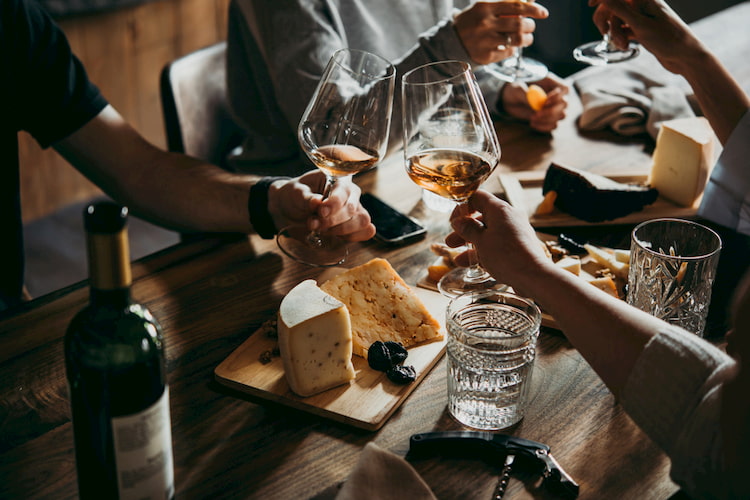 For a massive gathering of wine lovers, go to The Tasting Room
Cuisine: Contemporary/Fusion
Capacity: 400 seated inside, 200 seated outside, 950 reception-style
Event Spaces: 5
This Uptown Park gem goes the extra mile to deliver wine tastings and gourmet dinners at your special event. The sommeliers among you will go crazy for their extensive bottle list and wines on tap. Rent the entire facility for a blow out or choose any one of their stylish event spaces, each with its own charm. This spot is also a well-known bridal shower and rehearsal dinner venue. Need a wedding shuttle to get your guests there on the big day? We got you.
For an easy-going social group, head to Batanga
Cuisine: Latin American, Tapas
Capacity: 200 seated, 400 standing
Event Spaces: 1
Tapas are already perfect for group meals and Batanga serves them in enough space to house everyone you've ever met. They have the largest patio in downtown Houston: a beautiful red-brick courtyard beneath the historic Market Square Clock Tower. That one person who needs to taste the meal of everyone at their table will be in their element here. Load up the menu with a little bit of everything from smoked pork belly or yucca fries to grilled octopus and bacon-wrapped dates.
For a low-key crowd craving comfort food, try Treebeards
Cuisine: Southern
Capacity: 200 seated
Event Space: 1
Like a side of history with your chicken-fried chicken? Treebeards in Market Square is housed in The Baker Travis Building, the second oldest building in Houston, circa 1861. It's characterized by red-brick walls, old school charm, and a comprehensive menu of classic Southern cooking. History buffs with a hankering for Mom's cooking will go ham here. The second floor event space can fit 200 people for mixing and mingling and cycling through the outside balcony overlooking the square.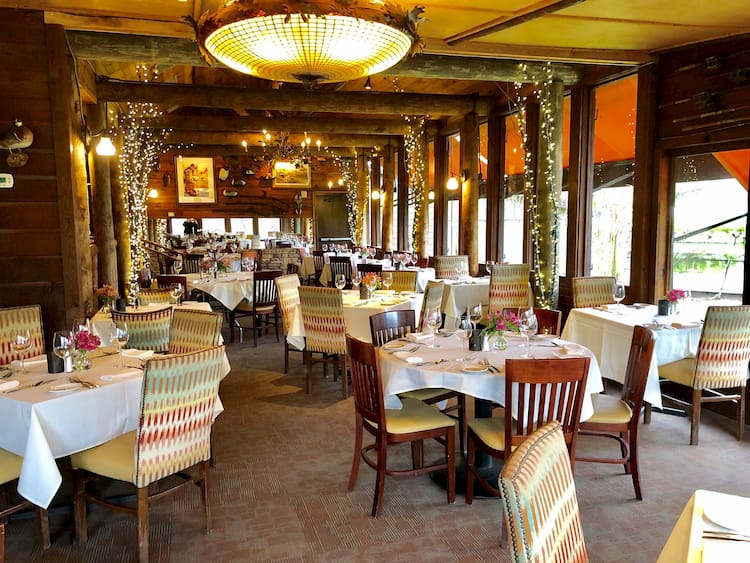 For country folk with expensive taste, go to the Rainbow Lodge
Cuisine: American/Wild Game and Seafood
Capacity: 200 person "buy out"
Event Spaces: 5
This 100+ year old lodge in Houston is rustic chic at its finest. Choose from dining halls like "The Creek Room," which seats 50-80 in a comfortable room with woodland views, or "The Trophy Room," a cozy space for 30-50 with an elegant fireplace and loft. Their menu is stocked with dishes featuring wild game like Grilled North American Elk Chop and Breast of Pheasant a la Forestiere. Finally, all the gastronomic rewards of hunting without a day-long vigil in a treestand.
For a big family reunion with seaside flair, enjoy Christie's Seafood & Steaks
Cuisine: Surf & Turf
Capacity: 80 seated
Event Space: 1
Every generation of your family will feel right at home at Christie's, Houston's oldest family restaurant. The private banquet room at Christie's can accommodate 25-80 kids, teens, adults and seniors for a classic surf and turf meal. Work with the kitchen to create a custom buffet or menu of specialties like choice 12 oz. rib eye steaks and pan-grilled Gulf of Mexico wild shrimp. They've had years to perfect the dishes that've kept them on the map; Christie's has been serving Houstonians since 1917.
For your entire extended family who just flew in from Italy and Ireland, respectively, reserve a room at Birraporetti's Downtown
Cuisine: Italian
Capacity: 100 seated
Event Space: 1
Give all the cousins you just met a good first impression by booking a dinner at Birraporetti's, one of Houston's great original restaurants. Have you ever wanted to pair your Guinness with veal picatta? Now's your chance. Birraporetti's is an Italian restaurant and Irish bar all rolled into one. Pile everyone into the private dining room and enjoy a truly unforgettable Italian meal finished with Irish coffees, all around.
Reserve Your Private Houston Charter Bus
If you've decided on the best private party venue for your group, waste no time deciding how to get there. When you book a charter bus with Texas Charter Bus Company, we will set you up with the right type of charter bus to meet your exact needs. Call 281-383-9491 to speak with a reservation specialist and tell them your grand plans. They'll work with you to decide on a pick-up and drop-off location, a streamlined event timeline, and the amenities you want for the trip. Air-conditioning, plush seats, WiFi, and power outlets will keep your group comfortable and entertained no matter how long the journey to your restaurant venue of choice in Houston.
Do you need to rent a charter bus?