Top 4 Texas Hill Country Outdoor Adventures for Summer Groups
Summer is upon us, which means it's time to get out and soak up the sun!
Whether you're a casual day-tripper looking to escape the city bustle or if you're no stranger to the wilds looking for your next big excursion, Texas Hill Country has an adventure in mind just for you. With lush desert-adjacent landscapes and refreshing rivers do explore, there's no shortage of things to do, see, and experience in South-Central Texas.
What better way to enjoy Hill Country than with a group of fellow adventurers? When you book with Texas Charter Bus Company, planning and reserving your group's travel has never been easier. Our reps are available around the clock to hash out the reservation details, hook you up with a custom charter bus or minibus fleet of your choice, and answer any questions at 281-383-9491.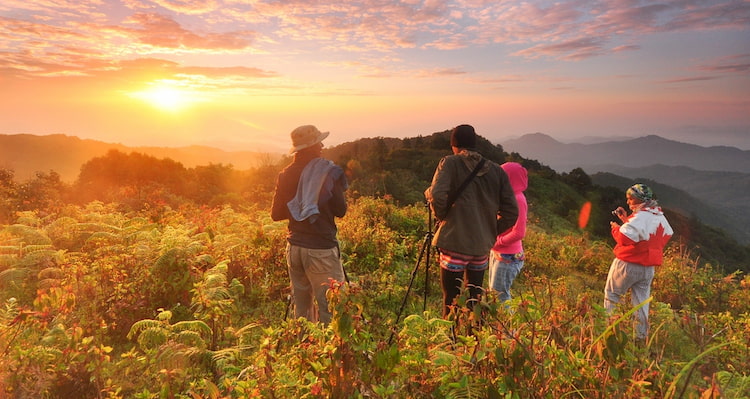 Not sure where to start? Here are four outdoor adventure group trips we're looking forward to this summer:
1.   Descending into the Natural Bridge Caverns
This natural wonder on the San Antonio outskirts is a fantastic summer getaway, and not just for the  No matter how hot it gets topside, these ancient limestone caverns are a constant 70 degrees Fahrenheit. Note that the caverns' passages maintain 99% humidity, making them pretty slick, so be sure to wear comfy shoes with good traction. Once you get there, your group can take your pick—or explore all 3—of these cavern tours:
Discovery Tour: This one is the most popular tours, but it's anything but boring. Clocking in at a half-mile and with a descent of 180 feet, this trek covers all the major features of the cavern system with a guided tour along a paved pathway. 75 minutes long.
Hidden Passages Tour: For those seeking a more in-depth experience, his tour highlights the cavern's deeper, hidden treasures, including waves of '"cave ribbon" formations, long "'soda straw" stalactites, and bursts of "welt and turnip shields." At one point, your guide will power off all the man-man lights, leaving everyone in complete darkness for a moment of quiet contemplation. 70 minutes long.
Adventure Tours: Feeling adventurous? Take a trip off the beaten path and venture into the undeveloped reaches of the caverns in a more athletic version of the prior two tour options. No concrete pathway, no handrail, and no light source but your trusty headlamps. Whether your group chooses the 160-foot rappel route or the belly crawl through narrow passages, you'll be met with a spectacular glimpse into the undeveloped cavern rooms beyond the usual tour. Don't sweat supplying and bringing your own equipment; your ticket fee covers the rental of a headlamp, harness setup, and ropes. 3-4 hours long.
Tip: While the tour and excursion pricing changes daily and depends on demand, a surefire way to secure the best deal is to 1) book your tours way in advance and 2) tour with a group. The Natural Bridge Caverns offer discounts and special programs for most groups of 10 or more and for school trips with over 20 students.

2. Ascending Enchanted Rock
Drawing in hikers and adventurers for centuries, Enchanted Rock is a dramatic 425-foot pink granite monolith—a.k.a. one big hunk of rock— that offers primitive camping, heart-pounding rock climbing, and 360-degree views of undisturbed Texas Hill Country.
Enchanted Rock and the surrounding state park is a 2-hour drive from Austin, and the trail to the summit is a .67 mile out-and-back that's well worth the drive. We recommend reserving a minibus shuttle to haul your packs, food, and any other supplies you'll need for your day-trip westward.
If your hiking group wants to make the most of the scenic views at Enchanted Rock, you'll need to take on the Summit Trail.
Out of all the trails at Enchanted Rock State Natural Area, this one is the most challenging but the easiest to follow. From the parking lot, just follow the signs down the stairs, through the boulder fields, and to the base of the mountain. Here hikers are left to their own devices and imaginations to find the best way to the top, so pick a path and get hiking!
The summit is wide and broad, with plenty of space to spread out, snap some photos, and take in the rolling landscape below. See if your group can find the small, elusive USGS marker of the rock's highest point—hint: check the dome's western shoulder—and scope out the many vernal pools that dot the rock's granite surface. These tiny puddle-based ecosystems develop over the span of decades and are extremely fragile, so step with care on the way back down.

3. Tubing the Guadalupe River
The summer heat brings the end of Hill Country trout fishing season, clearing the way for floaters, kayakers, and swimmers! And as any Texan can tell you, summer just isn't the same without hitting up the Guadalupe River with a picnic lunch, your favorite shady umbrella, and a pack of tube enthusiasts.
This river runs from Kerr County down to the San Antonio Bay, but we recommend sticking to  the span between Canyon Lake and Gruene. The flow rate here is always changing, so your group will never float the same river twice.
If you plan to tube the 'Lup through this section, your group can take on these local-approved tubing spots:
The Horseshoe: A 10-minute drive from Canyon Lake, this near-loop has it all: a stretch of lazy river, a rock big enough to host an impromptu river party, and plenty of rapids to go around. Your group can either take out after you pass the second bridge, you can take out, walk the five minutes back to the start, and tube it again—or continue downriver to The Chute.
The Chute: This one's self-explanatory. It's a tube chute that's a few hundred yards long. Expect some rapids, a few dips, and onlookers along the bank waiting to see if you wipe out. There's an easy takeout near the end, so you can easily give it a few goes before floating on to Gruene.
Gruene: The small rapids around this New Braunfels district are loads of fun, no matter the water levels. Usually, this area makes for a wild ride, but during a dry spell, this place is probably the only stretch of the Guadalupe you'll be able to tube.

4. Kayaking the Medina River
Take the trek an hour northwest of San Antonio, and you'll be met with the clear, blue-green waters of the Medina River. Kayaking along this river is a great summer outing for adventurers of all skill levels, with both stretches calm, scenic views and stretches of hairpin S-shaped and Z-shaped bends to challenge your more-experienced paddlers.
If your group does plan to venture out during the gentler flow of the summer droughts, be weary of the sweltering Central Texas heat, often reaching 100 degrees when shade is scant. Luckily, this excursion provides plenty of shady sections, thanks to the canopy of age-old cyprus trees that line this 120-mile river.
The river winds past several towns, parks, and road crossings between its source in northwest Bandera County and where it merges with the San Antonio River. This means there's multiple access points along the way, so your kayakers can make this excursion as long or short as you please!
Tip: There's tons of outfitters in the area that can provide kayaks, paddleboards, tubes, and more, but if your group wants to bring your own gear, we recommend reserving a shuttle that can include a trailer hitch. Talk with your rep about how much equipment you plan to bring, and we'll find a vehicle that can handle all the heavy lifting.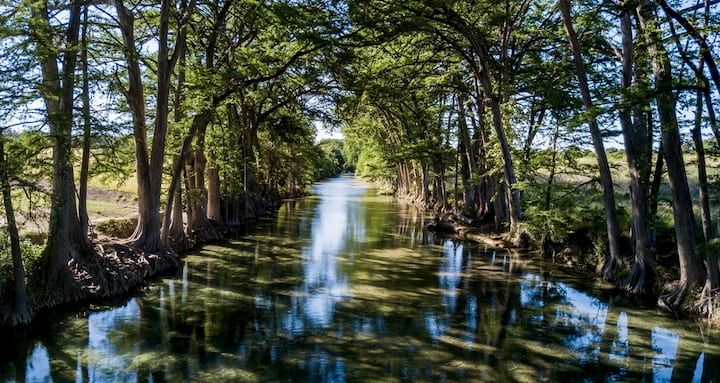 Reserve Your Ride to Hill Country Adventure
You've gathered your gear, plotted your course, and rallied your fellow adventurers. All that's left is to get there, and Texas Charter Bus Company is here to help!
With flexible private transportation services, a network of over 3,000 motorcoaches at your disposal, and a dedicated team of 24/7 reservation specialists, consider us your go-to provider for easy travels anywhere in the Lone Star State. Call 281-383-9491 today and receive your personalized quote for all your Texas excursions!
Do you need to rent a charter bus?