Tips for Group Travel to the Cotton Bowl
Ah, it's that time of year again. Competitive spirits are high. The smell of tailgate barbecue wafts in the air. The sound of roaring fans carries for miles from athletic stadiums. It's college football season.
The season may not be over, but bowl games and the National Championship will be here before you know it. If it looks like your team is setting their sights on the Cotton Bowl, it may be a good idea to start planning a way to Arlington.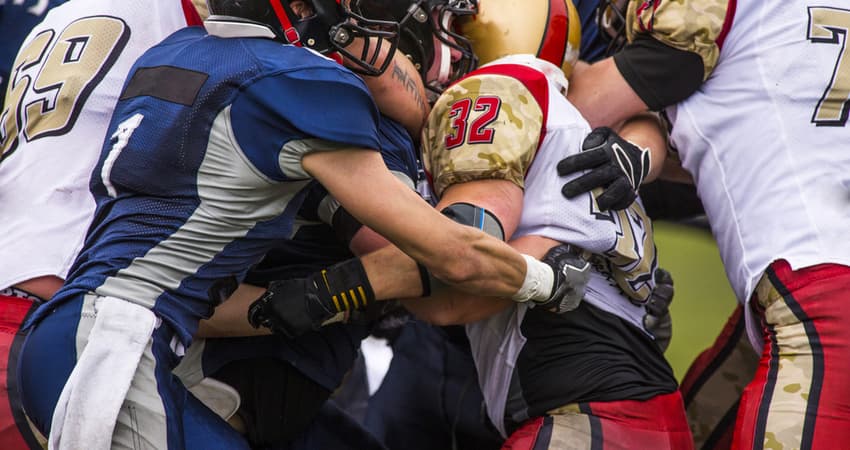 Sure, the match-up may currently be undecided, but there is something worse than your team not making it to the Cotton Bowl: you not being there to cheer them on if they do make it!
Planning how you'll get to the stadium isn't the fun part of college football bowl games. Texas Charter Bus Company will handle the gameday transportation so you can focus on the tailgates, cheering, and post-victory parties.
Give us a ring at 281-383-9491 to get a personalized quote from one of our rental experts. And before you call to explore your transportation options to AT&T Stadium, check out these helpful tips:
Inquire About Transportation Early
It's important to get an early start when booking transportation for major sporting events. AT&T Stadium has more than 80,000 seats, and we can guarantee that most (if not all) of those will be spoken for. Diehard football fans often begin planning arrangements months in advance for big games. In the case of bowl events where teams aren't pre-determined, there's of course a bit of a risk. If your top team doesn't make the cut, it'll be a bit of a bummer, but you'll still have the opportunity to see two top teams duke it out for a multi-million dollar payout.
Large groups that are considering attending any bowl game should begin inquiring about transportation ASAP. All Texas Charter Bus Company quotes are free, and you won't be obligated to book.
Have People RSVP
Determining the number of people in your party will help us know exactly what type of charter bus you'll need. A good rule of thumb when booking a bus: it's better to overestimate than underestimate. Having a few extra seats is always better than not having enough. Creating an online invitation or event is one of the easiest ways to get a rough estimate of how many motorcoach seats you'll need. Send out an email invitation with an RSVP deadline a couple months in advance. Once your deadline arrives, total the number of guests you'll have and give us a call. We'll then pair you with a full-sized charter bus, which can accommodate up to 56 passengers, or a smaller model of minibus, which can comfortably fit 25 people.
A headcount will also help you determine the charter bus cost per person, which can be especially important for groups of students traveling to the game. You'll know exactly how much each member of your campus organization or friend group will need to pay.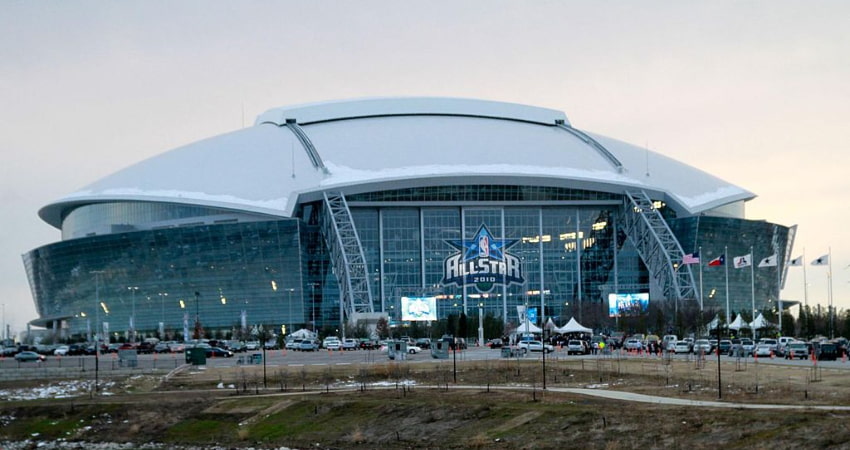 Image Credit: Rondo Estrello
Consider the Parking Situation
After you factor in the time and cost associated with driving multiple personal vehicles to the game, a charter bus is usually more cost-efficient.
AT&T Stadium has 15 reserved parking lots along with several day-of cash lots surrounding the adjacent Globe Life Park. Reserved parking for personal vehicles is $50 while buses and RVs are $150. Buses and RVs are required to purchase permits in advance.
If you have a large group of people, parking multiple vehicles can easily rack up hundreds of dollars in parking fees. Instead, consolidate everyone onto one bus and pay one parking fee. This will save money and the possible frustration of being split into different lots.
The stadium's bus lot is located on the corner of Web Street and Slaughter Street, less than a half-mile walk from the stadium. This is a much shorter walk than the one from Globe Life Park's day-of lots.
Determine Your Pick-up/Drop-off Options
Guests will often get dropped off at the stadium to avoid the dreaded parking situations in surrounding lots. The roads around pick-up and drop-off areas can easily become gridlocked, so it's best to consider your group's preferences ahead of time.
Buses have a pick-up and drop-off area at the intersection of Collins Street and Cowboys Way, while smaller vehicles have two other designated areas near Lot 1 and Lot 6. Depending on the size of your group, it may be easier to have your driver park first rather than drop everyone off. If anyone in your group has mobility concerns, you can instruct your driver to drop everyone off in a designated area near the stadium or opt to take the AT&T Stadium Accessibility Shuttle from Bus Lot 15. Accessibility Shuttle Loading Zones are available at most parking lots and stadium entrances.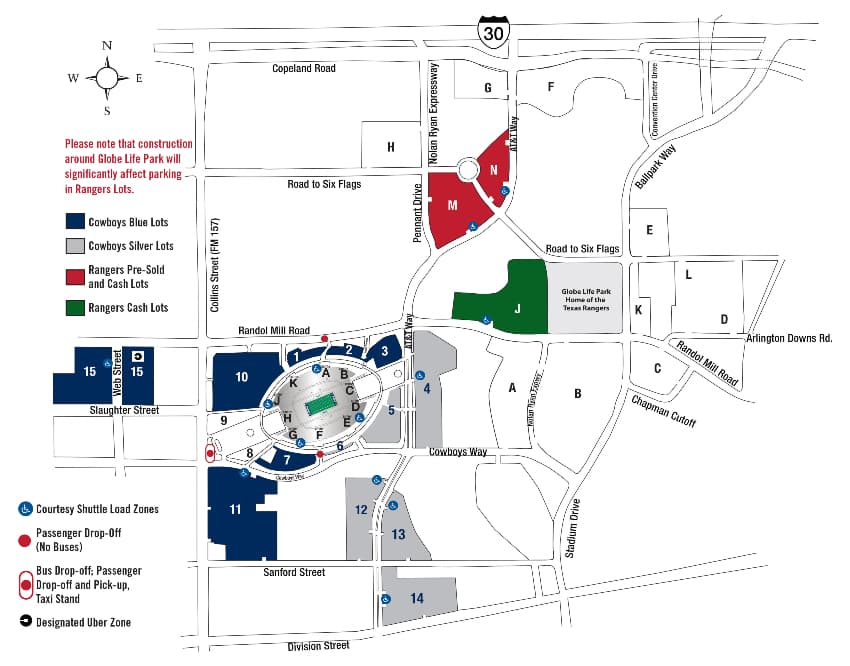 Image Credit: AT&T Stadium
Pack Accordingly
"Accordingly" means "make sure you have everything you'll ever need for a tailgate." The last thing anyone wants is a grill without lighting fluid or beer without plenty of ice and a cooler.
Traveling to the stadium with a charter bus offers much more space for tailgating and afterparty materials than personal vehicles. Store large items like grills and tents underneath the bus, but be sure to keep personal items like backpacks and purses in overhead luggage racks for easy access.
Have one or two people keep track of materials as everyone arrives at your departure location. Before everyone boards the bus, do an inventory check of everything you need to make sure you're ready for the stadium.
Reserve a Bus to the Cotton Bowl Today
Don't hesitate to call our office at 281-383-9491 to get a charter bus quote for your group of college football fans. Whether you're Texas locals wanting to watch a national showdown or you're coming into town from across the country, Texas Charter Bus Company will have your gameday transport covered.
Do you need to rent a charter bus?